Valley People Dyna-mite - Genius, expanded
A secret weapon to some, a hidden treasure to the rest, the Valley People Dyna-mite is a Swiss army knife limiter/expander design with unique character that has inspired engineers to do crazy things with sound for decades. Now it's more versatile and easier to use than ever. Adding two hyper-focused plug-ins based on the same sound, Softube boiled it down into a simple, modern package. Meet Dyna-mite Slam, and Dyna-mite Gate!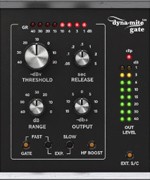 The Dyna-mite is essentially a limiter or an expander, but through a sophisticated combination of switch positions, it is capable of more or less any manipulation of dynamics from gating to RMS compression, from keying and ducking to ridiculously extreme levelling.
Now, however, you can find all of these magical sonic combinations easily with the two new plug-ins, Slam and Gate. Slam takes care of all of the downward stuff – the compression and limiting – in as close to a one-knob format as Dyna-mite could ever become, while Gate deals with the upward operations – the gating and expanding. You can control bleed in a subtle manner, add punch to a snare, crush a rock vocal into submission, or duck a synth bass around a kick. And you don't even really need to read the manual.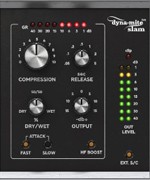 The original plug-in is included (with a slightly updated look) for experts, but all the joy of the Dyna-mite comes forward in Slam and Gate, in a more focused form than ever.
All three plug-ins come under the same license, for the one price.
In short
Three plug-ins in one – the original Dyna-mite, plus focused 'Slam' & 'Gate' plug-ins

Limiting: Peak and average limiting, incl. negative ratio (-20:1) limiting and detector HF filtering (for De-Essing purposes).

Expanding: Hard or soft with extreme gate settings and detector HF filtering.

Ducking or Keying modes with external side chain.

Release ranging from 0.05 to 5 sec/20 dB with Anticipatory Release Computation (ARC) to reduce pumping.

Analog-modeled output distortion for serious attitude and vibe.

All the detailed dynamic control – and it's quick and easy.
For use with VST, VST3, Audio Units, AAX Native, AAX DSP and Console 1.
Mac:
macOS 10.13 or higher
64 bit
Intel Core i3 (M1 support pending)
RAM: 8GB
1280x800 or higher display resolution
Windows:
Windows 10
64 bit
Intel Core i3 or AMD Quad-Core
RAM: 8GB
1280x800 or higher display resolution



This product requires an activation!
You can either "soft" activate on your computer without addditional hardware or transfer the license to an iLok USB dongle which has to be purchased separately. The iLok dongle can be used to run the protected software on different computers. Your licenses can be easily manged using the iLok Licence Manager. To protect your investment against theft or loss we recommend the iLok Zero Downtime protection with TLC.
An internet connection on any computer and a free user-accout at www.ilok.com is required to authorize the product.
Please check with the software manufacturer which iLok version is required at least if you want to use a hardware iLok!