Voice of Rapture: The Bass
Voice of Rapture: The Bass is a solo operatic bass vocal library that captures the booming, rich powerful voice of Joseph Trumbo, with a wide variety of playable chromatic articulations and melodic elements. From a bombastic fortissimo to a gentle pianissimo, The Bass provides creative freedom and flexibility. Recorded in a dry studio environment with 2 microphone choices, this virtual solo vocal instrument brings together superior programming, brilliant performances and unrivaled quality. This 7.8 GB library has 42 instrument presets and over 10,000 samples.
There are 3 True Legato types, with 'Ah', 'Oh' and 'Oo' vowels, each painstakingly captured using the traditional long-form method to allow maximum realism and fluidity. Additional standard vowel sustains and staccatos include both piano and forte dynamics for Ah, Ee, Eh, Oh and Oo, as well as mezzo-piano hummed notes. You'll also find 29 Latin and vowel staccato syllables and words, with precision attack shaping and syllable switching. There are 12 sustaining chromatic Latin chants, each with synchronized legato, tempo-synching and instant work selection. All chromatic articulations have a playable range of over 2 octaves. The Phrase collection includes 1466 fast and slow melodic elements, with real-time tempo-synching and time-stretching.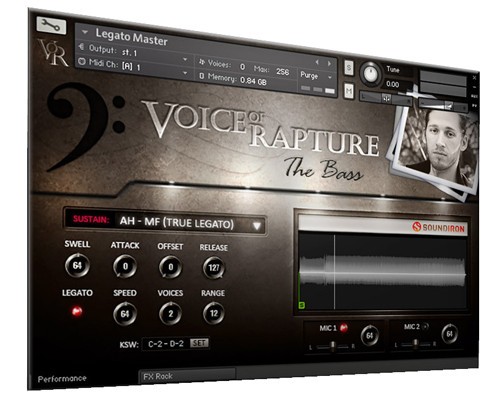 There are 5 categories of performance phrases to choose from: Pure vowel, Latin, French, Humming and Whistling, with a total of nearly 1500 unique phrases. Each Phrase bank includes automatic tempo-synching, time stretching root key selection, easy transposition, step sequencing, breath fx and more. We've also included a deep selection of sound-designed vocal ambiences, drones, atmospheres and pad instruments, crafted from his voice. You'll also find our signature DSP Rack panel, with built-in multi-effects, compression, EQ, amp/speaker simulation and reverb, featuring dozens of rooms, chambers, halls and special FX impulses.
Content:
2 mic positions (cardioid & condenser) w/independent loading, volume and panning controls
Ah, Oh and Oo natural true legato vowels
29 different Staccato words and syllables
Forte Ah, Ee, Eh, Oh and Oo sustains
Piano Ah, Ee, Eh, Oh, Oo and Hum sustains
12 sustaining Latin Polysustain Chants w/releases, legato & tempo-synching
Latin, French, Vowel, Whistling and Humming melodic phrase categories, each with a complete range of keys, with pitch transposition, pattern sequencing, legato blending, tempo-synching/time-stretching, phrase shaping, offset/release editing and more.
Whispers, Breaths, Warm-ups and other vocal effects.
74 bonus vocal Ambiences, Atmospheres, Tuned Pads and other custom melodic instruments crafted directly from Joseph's voice.
Full Multi-FX rack panel with Chorus, Compression, Distortion, Amp and Cab simulation, EQ, Delay and Reverb
Our Reverb rack unit includes 25 unique creative FX convolutions and 45 excellent live rooms, studios, chambers, cathedrals, halls and other real-world environments, with flexible tone, size and mix controls.
Fully automatable, with customizable key switch and GUI controls.
Convenient real-time visual wave-form displays.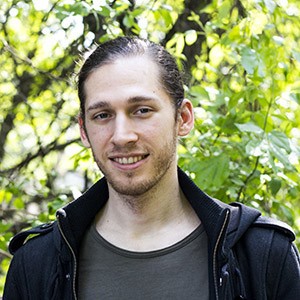 Joseph Trumbo is a young, upcoming operatic bass singer studying at Oberlin College and Conservatory in Ohio. Joseph was a featured soloist in our Mars Symphonic Men's Choir, as part of the Soundiron Olympus Symphonic Choral Collection. He has also performed with the SF Choral Society, Volti, Quire Cleveland, and numerous other ensembles and choral groups.
Using this library requires a full version of Native Instruments' "Kontakt"!
Please notice: This library can not be played with the free "Kontakt Player"! To use this "Open Kontakt" format, you need a full version of "Kontakt", which is included in products such as Komplete or Komplete Ultimate.
Please check the product description for the required Kontakt version.
The following list shows, whether the respective Kontakt version is compatible with your operating system:
Mac
Kontakt 4:
OS X 10.6 & 10.7 = until 4.2.4
OS X 10.8 and higher = no longer supported
Kontakt 5:
OS X 10.6 = until 5.0.3
OS X 10.7 = until 5.3.1
OS X 10.8 = 5.0.3 - 5.5.1
OS X 10.9 = 5.3.0 - 5.6.6
OS X 10.10 = 5.3.0 - 5.7.3
OS X 10.11 = 5.5.1 - latest
Mac OS 10.12 = 5.6.1 - latest
Mac OS 10.13 = latest
Mac OS 10.14 = latest
Mac OS 10.15 = latest
Kontakt 6:
Mac OS 10.12 - 10.15 (latest update)
Windows
Kontakt 4:
XP = until 4.2.4
Vista = until 4.2.4
Windows 7 = until 4.2.4
Windows 8 & 10 = no longer supported
Kontakt 5:
XP = until 5.2.0
Vista = until 5.2.0
Windows 7 = latest
Windows 8 & 10 = latest
Kontakt 6:
Windows 7, Windows 8, or Windows 10 (latest Service Pack)
FOR ALL SYSTEMS:
1GB free disk space

Additional hard drive space according to the library's size
SUPPORTED INTERFACES
Stand-Alone | VST | Audio Units | ASIO | CoreAudio | WASAPI | AAX Native (Pro Tools 10 or higher)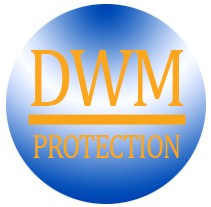 For your own protection this library is provided as individual personalized files including a
Digital Water Mark - DWM!