Following the success of Wivi Band for iPhone, with over 100,000 downloads in the iTunes App Store, Wallander Instruments now presents its latest software instrument: Wivi Band - The Virtual Instrument.
Wivi Band for Mac/PC is an easy-to-use, low-cost yet powerful software instrument, dedicated to wind instruments. It includes 10 modelled brasses and woodwinds (trumpet, trombone, french horn, tuba, flute,
clarinet, oboe, bassoon, tenor saxophone and soprano recorder). All instruments can be played solo or in sections of up to 8 players with automatic divisi.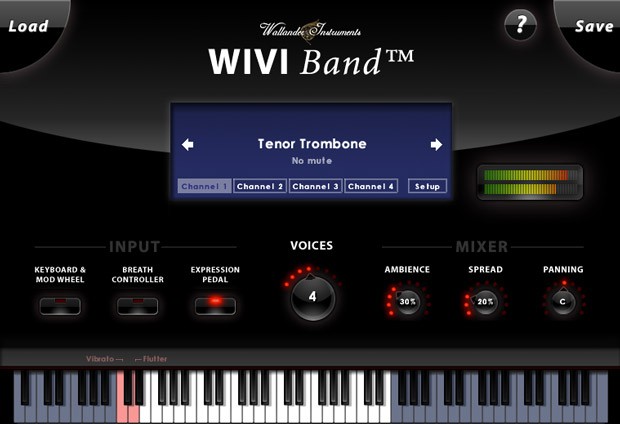 The sound engine behind Wivi Band is the same high-quality engine used to power the world-renowned synthesis/modeling software WIVI, but the instruments are wrapped behind an intuitive and easy-to-use interface with only the features you need, right where you need them. The software loads super-fast, and all instruments have fluent, continuous dynamics that can be controlled using the mod wheel, an expression
pedal or even performed with a breath controller.
Audio Demos
Please notice: In the audio demos some additional instruments from the complete WIVI professional library have been used as well.
Instruments
Bb-Trumpets:
No mute, Straight mute, Cup mute, Bucket mute, Solotone mute, Harmon mute (no stem, inserted & extended), Plunger mute.
Tenor Trombones:
No mute, Straight mute, Cup mute, Bucket mute, Harmon mute (no stem, inserted & extended), Plunger mute.
French Horns
No mute, Stopped, Straight mute.
F-Tubas
No mute, Straight mute.
Concert Flutes
A-Clarinets
Modern Oboes
Modern Bassoons
Tenor Saxophones
Soprano Recorders
Buenasideas 11/2010

Auszug:
FAZIT: Für alle diejenigen denen realistische Bläsersounds in Ihren Produktionen fehlen ist WIVI Band eine preiswerte und klanglich hervorragende sehr authentische Lösung um fetzige Bläser Sektions oder auch Solos zu spielen. WIVI Band ist nicht überfrachte mit Möglichkeiten und beschränkt sich auf das wesentliche, dies führt zu einer sehr aufgeräumten Bedienoberfläche, die Einarbeitungszeit für dieses Plugin ist so auch extrem kurz und man kann sich auf das wichtige nämlich das Musizieren beschränken.
Wer mehr braucht sollte sich die großen WIVI Versionen von Wallander Instruments einmal anschauen die es zudem auch als leicht eingeschränkte TRIAL also Test Versionen gratis zum Download gibt. Für den normalen Gebrauch reicht WIVI Band allerdings absolut aus und lässt so manche Sample Bibliothek echt alt aussehen.
WIVI Band ist verfügbar zu einem aktuellen Preis von 99,- Euro, ich empfehle zusätzlich den Kauf eines Blaswandlers, denn dann macht die Sache erst so richtig Spaß.
Es ist Schade das die Midi Slots den vier Midi Kanälen fest zugeordnet sind, wäre dem nicht so könnte man auch Sektionen aus verschiedenen Instrumenten zusammenstellen um diese gleichzeitig zu spielen, das ist hier aber der einzige Wermutstropfen den ich an meckern kann.
Mehr Informationen und auch Klangbeispiele findet Ihr bei: www.wallanderinstruments.com
und beim deutschen Vertrieb Best Service

---


Theodore Shapiro
Eight-time BMI Film Music Award winner
I have had directors fall in love with mock-up brass solos I have done with WIVI because of their emontionla quality. Nor bad for a plug-in, especially one with a ridiculously low CPU footprint. Adding to that the outstanding customer support, this is a product I enjoy using in every respect
---


James Venable
Primetime Emmy Award nominee, BMI Film Music Award winner
I must say, I think this software is the future and I was very excited to discover it! The expression of your instruments is truely amazing. I believe these instruments mark the beginning of a new paradigm in virtual orchestration for professional composers
---


Mark Mancina
Three-time Grammy Award winner and nine.time BMI Film Music Award Winner
Wallander Instruments have become such a staple in my everyday template, due to the sound, ease and most importantly, the ever updated and improved technology! Talk about support and integrity in their product.
Mac:
macOS 10.4 or higher
PowerPC G4 or higher
RAM: 256 MB
Windows:
Windows XP
Pentium 4 or AMD Athlon 64
RAM: 256 MB
Product activation:
An internet connection is required to authorize / activate the product.