Full-band Dual-stage Precision Limiter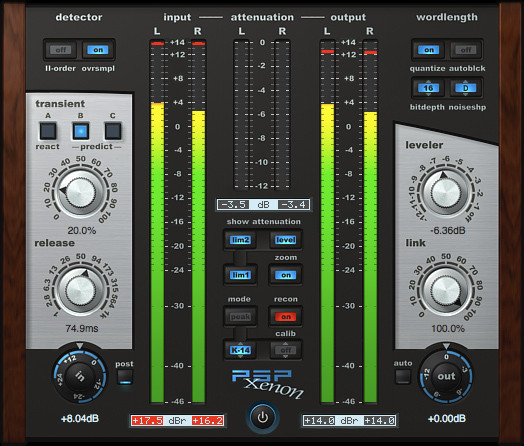 PSP Xenon is a full band, dual-stage limiter plug-in featuring an integrated Leveller, advanced K-System metering and psychoacoustically optimized wordlength reduction. PSP Xenon offers 64-bit precision processing throughout its entire signal path, and can operate at sample rates up to 192kHz.
Once you experience for yourself the pristine, transparent response and intuitive design of this plug-in, we believe it will become your "go to" limiter for mastering and other critical audio applications.
Win7 (32/64-Bit) or later

Mac OSX 10.8 (32/64-Bit) or later

Internet Connection



This product requires an activation!
You can either "soft" activate on your computer without addditional hardware or transfer the license to an iLok USB dongle which has to be purchased separately. The iLok dongle can be used to run the protected software on different computers. Your licenses can be easily manged using the iLok Licence Manager. To protect your investment against theft or loss we recommend the iLok Zero Downtime protection with TLC.
An internet connection on any computer and a free user-accout at www.ilok.com is required to authorize the product.
Please check with the software manufacturer which iLok version is required at least if you want to use a hardware iLok!