No synthesizers were used to create the instruments in Zodiac. Instead, all instruments were created from organic sources such as found sounds, sonic manipulations inspired by classic Musique Concrete, Experimental and Avant Garde Music compositions, prepared or heavily processed musical instruments, and audio recordings subjected to extreme sound design techniques.
Zodiac features over 200 patches and Multis (over 8GB of uncompressed wav data), divided into six categories:
Pads & Atmospheres
Melodic Instruments
Bass Instruments
Percussive Instruments
Experimental Instruments
Zodiac Kits
Zodiac´s instruments range from beautiful and ethereal soundscapes to wildly inventive percussion and mysterious, haunting, atonal and experimental sounds that defy easy categorization. Search through Zodiac´s patch folders, and you won´t find anything like a regular bass, guitar, keyboard, or drum set. Instead, you´ll find a collection of sounds that are quite unlike those made by any standard instrument.
Not only does Zodiac feature a constellation of ready-to-use instrument patches, it´s also a powerful sound-design VI. Use Zodiac´s simple but versatile controls to dramatically alter, sculpt, or tweak and customize sounds to fit your individual style. However, you don´t even need to touch a single control to get a variety of sounds from Zodiac´s preset patches.
Zodiac is made for experimentation: hold down a key on many instrument patches and a sound loops and morphs, revealing surprising musical timbres and harmonic strata. Play an instrument one way and it has a percussive quality; play it another, and the notes expand into a pad or atmosphere. Play a patch in one octave and it sounds dreamy and surreal; play it in another octave and it behaves and sounds quite differently.
No matter what soft synths, sound modules, or VIs you already own, Zodiac will expand the palette of sounds in your sonic tool box and add a unique character to your music.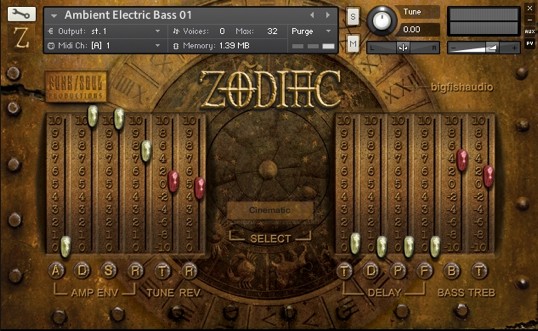 Despite its somewhat enigmatic appearance, Zodiac´s Graphic User Interface (GUI) is quite simple to use. Here´s the key:
The Control Banks
ON either side of the Zodiac logo is a control bank consisting of SIX levers. Under each lever is a single letter, which stand for the following:
(Lefthand Bank)
AMP ENV - Amp Envelope controls:
A - Attack
D - Decay
S - Sustain
R - Release
T - Tuning (Pitch)
R - Reverb amount
(Righthand Bank)
DELAY - the Delay controls:
T - Delay Time
D - Delay Damping
P - Dealy Panning
F - Delay Feedback
B - Bass
T - Treble
The Levers
Note that the four white-tipped levers on either side represent a grouping of related controls, and have a range of 0 to 10.
Note also that the red-tipped levers represent controls not related to the white groups, and that three of these have a range from -10 to +10.
Use command-click (MAC) or control-click (PC) to return any of the levers to the default setting of zero.
The Reverb Window
The window below the Zodiac logo contains a drop-down menu, with a list of fifteen very different-sounding Convolution Reverb IRs. Click on this window if you´d like to change the type of reverb on the instrument being played. Note that the R(everb) lever to the left of the window controls the amount of reverb.
Zodiac is powered by the industry-leading Kontakt engine. It is compatible with VST, AudioUnit, AAX (Pro Tools 10) and RTAS (Pro Tools 9 & 10) plug-in formats allowing it to work seamlessly within any major sequencer, in addition to standalone use.
SoundsAndGear 02/2014


excerpt:
I give Zodiac 4 out of 5 subs, it's a great sounding library with a simple interface for quickly tweaking the sounds to your own preference.
Music Tech Magazine 02/2014

Excerpt:
Overall, this is one of the most interesting collections I have come across. I love the atmosphere, vibe and direction of the whole collection and applaud its recording philosophy. So it's not only inspiring musically – there might even be a feature in this very magazine on how it was recorded.



MusicTech Magazine Editors Choice

This product works with the free Native Instruments Kontakt Player, the latest version can be downloaded through Native Access, Native Instrument's download manager!
The minimum required Kontakt version for this product is stated in the product description or can be found on the manufacturers wesite.
System Requirements:
Mac:
macOS 10.13-11 (newest update)
64 bit
Intel Core i5
RAM: 4GB (6GB recommended)
Windows:
Windows 7-10
64 bit
Intel Core i5 or similar CPU
RAM: 4GB (6GB recommended)
Supported Interfaces:
Mac (64-bit only): Stand-alone, VST, AU, AAX
Windows (32/64-bit): Stand-alone, VST, AAX
Legacy Versions:
If you require legacy installers of Kontakt Player please refer to this Knowledge Base Article.
Product activation:
An internet connection is required to authorize / activate the product.