Collection of Ambiences, Drones, Pads and Synth Leads
This massive collection of ambiences, drones, pads and evolving "synth" leads was created by hand. Everything you hear was built using only organic field and instrument recordings. In fact, no synthesizers were used in the creation of this library at all. Soundiron used a variety of custom techniques to blend, warp, shape and layer the sounds of the known into the very unknown. The instruments you'll find in this collection range from simple, clean, tonal leads to compound, constantly moving soundscapes and textures.
Version 2.0 has been redesigned with a new GUI and a huge range of interactive features. It now features tempo-locked filtering and LFO based parameter automation. A pair of 32-beat step-sequencer graphs let you freely draw resonance and cutoff values from one step to the next, with time divisions from whole notes to 128ths. Lowpass, Highpass, Bandpass and Vowel filter types are included.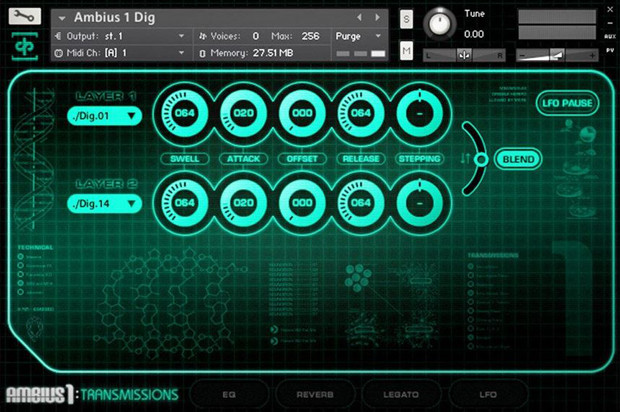 Parameter changes are smoothed to prevent ugly zippering, but with the ability to dial in ultra-tiny time-signature divisions and extreme filter settings, you can get as gnarly and screeching or warm and mellow as your heart desires. You can also assign just about any parameter to each step sequencer table with the simple right-click/cmd-click learn function whenever that table is running. You can even skip the filter stage and simply use it for tempo-synced CC parameter control by choosing the "Thru" filter type or bypass the whole system instantly with the LFO Pause and do your filter tweaking and sweeping by hand.
Also included are a tempo-syncing tremolo, full EQ tone controls, our custom convolution reverb loaded with dozens of spaces and special FX and of course, our ever advancing Uberpeggiator meta-arpeggiation system. The dual-layer sustaining ambient presets also feature simulated polyphonic legato with polyphony, bend, speed and range control. A full gamut of preset types are included: special cutting edge Kontakt 5 presets allow step sequencer and uberpeggiator table graph preset saving/loading and the latest filter options, classic Kontakt 4-friendly presets with classic filter types and resource efficient lite presets that save ram and CPU resources without the filter LFOs or a deep offset range.
Content:
Horror: EVP Pulse, Industrium Pulse, Panorganic Pulse, Rictus Pulse, Root Canal Pulse, Swarming Pulse, Winds Pulse
Melodic: Para-Orchestral Pulse, Re-Choral Pulse, and Transmusical Pulse
Tuned: Dig Pulse and Tuned Pulse
LFO/Filter
Four selectable filter types with automatable cutoff and resonance
Kronostepper – sequence filter cutoff and/or resonance in configurable tempo-synced steps
Kronostepper passthru mode can drive any automatable knob or slider in Kontakt.
Tempo or Hertz-based Tremolo with automatable intensity
Other Features
Integrated Uberpeggiator system allows for adaptive step-sequenced arpeggiation
Kontakt 5 users can import and export Uberpeggiator and Kronostepper sequences
Customized presets – see what we at Soundiron were able to come up with using these features
Instrument Designers allow users to mix-and-match any transient with any sustain
Additional Kontakt 5 presets with tempo-synced rhythmic atmospheres and grooves
The Kontakt 5 presets in this library are designed for the full retail version of Native Instruments Kontakt 5.1 or later.
Using this library requires a full version of Native Instruments' "Kontakt"!
Please notice: This library can not be played with the free "Kontakt Player"! To use this "Open Kontakt" format, you need a full version of "Kontakt", which is included in products such as Komplete or Komplete Ultimate.
Please check the product description for the required Kontakt version.
The following list shows, whether the respective Kontakt version is compatible with your operating system:
Mac
Kontakt 4:
OS X 10.6 & 10.7 = until 4.2.4
OS X 10.8 and higher = no longer supported
Kontakt 5:
OS X 10.6 = until 5.0.3
OS X 10.7 = until 5.3.1
OS X 10.8 = 5.0.3 - 5.5.1
OS X 10.9 = 5.3.0 - 5.6.6
OS X 10.10 = 5.3.0 - 5.7.3
OS X 10.11 = 5.5.1 - latest
Mac OS 10.12 = 5.6.1 - latest
Mac OS 10.13 = latest
Mac OS 10.14 = latest
Mac OS 10.15 = latest
Kontakt 6:
Mac OS 10.12 - 10.15 (latest update)
Windows
Kontakt 4:
XP = until 4.2.4
Vista = until 4.2.4
Windows 7 = until 4.2.4
Windows 8 & 10 = no longer supported
Kontakt 5:
XP = until 5.2.0
Vista = until 5.2.0
Windows 7 = latest
Windows 8 & 10 = latest
Kontakt 6:
Windows 7, Windows 8, or Windows 10 (latest Service Pack)
FOR ALL SYSTEMS:
1GB free disk space

Additional hard drive space according to the library's size
SUPPORTED INTERFACES
Stand-Alone | VST | Audio Units | ASIO | CoreAudio | WASAPI | AAX Native (Pro Tools 10 or higher)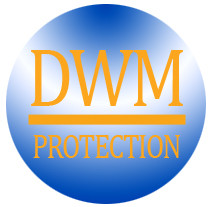 For your own protection this library is provided as individual personalized files including a
Digital Water Mark - DWM!