The Grand ( Thumb ) Piano
The Mbira is originally a folk instrument from Africa. Sometimes called a Thumb Piano, Sanza, or Kalimba, they are generally home-made and consist of several metal tines attached to a gourd or piece of wood, which are then plucked with the thumbs. They are mostly small, with a handful of notes.
Array Instruments, a U.S. company started by Bill Wesley and Patrick Hadley, have taken the concept of this ancient African idiophone to a whole new level, not only in terms of instrument design but also in purity of sound, and range of pitch. The Array Mbira is no toy, it's a highly advanced musical instrument built to exacting specifications.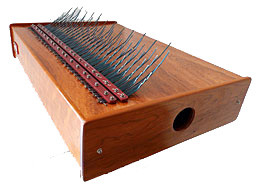 A different note system
All Array instruments are designed with a unique note arrangement, invented by Bill Wesley to facilitate playing harmonically. Whereas a chromatic keyboard places harmonic notes at some distance from each other, the Array system places the most harmonic notes beside one another.
This also means that all octaves of a single note are beside one another, allowing for octave "strumming" or doubling, which would be much more difficult on a chromatic note layout. The Soniccouture Mbira instrument is of course chromatically mapped, but we include a KSP Strummer script to emulate this aspect of the real instrument.
Very Low Bass
One of the things to love the most about the Array Mbira is its low end. This may sound unlikely if you've only ever seen a traditional thumb piano, but just listen to the demos - all the bass you hear there is from the Mbira - there's no additional bass sounds layered there.
The large sound box ( this model is about 77 cm across ) allows for much deeper pitches to be heard acoustically (the lowest fundamental on our model is in the region of 33 Hz).
All Array Mbiras come equipped with a 2-channel piezo pickup system, allowing for easy amplification and line-out recording. The low end from the pickups alone is surprisingly smooth and deep; combine it with mics and it's booming.
Versatile, Expressive and Deep
The sound of the Array Mbira is at once familiar and unusual to our ears, and this is the secret of its appeal. Sometimes you can hear something reminiscent of a piano, and yet it is plucked and strummable like a guitar.
A chime or gong-like timbre is also in there, taking it further from either of those instruments. Because of these comfortable sonic reference points, the Mbira can be used in a wide variety of music, from jazz to electronica. The depth and range of the Array Mbira also means it can comfortably hold its own playing complex solo pieces .
It is truly an essential addition to any musicians color palette, and some well known users include Ry Cooder, Emil Richards, and Imogen Heap.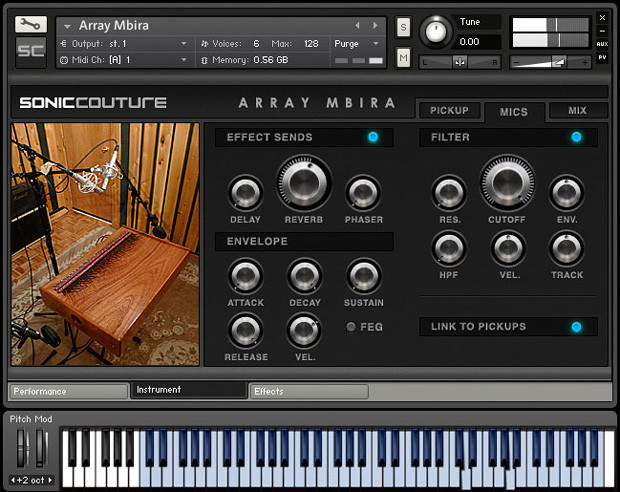 Library Specifications
9 GB Library ( 4GB on disc with Kontakt sample compression ) - 4 GB download.
24bit 44.1khz Stereo Sampling - separate, phase aligned Pickup and Microphone channels
5 octave range : C1 - B5
8 Velocity levels, 3 alternate round robins : 4,112 samples in total
Note off damping samples ( 8 samples per note ) with configurable levels and midi control
KSP Strummer module allows realistic MIDI controlled strumming of played notes
40 Presets, featuring both natural and Sound Design patches.
A Kontakt Player 4 Instrument : VST AU RTAS
The latest NI Kontakt Player is included in this product!
Please check the product description for the required Kontakt version.
You want more?
This library qualifies for the reduced Crossgrade of full KONTAKT at Native Instruments.
The following list shows, whether the respective Kontakt version is compatible with your operating system:
Mac
Kontakt 4:
OS X 10.6 & 10.7 = until 4.2.4
OS X 10.8 and higher = no longer supported
Kontakt 5:
OS X 10.6 = until 5.0.3
OS X 10.7 = until 5.3.1
OS X 10.8 = 5.0.3 - 5.5.1
OS X 10.9 = 5.3.0 - 5.6.6
OS X 10.10 = 5.3.0 - 5.7.3
OS X 10.11 = 5.5.1 - latest
Mac OS 10.12 = 5.6.1 - latest
Mac OS 10.13 = latest
Mac OS 10.14 = latest
Mac OS 10.15 = latest
Kontakt 6:
Mac OS 10.12 -10.15 (latest update)
Windows
Kontakt 4:
XP = until 4.2.4
Vista = until 4.2.4
Windows 7 = until 4.2.4
Windows 8 & 10 = no longer supported
Kontakt 5:
XP = until 5.2.0
Vista = until 5.2.0
Windows 7 = latest
Windows 8 & 10 = latest
Kontakt 6:
Windows 7, Windows 8, or Windows 10 (latest Service Pack)
FOR ALL SYSTEMS:
1GB free disk space

Additional hard drive space according to the library's size
SUPPORTED INTERFACES
Stand-Alone | VST | Audio Units | ASIO | CoreAudio | WASAPI | AAX Native (Pro Tools 10 or higher)
Product activation:
An internet connection is required to authorize / activate the product.