A fire and heat sound synthesizer
AudioFire is a synthesizer dedicated to the emulation of fire and heat sounds. The synthesizer is based on AudioGaming's dynamic modeling technology and rarely uses sampling (only for very specific modules). This complex synthesis engine responds dynamically to the control signals it receives and exposes high-level controls carefully mapped to the low-level synthesis model.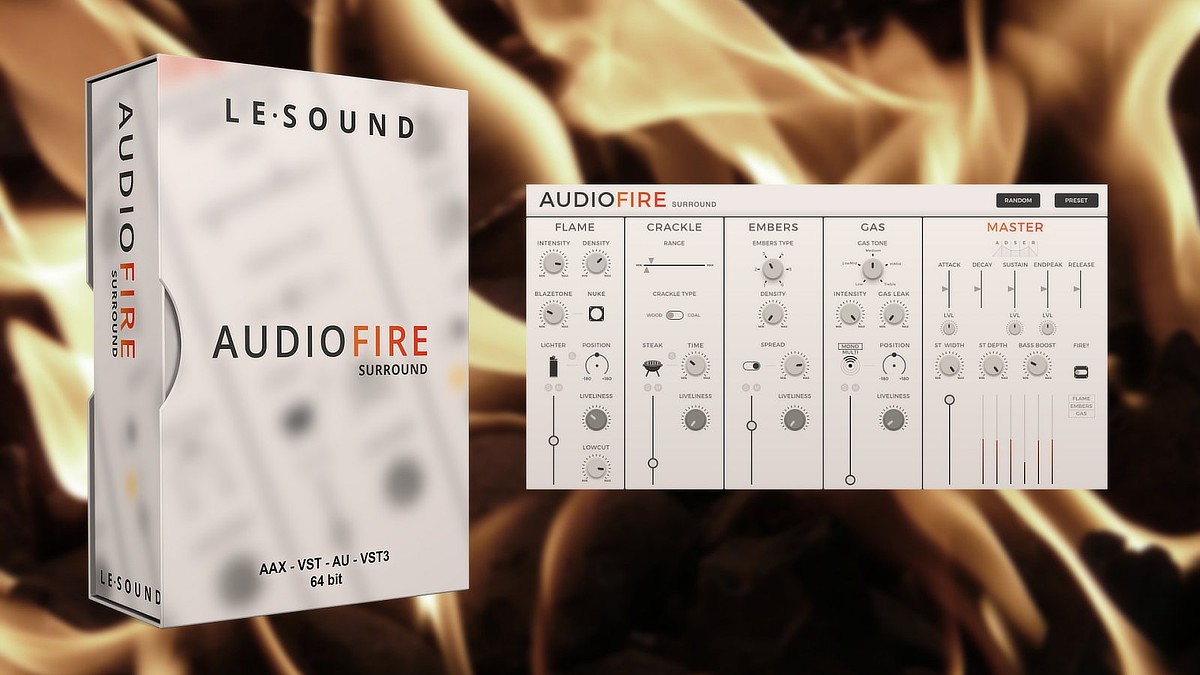 Product Features
Flame Module: Flames are the visible part of the chemical reaction involved in burning. Depending on the nature and the amount of the fuel and the oxidant (eg. wood and atmospheric oxygen) they can be of many shapes, color, and intensity. Coincidently, they can emit different sounds in terms of tone, dynamics, amplitude and bandwidth. This module uses subtractive synthesis to generate these various types of flames to meet various needs.

Crackle Module: As fire burns, the combustible material heats up and with it the liquids trapped inside ( like water and sap in wood logs). Soon, liquids turn into gazes and exerts pressure towards the outside until it pops out and emits the typical crackle sound we naturally associate with fire.

Embers Module: When carbon based materials are consumed by fire, they slowly turn into embers. The combustion is still happening but at a very slow pace because the oxygen doesn't circulate easily to the combustible core. They often produce a gentle crackling, hovering soundbed and sound differently according to the materials and the temperature of it.This module uses granular synthesis to generate constant, ever-changing textures.

Gas Module: When there's fire, there is gas involved. Mostly naturally induced like the oxygen as the origin combustion or carbon dioxide as its result. But sometimes there's also man induced gazes, used as combustibles like butane or propane. Theses gazes comes out of our ovens, stoves, water heater … with systems designed to control and restrain their flow (that sometimes fail and cause accidental fires).
Host application compatible with:
AAX Native plugins
VST plugins
VST3 plugins
Windows OS / Mac OS
64 bit AAX/VST/VST3 compatible host



This product requires an activation!
You can either "soft" activate on your computer without addditional hardware or transfer the license to an iLok USB dongle which has to be purchased separately. The iLok dongle can be used to run the protected software on different computers. Your licenses can be easily manged using the iLok Licence Manager. To protect your investment against theft or loss we recommend the iLok Zero Downtime protection with TLC.
An internet connection on any computer and a free user-accout at www.ilok.com is required to authorize the product.
Please check with the software manufacturer which iLok version is required at least if you want to use a hardware iLok!