THE CHUNKIEST, DIRTIEST KEYS EVER
Why did Soniccouture sample a Broken Wurlitzer 200A electric piano? Asking around producers they know, to see if anyone had any junky, but cool sounding old keyboards ; Neil Davidge, producer for Massive Attack, said "..erm, I have an old Wurlizer piano with a dodgy distorting speaker that sounds great". So, they borrowed it, and he was right, it did sound really great.
The left hand speaker breaks up and sounds absolutely savage, while the right hand speaker does the expected 'clean' (but lo-fi) sound. Soniccouture wanted to sample it, so they conducted some experiments with just recording single notes from the speaker with a microphone, and it sounded very cool - giving the iconic Wurlizter tone some real drive and bite.
GROWLING AND SNARLING OR WARM AND MELLOW
Broken Wurli is a totally unique electric piano instrument - using the 3 dials (below) on the front panel you can mix any sound you need ; from classic, clean line out, to growling distortion and buzzing chords.
The 3 round-robin layers make the playing experience feel very real - this is the first sampled electric piano we have played that really feels physical and mechanical.

RECORDING THE BROKEN-NESS
To make sure the full nastiness of the broken speaker distortion was fully captured, 4 different mics were used in the studio. A pair of vintage 1970s AKG 414s, one on each speaker, to record the warmth and low end. Then an SM57, for an essential dynamic mic sound, and finally settled on a Sennheiser e600 series dynamic mic for a further contrasting character. The mics were then mixed down to a mono channel for each speaker.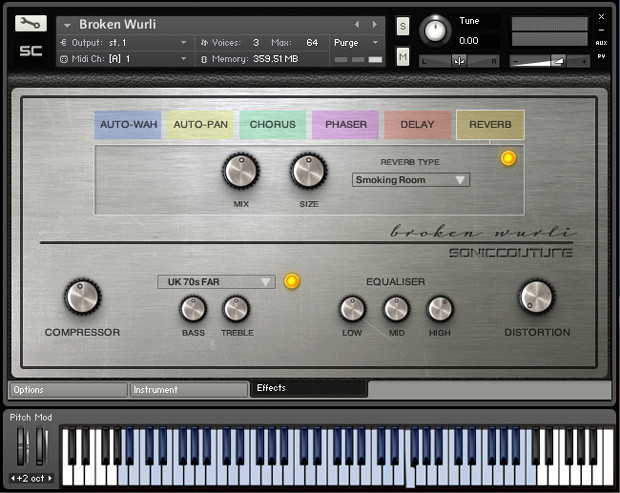 RACKS OF CHARACTER
The mics were paired with some esoteric 1970s preamps by Neumann and Siemens. The line-out signal was also recorded simultaneously, giving the 3 distinct sounding channels that make up the Broken Wurli instrument.
The vintage character of the recording ( made at Lodge Studios, Surrey, England ), combined with the 3 round robin alternate sample layers and the 9 velocity layers make this the most solid, realistic sounding sampled electric piano we've ever heard.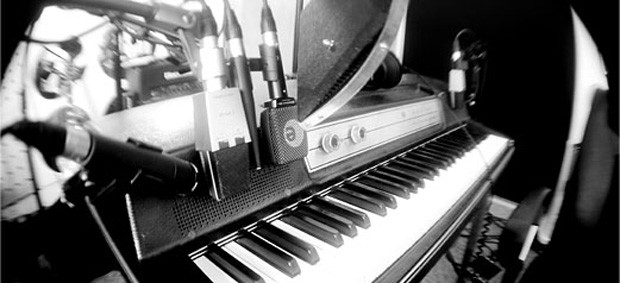 Specifications
8 GB core sample library ( 4GB on disc with NCW lossless compression)
24 bit 44.1Khz sampling - 8000 samples.
3 round robin layers and 9 velocity layers per note
3 separate mixable channels - good speaker, broken speaker, line out
Key-off samples with adjustable level
50 presets - electric piano & sound design categories
Customisable velocity response
Demo MIDI files included
Kontakt player compatible - v 4.2.4 or above required.
The latest NI Kontakt Player is included in this product!
Please check the product description for the required Kontakt version.
You want more?
This library qualifies for the reduced Crossgrade of full KONTAKT at Native Instruments.
The following list shows, whether the respective Kontakt version is compatible with your operating system:
Mac
Kontakt 4:
OS X 10.6 & 10.7 = until 4.2.4
OS X 10.8 and higher = no longer supported
Kontakt 5:
OS X 10.6 = until 5.0.3
OS X 10.7 = until 5.3.1
OS X 10.8 = 5.0.3 - 5.5.1
OS X 10.9 = 5.3.0 - 5.6.6
OS X 10.10 = 5.3.0 - 5.7.3
OS X 10.11 = 5.5.1 - latest
Mac OS 10.12 = 5.6.1 - latest
Mac OS 10.13 = latest
Mac OS 10.14 = latest
Mac OS 10.15 = latest
Kontakt 6:
Mac OS 10.12 - 10.15 (latest update)
Windows
Kontakt 4:
XP = until 4.2.4
Vista = until 4.2.4
Windows 7 = until 4.2.4
Windows 8 & 10 = no longer supported
Kontakt 5:
XP = until 5.2.0
Vista = until 5.2.0
Windows 7 = latest
Windows 8 & 10 = latest
Kontakt 6:
Windows 7, Windows 8, or Windows 10 (latest Service Pack)
FOR ALL SYSTEMS:
1GB free disk space

Additional hard drive space according to the library's size
SUPPORTED INTERFACES
Stand-Alone | VST | Audio Units | ASIO | CoreAudio | WASAPI | AAX Native (Pro Tools 10 or higher)
Product activation:
An internet connection is required to authorize / activate the product.