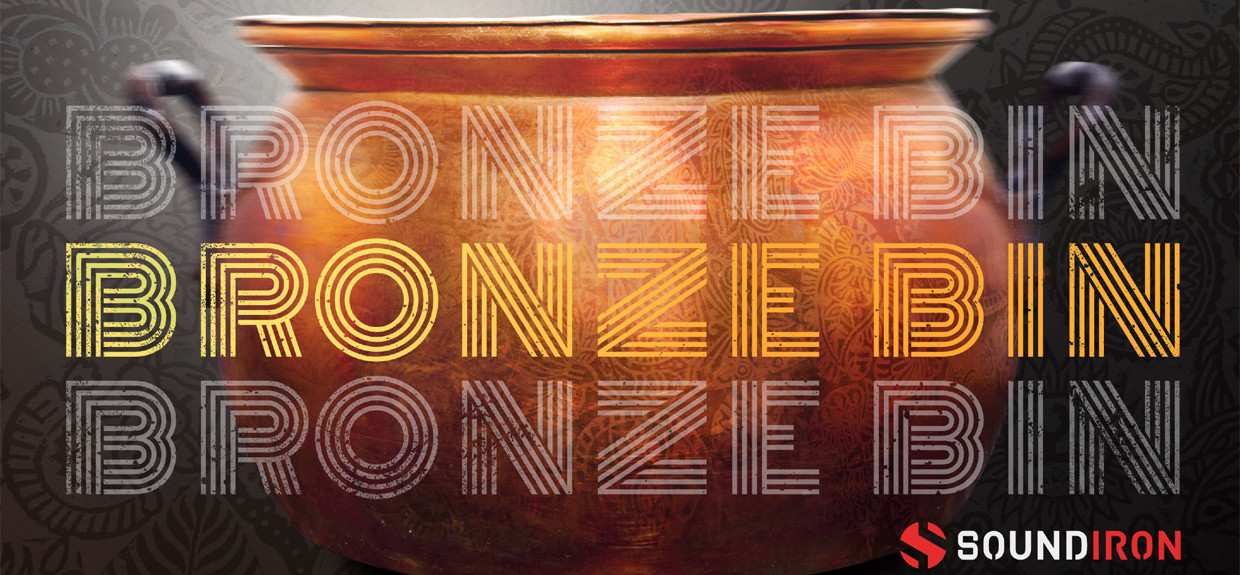 Unique tuned and untuned metallic percussion instrument
Bronze Bin is a unique tuned and untuned metallic percussion instrument library, created using common found objects with rather special tonal character. Bronze is the most popular metal used to create top-quality musical bells and cymbals. So, when Soundiron came across this little refuse receptacle of pure brazen bronze, they thought 'What a waste!' Not in the waste-basket sense of the word, but a waste of musical potential.
Every edge, curve, face and angle of this bronze beauty creates amazingly complex and unique sounds, full of harmonics, overtones and even undertones. In much the same way art and practicality intersect in the conventional use of this bin, so do percussion and melody intersect creating an enormous palette from a single source. Producing soft bell-like tones to a raspy wash of colliding frequencies the Soundiron Bronze Bin is a truly unique tuned percussion instrument.
They recorded a variety of tuned and untuned percussion elements using fingers, mallets, and sticks, to bring out the full musicality of this improvised instrument. All of the subtle resonance and harmonic nuances were captured in detail using a wide stereo pair of studio mics. Afterwards a whole collection of custom ambiences, drones, pads, effects and other special presets was designed to take it a step further. The resulting instrument collection is both humble and expansive, well-suited for a broad range of production application from experimental to mainstream.
For version 3.0 Soundiron added the Chrome Can! With mallets and sticks, they sampled a variety of articulations, such as mallet side, stick rim, mallet bottom, and more! These articulations make the Chrome Can the perfect companion to the Bronze Bin.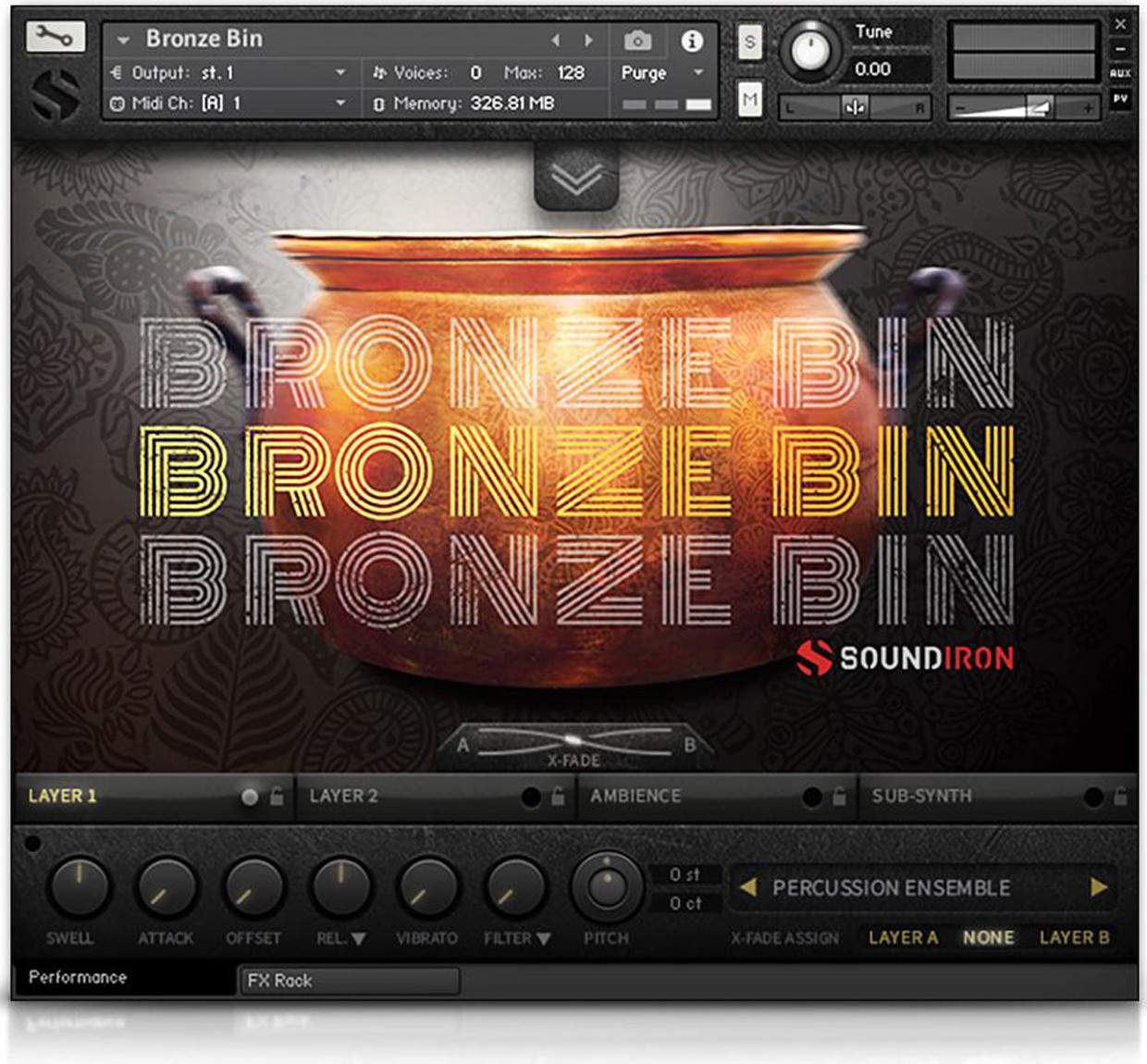 The Kontakt interface includes a suite of automation-ready sound-shaping controls to give you total creative flexibility. You have control over swell, attack, release, offset, vibrato, filter, pitch (coarse & fine), articulation switching, cross-fading and layering, and so much more. They also included 20 unique sound-designed custom FX presets to give you lots of creative options.
This library comes with an adaptable LFO system, with selectable LFO shape, modulation target parameter, speed, intensity, tempo-syncing and fade-in time. You can also apply your choice of 12 lowpass, high-pass and FX filters, with assignable modulation targets such as velocity, modwheel, expression, after-touch, key position and step-sequencer table control. Our customizable arpeggiator offers a velocity table and control over arp direction, timing, swing, randomization and duration. We've included a key and scale lock system to constrain your notes to common scales and keys for easy melodic composition and live performance.
The interface is rounded-out by our modular FX rack panel, with 18 different DSP effect modules that you can assign in any of 10 available slots, in any order that you wish. You'll find classic phaser, flanger, delay, distortion, amp and cab simulators, compressors, EQ, rotator and so much more. The Reverb effect includes our favorite convolution reverb impulse responses, including 99 different rooms, halls, chambers and outdoor environments, plus another 40 custom FX impulses to radically transform the sound and open up whole new worlds of musical possibility. We've added a great bank of FX rack chain factory presets to get you started!
Contents
Bronze Bin Finger Side (10x rr, 3 velocities)
Bin Mallet Bottom (10x rr, 7 velocities)
Bin Mallet Edge (10x rr, 7 velocities)
Bin Mallet Rim (10x rr, 6 velocities)
Bin Mallet Side (10x rr, 4 velocities)
Bin Stick Bottom (10x rr, 5 velocities)
Bin Stick Rim (10x rr, 7 velocities)
Chrome Can Mallet Side (10x rr, 15 velocities)
Can Mallet Edge (10x rr, 4 velocities)
Can Mallet Bottom (10x rr, 8 velocities)
Can Mallet Rim (12x rr, 5 velocities)
Can Mallet Choke (12x rr, 6 velocities)
Can Stick Rim (10x rr, 4 velocities)
Ambiences created from the source material
This library is designed for the full retail version of Native Instruments Kontakt 5.5 or later.
Using this library requires a full version of Native Instruments' "Kontakt"!
Please notice: This library can not be played with the free "Kontakt Player"! To use this "Open Kontakt" format, you need a full version of "Kontakt", which is included in products such as Komplete or Komplete Ultimate.
Please check the product description for the required Kontakt version.
The following list shows, whether the respective Kontakt version is compatible with your operating system:
Mac
Kontakt 4:
OS X 10.6 & 10.7 = until 4.2.4
OS X 10.8 and higher = no longer supported
Kontakt 5:
OS X 10.6 = until 5.0.3
OS X 10.7 = until 5.3.1
OS X 10.8 = 5.0.3 - 5.5.1
OS X 10.9 = 5.3.0 - 5.6.6
OS X 10.10 = 5.3.0 - 5.7.3
OS X 10.11 = 5.5.1 - latest
Mac OS 10.12 = 5.6.1 - latest
Mac OS 10.13 = latest
Mac OS 10.14 = latest
Mac OS 10.15 = latest
Kontakt 6:
Mac OS 10.12 - 10.15 (latest update)
Windows
Kontakt 4:
XP = until 4.2.4
Vista = until 4.2.4
Windows 7 = until 4.2.4
Windows 8 & 10 = no longer supported
Kontakt 5:
XP = until 5.2.0
Vista = until 5.2.0
Windows 7 = latest
Windows 8 & 10 = latest
Kontakt 6:
Windows 7, Windows 8, or Windows 10 (latest Service Pack)
FOR ALL SYSTEMS:
1GB free disk space

Additional hard drive space according to the library's size
SUPPORTED INTERFACES
Stand-Alone | VST | Audio Units | ASIO | CoreAudio | WASAPI | AAX Native (Pro Tools 10 or higher)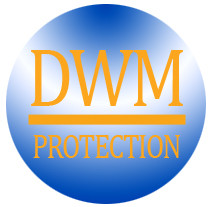 For your own protection this library is provided as individual personalized files including a
Digital Water Mark - DWM!