The best software emulation of the Binson Echorec 2
Vintage Echorec devices are known for their saturation, self-oscillation, and oversound, all shaping the music produced in the 70s. They are also, however, known to be fragile and difficult to maintain.

The Pulsar Echorec plug-in gives you a faithful emulation of this legendary echo unit; furthermore, many workflow improvements have been added to the original, such as the ability to change the motor speed (and so the delay time) in real time or to sync it to any tempo, including a tapped tempo.

Three different units, in different conditions, have also been precisely modeled, to have all sounds from the cleanest magnetic delay, to the most grunge.
These additions and the signature sound of the Binson Echorec 2 make this echo a must-have tool for any mixer who wants to add the subtle analog life, which is sorely lacking in digital delay plug-ins.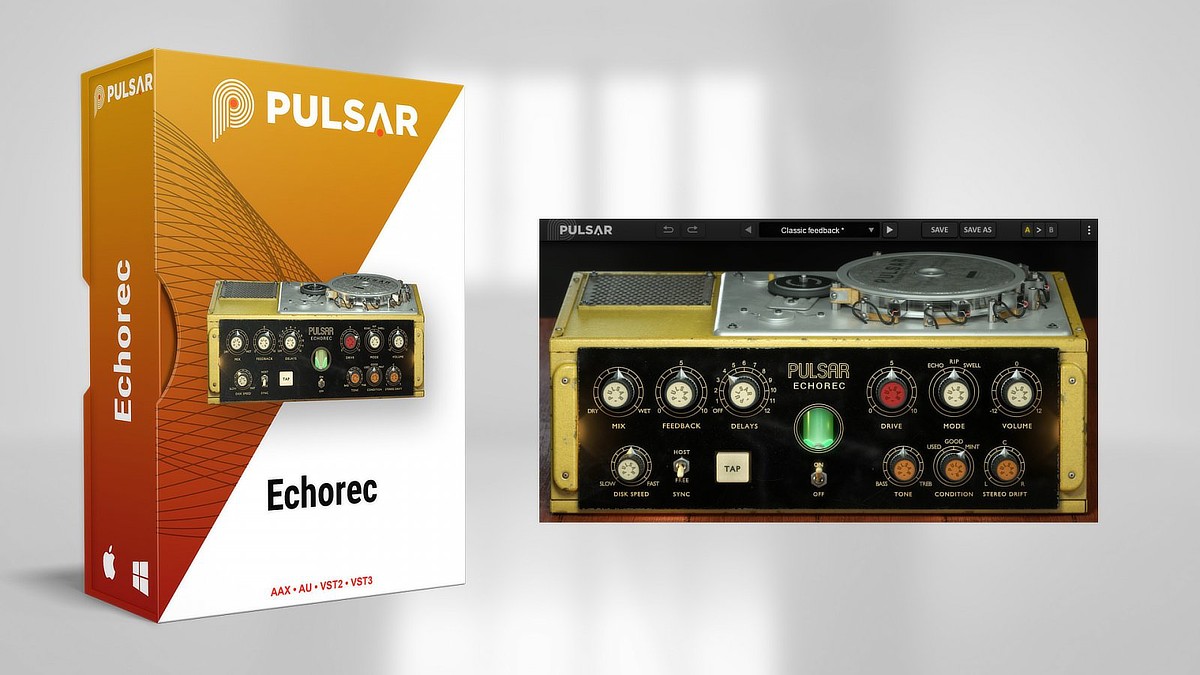 Product Features
Authentic tube sound: The exact sound of the all-tube input section of the Binson Echorec has been precisely replicated. Special attention was paid to the modeling of pre-emphasis filters.

Magnetic field recreation: Any sound going through a magnetic device is modified in a particular way. Complex processes in the Echorec disk involving magnetic saturation and hysteresis have been precisely modelled.

Stereo Drift: As an improvement to the original hardware design, Pulsar Audio added the possibility of slightly detuning the left and right channels. The result is a large stereo echo with precisely placed repetitions.

Creative Modulations: Sound engineers always have their tricks. One of the coolest with the Echorec is the ability to slow the disk down with a finger, resulting in creative pitch modulation or wow and flutter effects on the delayed signal.

Three States of Wear: Any Binson unit found nowadays has traveled 50 years through time. Some are in mint condition, and some are used. During our measurements, Pulsar found that each unit had a special color, and some are really nice independently from the unit condition.

Off Mode: Some effects just sound incredibly good, even when they're not supposed to affect the sound at all. The Binson Echorec is one of these. So Pulsar carefully designed an Off mode that reproduces the color and grit of the delayed signal, without any delay.
System Requirements
Windows: Windows 7 with SP1 64 bit or above

Mac: Mac OS 10.8 and above

Host Application compatible with AAX Native, AU (mac only), VST, VST3
The system requirements can be found in the product description or on the manufacturer's website.

This product requires an activation, you can either choose between using an iLok dongle (iLok 2 or iLok 3) or the iLok Cloud authorization process.
The iLokDongle can be used to run the protected software on different computers. Your licenses can be easily manged using the iLok License Manager. A internet connection on any computer and a free user-accout at www.ilok.com are required to authorize the product. To protect your investment against theft or loss we recommend the iLok Zero Downtime protection with TLC.
*This USB protection device is not included with your order, it is a separate item you have to buy additionally.
iLok Cloud requires an iLok account, which can be setup for free at www.ilok.com. Please install the latest version of iLok License Manger so you can manage your authorizations and active an iLok Cloud session. An active internet connection is required for all iLok Cloud sessions.
Please check with the software manufacturer which iLok version is required at least if you want to use a hardware iLok!