Realtime Pitchshifting PlugIn version 2!
Elastique Pitch is the real time pitch shifting solution for RTAS, VST, AU and AAX. Powered by zplane's élastiquePro pitch shifting engine which is used by millions of end users around the world, the plugin ensures the highest, program independent pitch shifting quality.
Elastique Pitch focuses on the essential things: you won't find any unnecessary or confusing controls or functionality. Instead, the plugin offers you quality, stability, and ease of use.
In the second edition we´ve added a feedback delay and the infiniSTRETCH function of the new élastiquePro v3 engine. Both make it easy to use Elastique Pitch in a more creative way.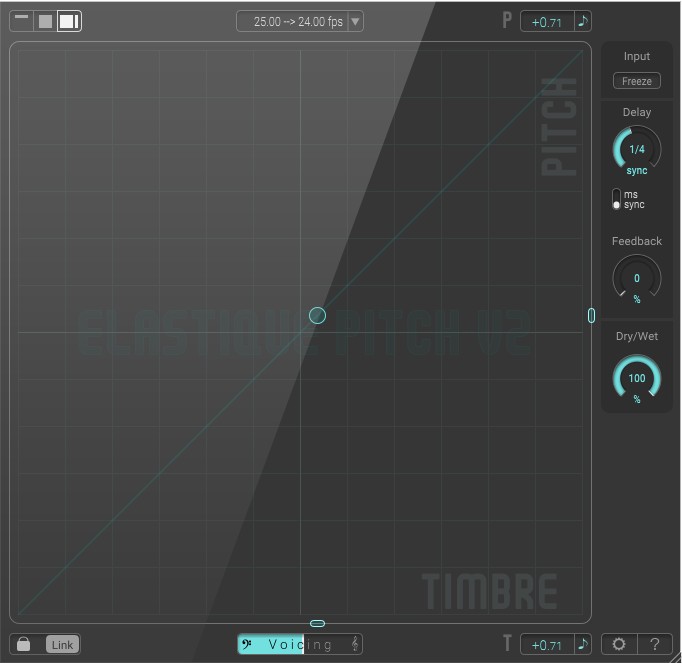 The key features of Elastique Pitch V2 are:
multi channel: support for synchronous pitching of up to 8 audio channels
real time: no offline pre-analysis required
feedback with delay for more creative usage
Three different views
Program-independent high quality with the highly-acclaimed élastiquePro v3 engine (speech, single-voiced, classical/popular music, etc.)
phase coherence: absolute phase stability between all channels
MIDI input: for pitch control
formant shifting: shift formants independent from pitch
factory presets: for typical film pull-ups/pull-downs
AU, VST, AAX and RTAS support for Mac & PC
technical specifications
audio format: 1-8 channels (I/O), 44.1-192kHz sample rate
plugin format: AAX, RTAS, AU, VST
pitch range: ± 12 semitones = 50-200%
timbre range: ± 12 semitones = 50-200%
plugin latency: 150ms @48kHz
min. system CPU: 2GHz
OS: MacOsX >10.6.8, Windows 2000/XP, Vista, Win7/8
Host: Pro Tools > V8
The system requirements can be found in the product description or on the manufacturer's website.
Product activation:
An internet connection is required to authorize / activate the product.