Mastering Limiter with Brain
Elevate is the most advanced mastering plug-in ever created. This unique multi-band limiter, human-ear EQ and powerful audio maximizer will increase the loudness of your mix while maintaining or improving its dynamic perception. It uses intelligent, adaptive technology that responds in real time to your music; creating not only the loudest, but the best sounding master.
Developed by Newfangled Audio, Elevate maintains subtle dynamics and improves the tonal balance of your mix. The adaptive limiter analyzes 26 frequency bands and alters the gain, speed and transients for each band in real time. The result is a transparent, natural sound, no matter how hard you push it.
Elevate utilizes 26 critical filter bands modeled from the human ear. Each of the bands are spaced to give maximum control over how the sound hits your eardrum. Draw curves, solo bands and manipulate the transient attack for each individual band to bring out particular instruments such as kick or snare drums.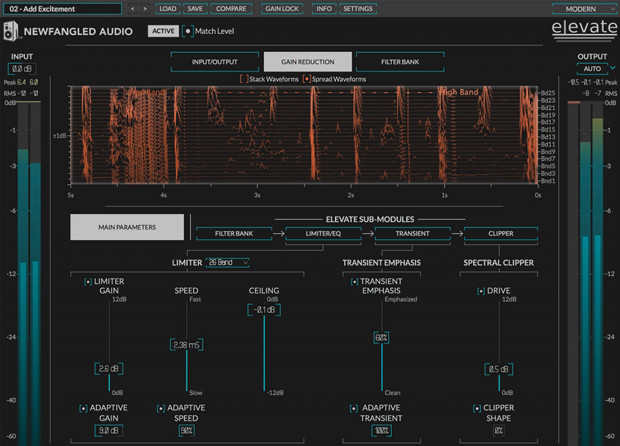 Adaptive Technology
Elevate uses artificial intelligence algorithms to make it easy for you to get the best sounds, but you can still get under the hood for as much precise control as you desire. This includes giving you control over the tonal balance and transients inside the final limiting stage. The adaptive algorithms reduce audible artifacts and the additional controls give you maximum flexibility with professional results.
Features
Analyzes and alters the gain, speed and transients of each filter band in real time.
Includes presets by: APS Mastering, Matt Lange, Jeremy Lubsey, Eric Beam, ROCAsound, Chris Tabron and John McCaig.
Automatically adapts the attack, release and look-ahead parameters for each filter band to greatly reduce "pumping" and breathing artifacts and perceived distortion.
Preserves or emphasizes fast transients to avoid squashing your mix.
Manipulates transients across the critical bands to preserve the attacks from kick drums, snares and cymbals, without affecting the entire mix.
Uses linear phase auditory filters — based on the Mel Scale — to manipulate the audio in a way that is natural to your inner ear.
Solo the output of one band (or a number of bands) to hone in on problem frequencies, tweak transients or alter gain.
Use the Auto Output Level feature to compare the limited signal to non-limited signals with the same amount of gain allowing you to easily hear what impact the processing is having on your sound.
Use the Spectral Clipper to overdrive the final output without affecting the tonal balance or allowing the signal to get "tubby." Perfect for a more aggressive sound.
Six different types of metering allow you to keep an eye on every aspect of your output audio.
New in Version 1.5
Bundle includes two new plug-ins, Saturate and Punctuate:
Saturate is a spectral clipper plug-in, useful for mixing or mastering. As such, it adds up to 24dB of drive with a variable CLIPPER SHAPE parameter that moves from a pleasant soft curve to full hard clipping. Unique spectral processing maintains the tonal balance of the distorted signal, no matter how hard it is pushed. Saturate automatically compensates output level based on the DRIVE control or, alternatively, allows this to be controlled manually.

Punctuate is a transient emphasis plug-in also useful for mixing or mastering. It offers up to 26 auditory bands of TRANSIENT EMPHASIS or suppression while its unique ADAPTIVE TRANSIENT and ADAPTIVE LENGTH controls allow algorithms to tailor each band's transient shaper to what the listener's ear wants to hear. Customizable parameters for each band also allow users to tweak the result, if needed.
Supported Operating Systems and PlugIn formats:
MAC: OS X 10.9+
WIN: Windows 7+
All information is subject to change. The system requirements can change at any time due to the fact that software products are continuously evolving. If in doubt please consult the software manufacturers website for details or write an email to support@bestservice.de before purchasing.



This product requires an activation!
You can either "soft" activate on your computer without addditional hardware or transfer the license to an iLok USB dongle which has to be purchased separately. The iLok dongle can be used to run the protected software on different computers. Your licenses can be easily manged using the iLok Licence Manager. To protect your investment against theft or loss we recommend the iLok Zero Downtime protection with TLC.
An internet connection on any computer and a free user-accout at www.ilok.com is required to authorize the product.
Please check with the software manufacturer which iLok version is required at least if you want to use a hardware iLok!