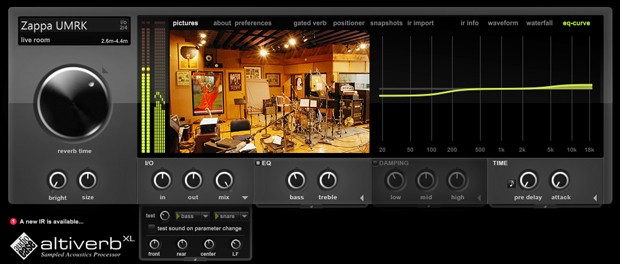 The original, professional convolution reverb.
Altiverb 7 is the industry standard convolution reverb plug-in for Mac OS X and Windows. It uses top quality samples of real spaces to create reverb, ranging from Sydney Opera House to the cockpit of a Jumbo Jet. Altiverb 7 is efficient on the cpu, offers many parameters to tweak reverb, is total recall automatable, and has 64 bit support.
Altiverb 7 XL adds support for TDM (Mac only), i/o up to 5.1, and sample rates over 96 kHz.
Altiverb 7 for Music
Altiverb's concert halls and recording studio spaces are geared towards music production, but also its plate reverbs and digital reverb gear. But there is more for music: algorithmic brightness, modulation, stage positioning, and tempo locked gated and reverse reverbs. And you can make fantastic textures by using any sound as an impulse response.
The Browser
The Impulse Response library is now more accessible then ever because of Altiverb's new visual browser. Select impulse responses by clicking photos of rooms. Instant gapless loading, organise-by-size, and single click favorites are just a few of its features. The Impulse Response Browser contains a keyword search field, single click downloading and installing of new (free) impulse responses.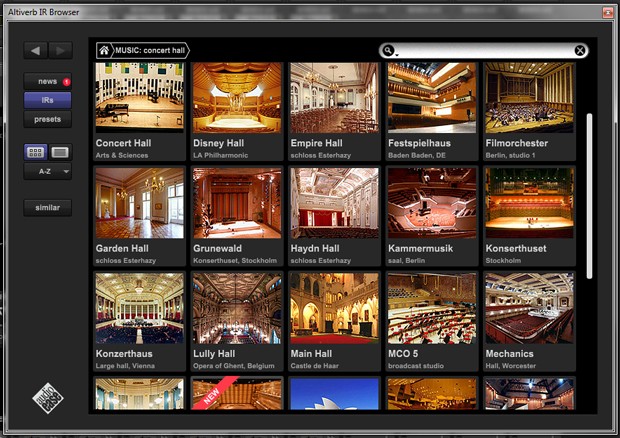 King of Spaces
Longer than anyone in the industry, and with more ear for detail, Audio Ease has been traveling the world to record the acoustics of the very best sounding spaces. The results of hundreds of these travels are included with Altiverb 7. From London's Wembley stadium to the ancient caves of the island of Malta, and the churches, concert halls and rock studios of the cities of Paris, Amsterdam, Berlin and New York.
Altiverb 7 for Post
Features geared towards audio for picture are: total recall (automation without snapshots), drag and drop impulse response making, making of impulse responses using portable radio or even slates (clapperboards), Altiverb's extensive channel setup flexibility and the keyword-search feature (just type 'bed room' or 'SUV').
Releasetime.de, 09/2015

Fazit (Auszug)
Altiverb überzeugt mit einem ausgesprochen breiten Angebot vielseitig präsentierter Räume. Hier wurden kaum Kosten und Mühen gescheut. Im Laufe der Jahre ist eine einzigartige Library zusammengekommen, die auch zahlreiche weltberühmte Locations beinhaltet.
Neben diversen Hallen, Kirchen, Opernhäusern, Studios und Räumen aller Art gibt es auch eine umfangreiche Sammlung an Vintage-Halleffekten, Next-Door-Sounds und experimentelle "Räume" wie Blecheimer, Gastanks, Wälder, eine Waschmaschine oder einen Staubsaugerschlauch.
Altiverb liefert eine erstklassige, überzeugend echte Audioqualität. Die Ausstattung mit Parametern zur Raumgestaltung ist lückenlos: Hallzeit, Raumgröße und das Abklingverhalten über drei definierbare spektrale Bereiche erlauben Feinarbeit an jedem Preset.
Der Starre eines Faltungshalls wird mit einem Modulationsmodul entgegengewirkt. Über das Positionierungsmodul können Instrumente individuellen Standorten in einem Raum zugewiesen werden. So ist eine perfekte Tiefenstaffelung möglich. Der Raumklang wirkt offen, transparent, aufgeräumt. Die Musiker spielen im Raum – was echter und natürlicher klingt als die herkömmliche Zumischung eines Hallsignals zum Direktschall.
Auch temposynchrone Gate-Reverbs sowie Rückwärtshall werden geboten.
Die Bedienung von Altiverb ist komfortabel, die Architektur logisch und übersichtlich. Der Browser mit Photos der betreffenden Locations ist nicht nur für das Auge sehr ansprechend und in dieser Form einzigartig unter den Faltungshalls, sondern auch komfortabel: Per "similar" kann man eine Reihe von Alternativen zum gewählten Preset aufrufen.
Required Registration:
Audio Ease products require you to register with the manufacturer at www.audioease.com and with www.ilok.com to activate your license.
This product requires an activation!
This instrument requires an iLok 2 Key for activation - iLok 1 not supported!
This USB protection device is not included in the box of this collection, it is a separate item you have to buy additionally. So you'll have to order at least one iLok Key with your first purchase. If you already own another iLok 2 protection device you can use it for this instrument, too. Each iLok 2 dongle can store up to 500 product licenses. Licenses can be manged easily using the iLok Licence Manager and for protection against theft or loss we recommend you the Zero Downtime Protection with TLC

Additionally an internet connection on any computer and a free user-accout at www.ilok.com is required to authorize the product.