18 unconventional tuned and percussive Sound Collections
Antidrum 1 is an experimental "found-sound" instrument library that contains 18 unconventional tuned and percussive sound collections, sampled in a variety of real-world locations. It is a celebration of every day objects and sounds and how they can be transformed into strange and compelling new musical instruments.
This library includes uniquely playable instrument banks that range from heavy work boot stomps to resonant water cooler impacts, clicking baby toys, red rubber playground ball bounces, hand-slapped ukulele and guitar shell "drums", shockmount kick thumps, hand clap ensembles, nailgun shots, male ensemble shouts, drum circle strikes and grooves and much, much more. Some instruments are recorded in ensemble, while others are captured solo.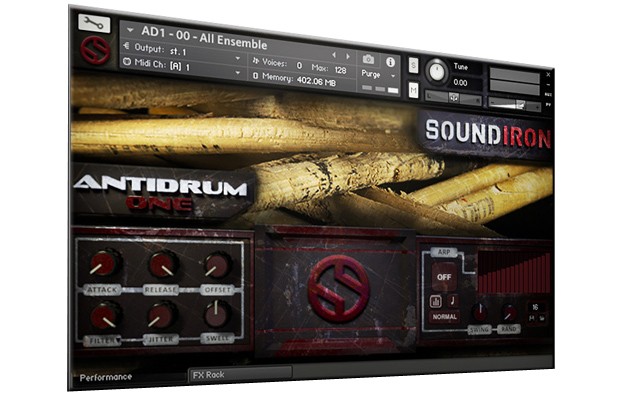 Soundiron built a brand new user interface, with a veritable cornucopia of handy control features and effects, such as dynamic arpegiation and convolution reverb with 70 different halls, rooms, spaces and FX. And we've also created a great new selection of sound-designed ambient pads, leads, atmospheres, crafted from the raw source recordings to provide excellent accompaniment and texture to fatten your mixes.
FEATURES:
Alien Tube – This horrible little thing is a plastic tube with a sliding widget inside, recorded in a small bright hall.

Boot Stomps – heavy steel toed boots stomping on a hard tile floor, recorded in a large bright hall.

Clap Ensemble – 4 guys clapping in a small bright hall

Clap Solo – Close, dry hand and wrist claps and grabs programmed for fast, tight percussion parts.

Clicky Toy – Small plastic clicky, squeaky baby toy in a large bright hall.

Couch Ensemble – sticks striking leather couches in a small bright hall.

Djembe Ensemble – metal djembes played in a small bright hall. Includes side clicks, strikes and strikes with shouts.

Drum Circle – Djembes, mixed small percussion, didgeridoo and other stuff in a small bright hall, cut into loops at various tempos.

Guitardrum – Acoustic guitar played as a drum with bare hands in a large bright hall. Includes metal string slides and effects.

Handball Court Drums – Djembe strikes, clicks and hand claps, recorded inside a giant outdoor concrete cube. Springy and weird.

Hot Tub Knock – Underwater hot tub thumps, recorded using a stereo pair of hydrophones.

Nailgun – Pneumatic nail gun driving large nails into 1/2" plywood sheets. Recorded in an outdoor construction site.

Shockmount – A stereo pair of large diaphragm mics in special shock mounts being gently thumped. It actually sounds really cool.

Shouts – Male ensemble shouting in a small bright hall, with stabs and swells.

Sneaker Screeches – Converse All-Stars stomping and screeching on tile floor in a large, bright hall.

Ukedrum – Ukulele played backwards as a drum. Recorded close and dry, with 3 variably dampened articulations.

Wallball – A big red rubber ball being bounced and struck with a drumstick in a large bright hall.

Water Cooler Ensemble – Big plastic water-cooler bottles being whacked with drumsticks in unison, in a large bright hall.

34 unique ambient pads, leads and atmospheres.
This 1.83 GB library includes 2468 samples and 21 nki presets with a custom user interface for the full version of Kontakt 5.5 and later (OSX 10.8 or later / Windows 7 or later required).

Please notice: This library can not be used with the free Kontakt Player! To use this "Open Kontakt" format, you need a full version of Kontakt, which is included in products such as Komplete or Komplete Ultimate.
The minimum required Kontakt version number for this product is stated in the product description or can be found on the developer's website.
System Requirements:
Mac:
macOS 10.14 or higher
64 bit
Intel Core i5 or Apple M1 (native)
RAM: 4GB (6GB recommended)
Windows:
Windows 10 or higher
64 bit
Intel Core i5 or similar CPU
RAM: 4GB (6GB recommended)
Supported Interfaces:
Mac (64-bit only): Stand-alone, VST, VST3, AU, AAX
Windows (64-bit): Stand-alone, VST, VST3, AAX
Legacy Versions:
If you require legacy installers of Kontakt Player please refer to this Knowledge Base Article.
Required Registration:
Soundiron products require you to register with the manufacturer at www.soundiron.com to activate your license. To use Kontakt Player Libraries you also need to register with www.native-instruments.com.
For your own protection this library is provided as individual personalized files including a Digital Water Mark - DWM!