The Easiest Way to Access the Essential Auto-Tune Features
The ideal method to start with Auto-Tune and automated pitch correction is with Auto-Tune Access 10. It's inexpensive, simple to use, and produces excellent results. Auto-Tune Access 10 is the finest option for artists and audio engineers of all levels searching for a real-time solution for their voice recordings due to its low CPU utilization and user-friendly interface.
Natural to Extreme - Two on-screen preset buttons make it easy to switch from natural-sounding pitch correction to creating the most extreme Auto-Tune Effect.

Real-Time Performance - Low-latency processing and a light CPU footprint lets you perform through Auto-Tune Access 10 in real time on stage or in the studio without worrying about distracting delay.

Automatic, Chromatic - Improved Auto-Key 2 integration supports chromatic scale broadcast to make it easy to stay in key for any project. (Auto-Key 2 sold separately)
What is pitch correction software?
A pitch correction plug-in is an effect that alters the intonation of your voice to make it sound perfectly tuned to the song's key. It takes the original pitch of the recordings and optimizes it so that each part of the vocals is pitch-perfect. Pitch correction is a carefully-crafted effect that leaves the voice's harmonic characteristics untouched while fixing any pitch-related issue, both in real-time or in the recording studio.
How does Auto-Tune Access 10 work?
On the top menu, adjust the key and scale to the track you're working on. Use the Retune Speed to determine how fast Auto-Tune should respond to an off-tune note. You can choose between Slow (65ms), Medium (25ms), and Fast (3ms). The Humanize control relaxes the effect of Auto-Tune on sustained notes, giving a more natural feel to the voice.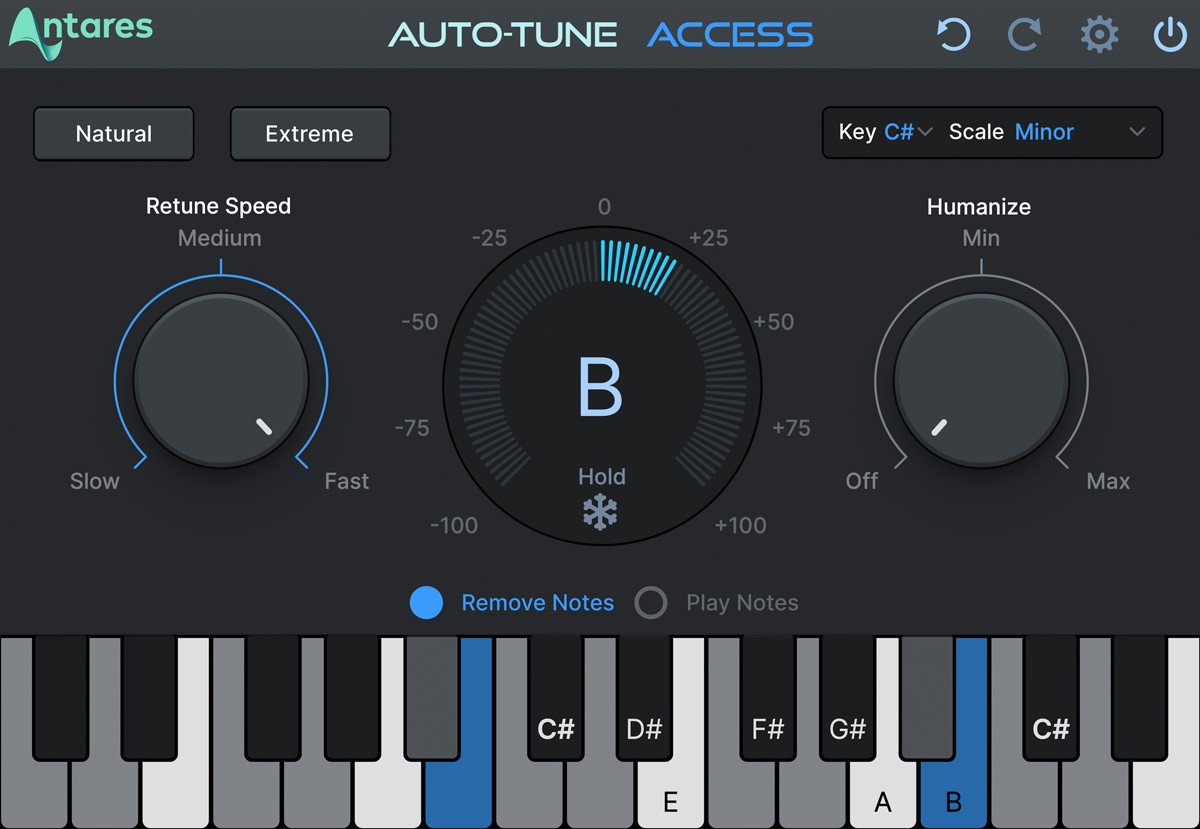 What are the Natural and Extreme Preset Buttons?
The Preset Buttons are a quick and easy way to change the Retune Speed and Humanize knobs to achieve two distinct effects in Auto-Tune Access 10. The Natural button quickly dials in more natural sounding Retune Speed and Humanize settings for more natural sounding pitch correction. The Extreme button quickly dials in more natural sounding Retune Speed and Humanize settings to apply the famous "Auto-Tune Effect" onto your vocal.
What is the "Play Notes" mode used for?
In Play Notes mode, click on any key on the keyboard to play a sample of it. This is helpful for checking which notes are in a given melody. Note: Some hosts such as Logic Pro may require the transport to be running on a non-empty audio track to use this feature. You can quickly toggle between the Remove Notes and Play Notes modes by holding down the Shift key on your computer's keyboard. For example, if you're in Remove Notes mode, holding the Shift key will temporarily switch you to Play Notes mode, for as long as you hold down the key. This is helpful for navigating as quickly as possible between the two different modes.
Key Features
The easiest, most affordable way to use Auto-Tune
Authentic Auto-Tune core features
Natural to extreme pitch correction
Low latency for real-time performance
The Auto-Tune Effect
Simple, intuitive interface
Mac:
macOS 11 or higher
64 bit
Windows:
Required Registration:
Antares products require you to register with the manufacturer at www.antarestech.com to activate your license.
This product requires an activation!
An internet connection is required to authorize / activate the product.