Blue Cat's Dynamics - full-featured dynamics processor
Dynamics is not only a compressor, it is the complete solution for dynamics including compressor, limiter, gate, expander, waveshaper or all at the same time.
The plug-in includes several filters to control the frequencies affected by the compression. Its continuous VCA / Opto and Peak / RMS controls let you smoothly and precisely choose the behavior of the envelope detection like you have never been able to.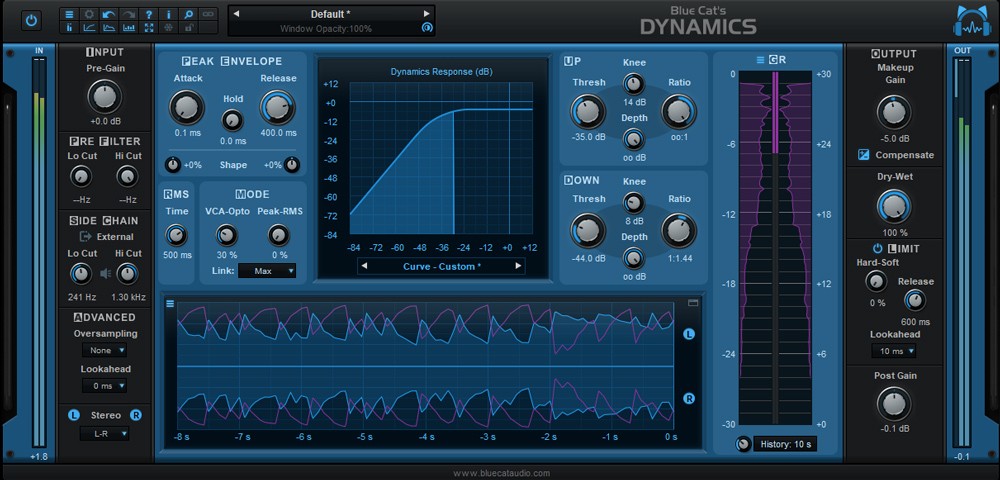 The plug-in also provides advanced stereo features, with mid/side processing capability, multiple stereo linking options and the ability to choose the channels affected by the processor.
An additional brick wall limiter and clipper with optional lookahead protects the output for complete control over the dynamics response. The configurable visual feedback shows every detail of what is going on inside the plug-in.
Main Features
Compressor, gate, limiter, expander, waveshaper with a unique two thresholds system

Peak / RMS & Opto / VCA modes, envelope shaper, depth control to limit the gain range

Dry / wet control for parallel compression, input and side chain filters

Stereo or mid-side processing with multiple channels linking options

Post brickwall limiter or clipper with lookahead

Optimal monitoring: response, envelopes and gain reduction real time display with zooming

Up to 4x oversampling for the best sounding quality

Multiple side chaining modes: perform side chain compression, ducking, gating and much more

Fully configurable user interface for optimal experience
Mac:
macOS 10.7 or higher
Intel processor
standalone: Core Audio-compatible audio interface
Windows:
An SSE2-enabled processor (Pentium 4 or higher).
Windows 8 - 10
standalone: ASIO-, MME- or WASAPI-compatible audio-interface (ASIO recommended)
Required Registration:
Blue Cat Audio products require you to register with the manufacturer at www.bluecataudio.com to activate your license.
This product requires an activation!
An internet connection is required to authorize / activate the product.