CenterOne - Adjust your center without changing the panorama
CenterOne will solve all of your imaging issues - with ease... in no time...
It also gives you LCR plugin outputs so you can decide to put an effect on just the center extracted channel. Mixing LCR back together gives you a bit-identical copy of the original signal.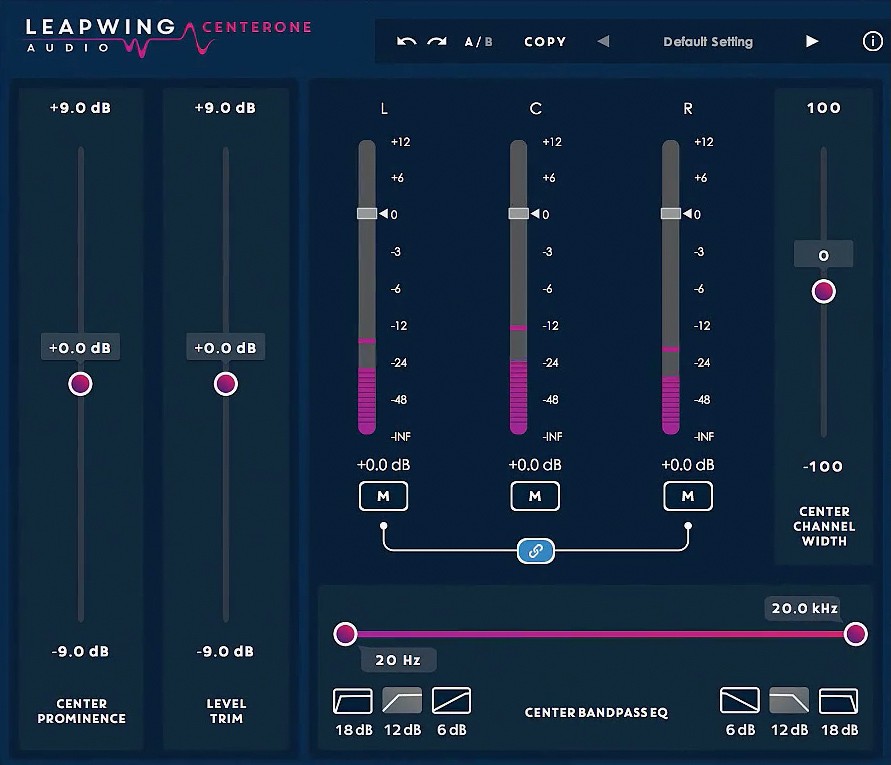 No MS-technique
CenterOne's "Center Prominence" algorithm analyses the precise location of the sound sources in the stereo signal for a careful processing of each bit of your audio, respectful of the original location of the sources. The alternative MS-technique that attempts to change the level of the M part of the signal, fails to achieve a good performance due to the inherent drawback of the lateral sources leaking into the M part of the signal split.
Features
Phantom center manipulation - Bring the phantom center signal in a stereo stream forward or push it back by up to 9dB without changing any of the panorama

Extract left-center-right - Convert a stereo signal into an LCR stem in a unique bit-identical way

Simple yet beautiful design - Beautiful Retina interface with unique design, focused on the optimal workflow

Extremely good filters - The highest quality audio processing algorithms available
System requirements
Available on Mac OSX (10.9 +), Windows 8, 10 (64-bit only) in AAX-Native, VST, VST3 and AU
Required Registration:
Leapwing Audio products require you to register with the manufacturer at www.leapwingaudio.com to activate your license.
This product requires an activation!
An internet connection is required to authorize / activate the product.