Chord FX Suite
This tool (formerly known as "AutoTheory") makes you sound like a professional composer with endless experience in music theory, even if you don't have the slightest idea what you are actually doing - as Chord Prism takes care of the theory. Easily create signature basslines, melodies and arpeggios for any chord progression.
Key Features
Chord Generator - One Finger Chords of any type with Strum, Repeat and Velocity Effects.

Smart Scale - Keep your hand in the same position while the scale conforms to each Chord Selection.

Step Sequencers - Create dynamic rhythms for your chords, melodies and basslines.

Multi Arp - Audition through and Record multiple one finger arpeggios of the current chord.

Chord Editor - Customize tones within each chord for unique voicings, inversions and extended chords.

Synchronization - Chord Prism syncs Key, Scale and Chord selections between all open instances.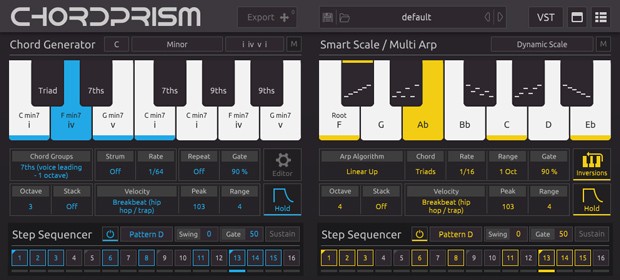 In Detail:
Chord Generator - Play one finger chords from any Key or Scale. Choose from multiple chord types (triads, 7ths, 9ths) and multiple inversion and voice leading options. Apply Strum, Repeat, Hold and Velocity effects.

Smart Scale - Play amazing basslines and melodies with Mozaic Beats' patented Smart Scale. Features different mappings for different experience levels. For beginner mappings, the Scale shifts with each Chord Selection. This allows you to keep your hand in the same position, while the right tones shift to your fingers.

Step Sequencers - Program and apply different rhythmic patterns to the content you create with the Chord Generator and Smart Scale. Chord Prism comes with a wide range of genre-based presets which take full advantage of the Step Sequencers.

Multi Arp - Create from a palette of multiple one finger arpeggios which can be applied to any chord selection. Mozaic Beats' patented Multi Arp allows you to mix and match arp patterns into unique directional and tempo changing combinations.

Instance Sync - When using multiple instances of Chord Prism within a project, each instance will share Key, Scale and Chord information. This allows you to quickly add elements like bass, melody and arpeggios to a chord progression without having to think about what tones will work over the chords.

Multi-Instrument Performance - Play a chord progression, melody and bassline simultaneously with different instruments inside of your DAW... like you have four hands. Chord Prism's Mute buttons allow you to isolate specific roles for each instance.

Chord Editor - Adjust the notes of each defined chord on a step by step basis with Mozaic Beats' patented Chord Editor. Create any inversion, voicing, extended or altered chord imaginable. A powerful tool for more experienced users looking for advanced accompaniment options.

Export MIDI - Once you have gotten your track to where you want it, you can easily drag and drop the actual midi notes being performed to an instrument track within your DAW.

Key/Chord Shifters - Change your key or chord types on the fly with Chord Prism's shifter keys. Great for live performance or quickly auditioning different ideas in the studio.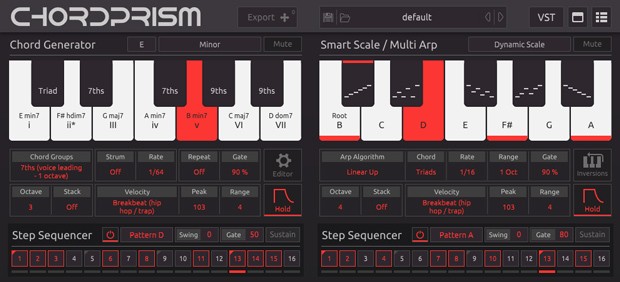 Most DAWs - Chord Prism is recognized as a VST Instrument within your DAW. It does not produce any sound, but can be set up as a MIDI Output to another instrument within your DAW. You can then record your selections to the Chord Prism track, which will control the playback of another instrument track. You can also export the midi from Chord Prism to other instrument tracks. Multiple instances of Chord Prism can be used within a project.
Maschine and Reason - Since these DAWs do not allow for routing MIDI from one track to another, Chord Prism allows you to load an additional VST Instrument within itself. You can scan your VST instruments into Chord Prism's library or drag and drop individual VST instruments from their folders on your computer to the Chord Prism Library.
Logic Pro - Chord Prism can be used just like native Logic MIDI Effects, where it is placed in front of the instrument in the signal chain.
Required Registration:
Mozaic Beats products require you to register with the manufacturer at www.chordprism.com to activate your license.
This product requires an activation!
An internet connection is required to authorize / activate the product.