4 Legendary Chorus Effects in a single Unit
XILS-Lab went to great lengths to create authentic sounding chorus effects. Having studied many vintage chorus units and deciphering what made each one unique, they then modeled four chorus modes (Synthex, CS-80, Dim-D and V+ 330). Chor'X emulates some of the most famous archetypal structures found in these legendary units: 4 BB Delays, 2 BB Delays and 2 BB delays with phase tweaks, with or without an internal compander. Unleash your creativity and go wild by combining these diverse chorus effects together!
The "True Stereo engine" spatializer developed by XILS-Lab expands dramatically the stereo width that some reputed Choruses could add to instruments. You can now position all the signals in a stereo image. It is far more than a simple panoramic tool, with XILS-Lab Chor'X, you can place an instrument in front of the stereo field or further back: you master the Space!
The Legacy/Advanced feature allows a fast workflow to choose and tweak your preferred chorus model from. Use the Advanced button to change internal chorus parameters such as the LFO rate and also the amount of chorus from a particular model.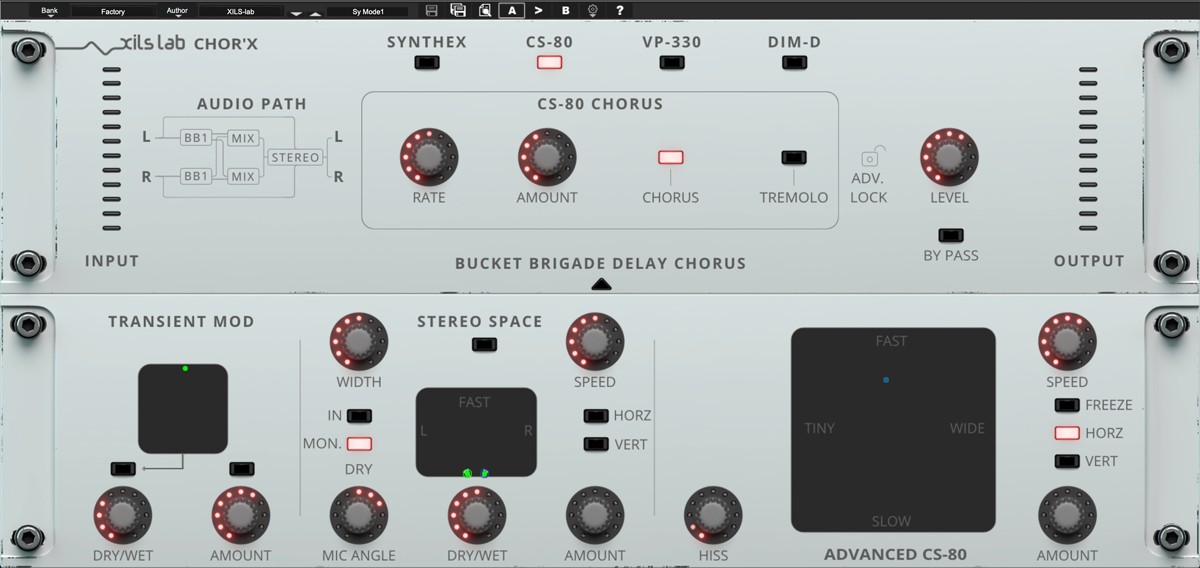 Details
There are also a few unique features that you're used to finding in all XILS-lab instruments:
Impulse Threshold: Chor'X will not destroy the low end of your instruments. There is also a special Dry tool that allows you to process percussive material while leaving the transients dry, only adding chorus to the tail of the instruments.

Dynamic Modulations: You can add automatic dynamic changes to the rate and the amount of all the BB Delay lines. This unique feature is the key to ever-changing, very subtle or more devastating Chorus, and combined True Stereo effects.
Product Features
Easy and Fast workflow with the Legacy/Advanced mode
Four Bucket-Brigade Delay emulations
Four standard chorus structures (with special filtering and compander emulations)
Two 2-D pads for easy parameter tweaking
True Stereo Dynamic Engine
Advanced Dry/Wet modulation with an impulse follower
Advanced Amount modulation with an envelope follower
True stereo path with independent Right and Left Chorus structures
Advanced preset management
All parameters are MIDI controllable
Mac:
macOS 10.9 or higher
Intel & Silicon Support (M Series Chips)
64 bit
Windows:
Windows 7 or higher
32 & 64 bit



This product requires an activation!
You can either "soft" activate on your computer without addditional hardware or transfer the license to an iLok USB dongle which has to be purchased separately. The iLok dongle can be used to run the protected software on different computers. Your licenses can be easily manged using the iLok Licence Manager. To protect your investment against theft or loss we recommend the iLok Zero Downtime protection with TLC.
An internet connection on any computer and a free user-accout at www.ilok.com is required to authorize the product.
Please check with the software manufacturer which iLok version is required at least if you want to use a hardware iLok!