Touchscreen Application for Reason
Cloudkeys is a powerful application for Windows 7 and above. It has been designed to efficiently control Reason from any physical touchscreen found on the market.

Due to the smart scripts you get access to 130 most used Reason key commands and functions from the tip of a finger. Commands are located EXACTLY where one would expect them to be on a touchscreen Monitor for Windows OS platforms without having to think about it. It preserves the artist's inspiration thanks to an improved technical workflow.

Ready to use gesture assignments cover most commands performed by users, such as: Clip and Scene Launch, Convert Tracks, Transport functions, Zooming, Track Scaling, Arrange, Mix and Edit window navigation, Detail Editor, Automation Editor, Device Panel, and Mixer Panel window toggling, etc.
Cloudkeys runs under Windows 7 and above. 16" to 24" Touchscreen Monitors are recommended but Wings has proved to work perfectly well on bigger touch screens as well. The application doesn't install software drivers or overlays within Reason. It natively lives within Windows' built-in touch OS environment. It is therefore super stable compared to other Touchscreen controllers found on the market.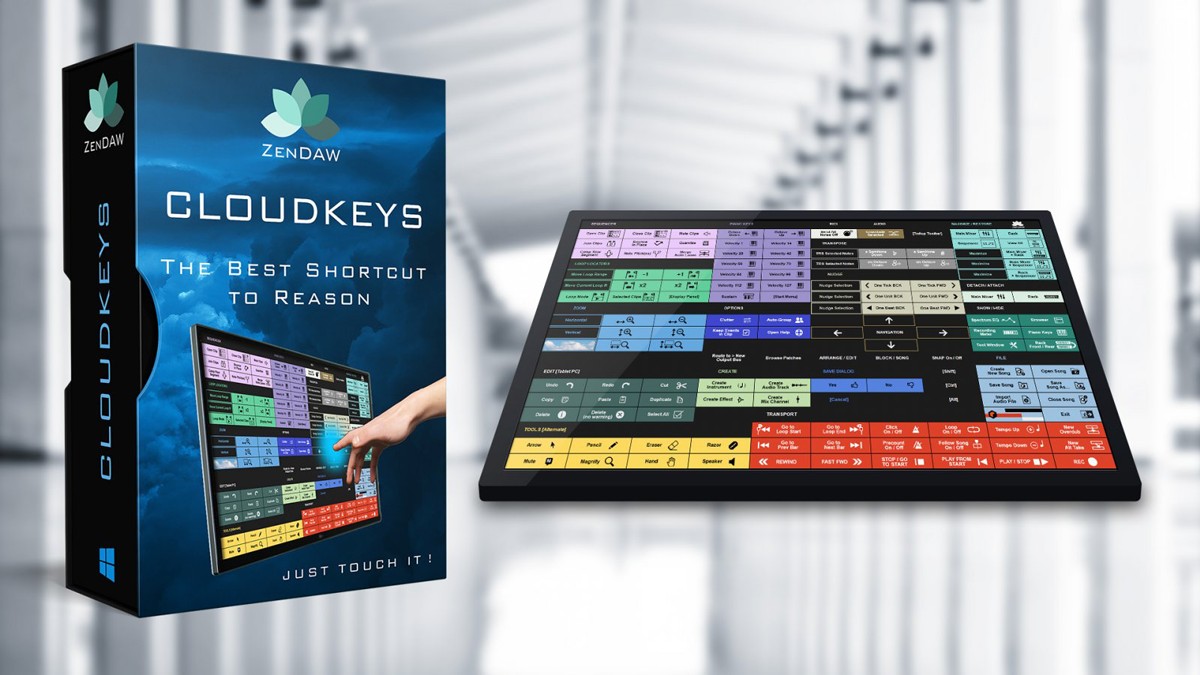 Overview
3 Elegant Workspaces (CLOUDKEYS, and Alt 1 & 2 presets) to best fit your personal workflow
Sequencer editing functions: Open Clip, Close Clip, Join Clips, Mute CLips, Bounce in Place, Quantize, Merge Note Lanes, etc
Create Instrument, Create Audio Track, Create Effect, Create Mix Channel
Edit Tools
Audio: Crossfade Selected
MIDI: Send All Notes Off
Show/hide on-screen Piano Key window: Octave Up/Down, Velocity selection, Sustain
Move Loop Range and Move Current Loop Range
Transpose Selected notes
Zoom functions
Nudge Selection: One Tick Back/Forward, One Snap unit Back/Forward, One Beat Back/Forward
Navigation: Up, Down, Left, right
Save Dialog: Cancel, Yes (Save Song), No (Do not Save Song)
Route to > New Output Bus
Browse Patches for selected devices
Toggle Arrange/Edit Mode
Toggle Block/Song view option
Snap On/Off
Maximize/Restore: Main Mixer, Rack, Sequencer, View All
Detach/Attach: Main Mixer, Rack
Show/Hide: Spectrum EQ, Browser, Recording Meter, On-screen Piano Keys window, Tool Window, Rack Front/Rear
File: Create New Song, Open Song, Save Song, Save Song As, Import Audio File, Close Song, Exit
Maximize: Main Mixer + Rack, Main Mixer + Sequencer, Rack + Sequencer
Full Transport Functions include: Record, Play/Stop, Play From Start, Stop/Go to Start, Rewind, Fast Forward, Go to Previous Bar, Go to Next Bar, Go to Loop Start, Go to Loop End, Precount, Click, Follow Song, Tempo Up, Tempo Down, New Overdub, New Alt take
Reason 9 or above requiered!
Windows:
Windows 7 or higher
16"-24" touchscreen-monitor recommended (larger screens proven to work also)
Required Registration:
Zen DAW products require you to register with the manufacturer at www.zendaw.com and my.plugivery.com/redeem to activate your license. To use Preset Expansions you also need to register with www.pulsedownloader.com.
This product requires an activation!
An internet connection is required to authorize / activate the product.