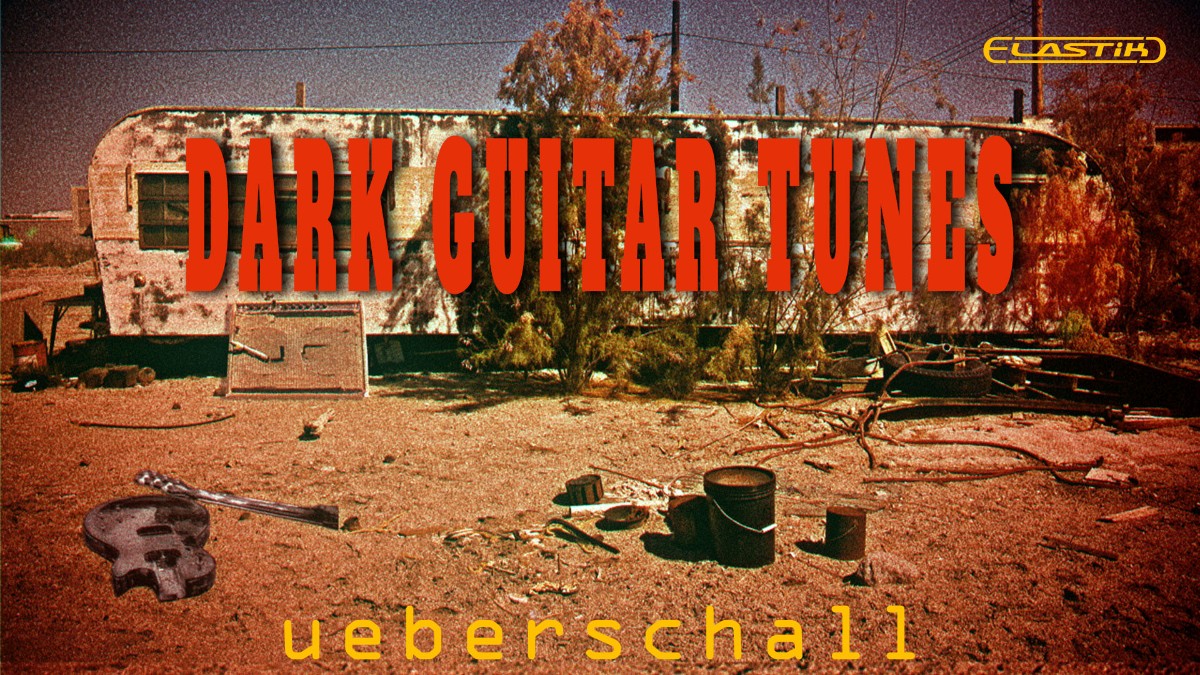 Dark Guitar Tunes - Cinematic Progression
Combining a sophisticated musicality with a dark, raw, atmosphere, Dark Guitar Tunes is built to inspire. Always haunting and somewhat sinister, the musical moods deliver a dystopic atmosphere, full of dark suspense and unnerving thrills.
For your next atmospheric, experimental and unsettling musical project, Dark Guitar Tunes is a perfect creative starting point.
Experimental And Sophisticated Guitar Performances
The library contains 5 huge construction kits. These are built from 3.6 GB of sample data and over 650 individual loops and phrases. These loops are very extensive with a length of up to 30 seconds and more. Each kit features multiple musical sections as well as intro and outro parts. There is therefore plenty of scope for the user to craft their own unique arrangement within each kit. Original tempos span 78 to 102BPM but, of course, you can fully customize pitch and tempo within Elastik's powerful sample playback engine.
Expansive Construction Kits For Maximum Flexibility
Acoustic, electric and distorted guitars are the featured instruments. Both mic'ed and DI versions are provided in many cases so you can add your own choice of guitar processing if required. The playing and performances are sophisticated, quirky and somewhat experimental, giving the library a unique musical character.
Other instruments include electric bass (also with a DI version), acoustic and electric piano, synths and various sound effects. For the drums, the sound is deep and punchy. A pre-mixed drum loops is provided for all musical sections, but you also get a comprehensive set of loops for each drum kit piece including kick (inside and outside mics), snare (top and bottom), electronic snare, hihat, cymbals, toms, room and overhead. There is therefore plenty of flexibility for creating your own custom drum mixes.
Dark And Unsettling Moods With Cinematic Quality
The library is ideal for songwriters or producers looking to step outside the conventional, or for media composers looking to create a progressive guitar-based soundtrack. For your next atmospheric, experimental and unsettling musical project, Dark Guitar Tunes is a perfect creative starting point.
Elastik Features

The Elastik player is the perfect plugin for modern music production. The ReTune algorithm allows changing the key and scale of any tonal loop at highest quality. All libraries are organized in the same browser and can be mixed and matched with each other. All loops in Dark Guitar Tunes are tagged with information on key and tempo, making fast searches and immediate song-integration very easy.

Credits: Produced by Kai Reuter.
Free ELASTIK 3.6 Loop-Player is included in this product.
With its intuitive Loopeye editing environment, the high-quality pitch, key, scale and tempo manipulation algorithms and the huge collection of Elastik-ready sample libraries, spanning almost every conceivable musical genre, Elastik is a powerful workstation for loop-based musicproduction. It can be used either as a standalone application or as plugin within almost any DAW on both Windows and macOS platforms.
Mac:
macOS 10.12 or higher
Apple Silicon Support
64 bit
Windows:
Product activation:
An internet connection is required to authorize / activate the product.