Create atmospheres and soundscapes from darkness and trepidation to hope and promise
Conjure a complete universe of sound that evolves from darkness and trepidation to hope and promise with one of Gothic Instruments' most versatile DRONAR modules – DRONAR World Flutes.

Combining rich organic Chinese dizi, Irish whistle, ocarina and pan pipes textures with DRONAR's deep, expressive and innovative atmospheric sound creation tools, it'll take you just a few clicks to craft otherworldly yet deeply human atmospheres, pads, soundscapes and more to whisk your listeners on a journey from fear and suspense to uplifting optimism.
With preset categories ranging from Horror, Fear and Dark to Dreamlike, Inspirational and more, DRONAR World Flutes is an essential, flexible resource for composers of movie, tv and video game soundtracks, as well as ambient music producers.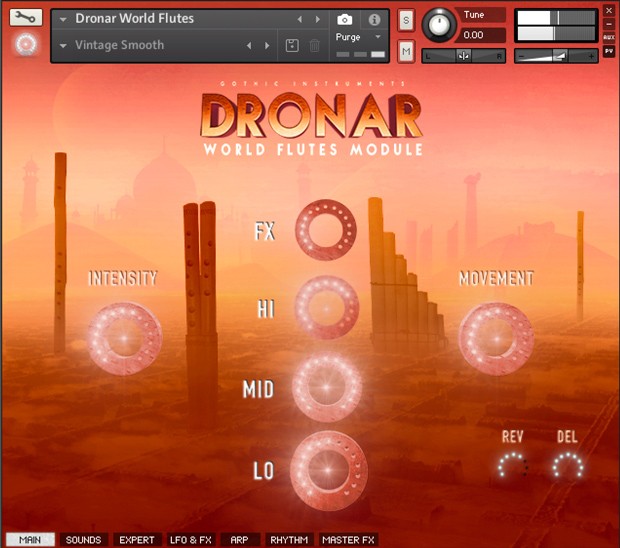 Features Overview
Expressive atmospheric sound creator
Includes 192 snapshot presets
2,535 samples
Total library size 10GB compressed to 6.5GB by Kontakt
Developed for the full (paid for) version of Kontakt 5.8 or higher
Sounds derived from Chinese dizi, Irish whistle, ocarina and pan pipes
Evolving, rich and complex soundscapes, pads and textures that would otherwise take hours to create
Craft sounds ranging from dark and ominous to uplifting and hopeful
Highly suitable for a wide range of cinematic genres
Adds interesting textures to ambient tracks.
Expert and beginner friendly
7 pages of simple yet powerful features deliver massive control
Dive deeper with DRONAR's unique independent arpeggiators
Create your own rhythm patterns in amongst the pad magic with the Rhythm Editor
Onboard FX provide further sound design opportunities.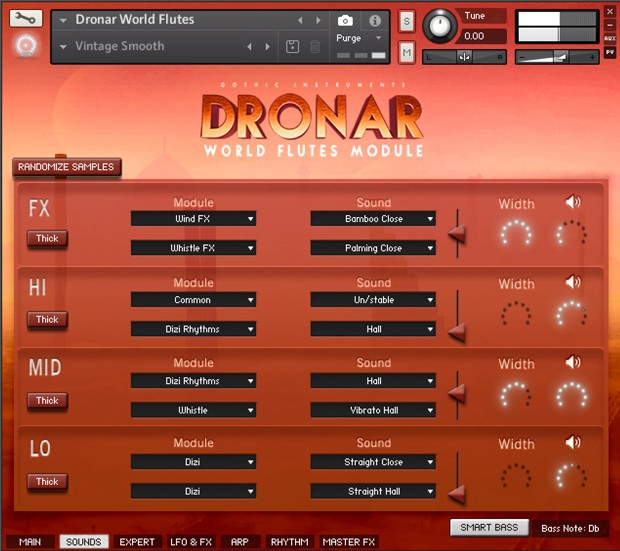 The Sounds
The Chinese dizi, Irish whistle, ocarina and pan pipes in DRONAR World Flutes were recorded by musician William Arnold who creates evocative, emotional, and expressive leads and background textures for TV and film using his voice and a variety of flutes from across the globe.
The result of his work with Gothic Instruments is a rich tapestry of sounds that can vary widely in mood and style. From supernatural soundscapes to evolving rhythmic textures and pulsating pads, your listeners will be taken on a stirring journey brimming with drama and emotion.
In William's own words, here's a little more detail about the instruments he recorded:
Bass flute - an octave below most other flutes, the bass flute adds lower tones with a rich, warm sound. In addition to playing with and without natural vibrato, I played each sampled note while humming.

Dizi - a traditional Chinese bamboo flute with seven open holes. I played this flute with and without vibrato and while humming.

Low Whistle - the much bigger brother of a traditional Irish penny whistle. One of the interesting ways I played this instrument was with finger vibrato, which involves wiggling a finger over an open hole. This does not really change the pitch, but creates a rapid fluctuation in the timbre of the note. I also created some special FX with this instrument by playing just the mouth piece, by creating gurgling noises through just the body of the flute, and by randomly slapping my palm against one end of the flute

Ocarina - a kind of vessel flute that is found in many cultures. This instrument was made popular by the Legend of Zelda: Ocarina of Time. It has a distinctive, pure sound.

Recorders - I used various recorders for some of the samples, including tenor, garklein (a small recorder), and a tiny plastic instrument that someone gave away as a party favour.

Pan Flute - a row of closed tubes gradually increasing in length. Rather than closing off holes with your fingers, as in most flutes, each tube is a separate note.

Flutter Tongue - another technique I used to play some of the flutes. This involves rolling the tongue while playing.
DRONAR World Flutes is designed to work with the full version of Native Instruments Kontakt 5.8.0 and higher, with snapshot presets that make loading times and preset auditioning faster.

Please notice: This library can not be used with the free Kontakt Player! To use this "Open Kontakt" format, you need a full version of Kontakt, which is included in products such as Komplete or Komplete Ultimate.
The minimum required Kontakt version number for this product is stated in the product description or can be found on the developer's website.
System Requirements:
Mac:
macOS 10.14 or higher
64 bit
Intel Core i5 or Apple M1 (native)
RAM: 4GB (6GB recommended)
Windows:
Windows 10 or higher
64 bit
Intel Core i5 or similar CPU
RAM: 4GB (6GB recommended)
Supported Interfaces:
Mac (64-bit only): Stand-alone, VST, VST3, AU, AAX
Windows (64-bit): Stand-alone, VST, VST3, AAX
Legacy Versions:
If you require legacy installers of Kontakt Player please refer to this Knowledge Base Article.
Product activation:
An internet connection is required to authorize / activate the product.