DynOne - smart parallel multiband dynamics processor
Get the sound you want, without the tedious tweaking you probably do not want - this multiband compressor does the job for you.
And since it is not only about getting the perfect sound, but also about getting there fast and easy, DynOne comes with an intuitive GUI.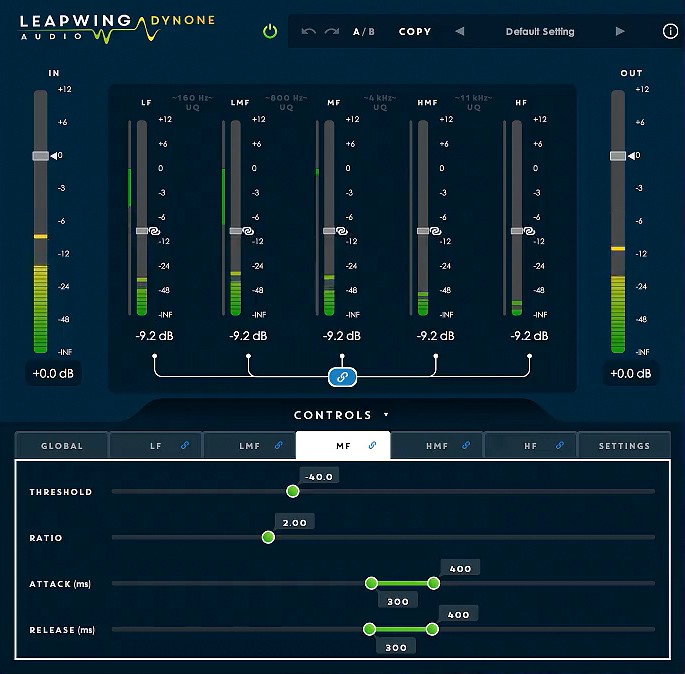 In order to get this premium sound, Leapwing Audio uses highest quality crossover filters. These filters have been custom designed to interact with each other, in order to avoid phase alignment issues between bands, something you do have with traditional multi-band compressors.
Leapwing Audio also felt that having traditional attack and release times didn't really give you the best sounding result. When you're working with transients vs sustained sounds, you often want to have different attack and release times. This is why we use min and max attack/release times - aka adaptive attack & release.
Features
Exquisite crossover filter - 5 bands with custom-built linear-phase gentle crossovers at 160Hz, 800Hz, 4kHz and 11kHz

Enhanced control for mixing and mastering - From variable RMS vs peak detection, to stereo linking percentages, all the way to smart variable controls

Simple yet beautiful design - Beautiful Retina interface with unique design, focused on the optimal workflow

Extremely good filter - The highest quality FIR filtering we can run on modern CPU
System requirements
Available on Mac OSX (10.9 +), Windows 8, 10 (64-bit only) in AAX-Native, VST, VST3 and AU
Required Registration:
Leapwing Audio products require you to register with the manufacturer at www.leapwingaudio.com to activate your license.
This product requires an activation!
An internet connection is required to authorize / activate the product.