The bass, the presets and the MIDI for anything from subtle to rocking Americana.
Although it's had its foothold deeply rooted in the folk, gospel, blues, soul, country, jazz and rock songwriting tradition, Americana music has kept evolving and become a huge umbrella under which anything that doesn't quite fit the commercial country music mold can thrive. This EBX was tailored to bring you a workhorse-type expansion that functions in all these scenarios – for anything from small and acoustic setups to full-on electric rock instrumentations.
The Americana EBX comes with a classic American brand bass sampled in two fundamentally different ways: one by using a traditional finger playing style and the other by muting the strings with rubber foam and striking with the thumb.
In addition to the sounds, a broad collection of presets as well as a custom MIDI library of basslines are included.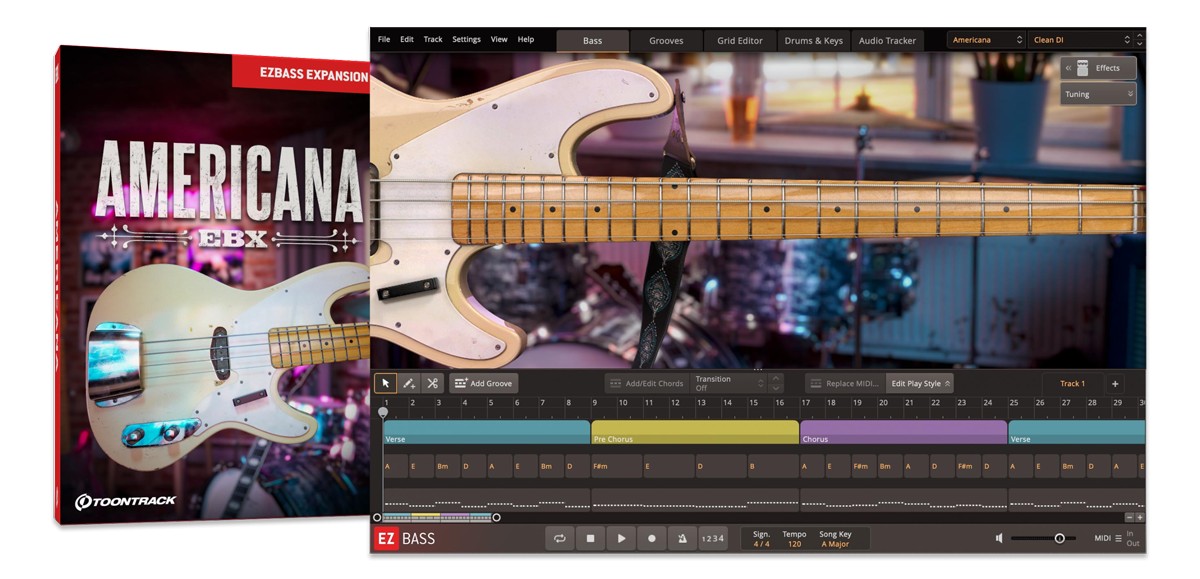 If you're looking to boost your EZbass with a jeans-and-t-shirt-type expansion that works in any scenario, this is it. No frills or extras, just good old rock and roll, folk, gospel, blues and, well, the entire mosaic of styles that can be traced back to Americana.
Feature Spotlight
A meticulously captured late-'60s electric bass guitar
Inspired by Americana music of the '70s through to today
Ideal for anything from subtle and acoustic music to full-on rock setups
Includes finger and muted thumb options as well as a broad set of articulations for both
Offering a range from D1 to E4
Includes a wealth of presets for a wide range of tones
Comes with 'Clean DI' (direct input) preset options for easy external processing
Includes a custom MIDI library inspired by classic and modern Americana music
This EBX extension requires an installed and running EZbass and integrates with sounds and MIDI automatically into the existing EZbass player.
Mac:
macOS 10.9 or higher
64 bit
RAM: 4GB (8GB recommended)
Windows:
Windows 7 or higher
64 bit
RAM: 4GB (8GB recommended)
Required Registration:
Toontrack products require you to register with the manufacturer at www.toontrack.com to activate your license.
This product requires an activation!
An internet connection is required to authorize / activate the product.