An in-your-face Bass
Bass, presets and MIDI – all tailored for thunderous classic rock. The Classic Rock EBX is an expansion for EZbass featuring a meticulously captured 1960s bass. Picked for its optimal qualities, this bass embodies all the wants and needs you'd be looking for in a workhorse of a rock instrument: the thick low end, the soaring harmonics and that bright and articulate sustain that cuts through in any mix without being overpowering. Simply put, this is a bass that oozes rock at the strike of a single note.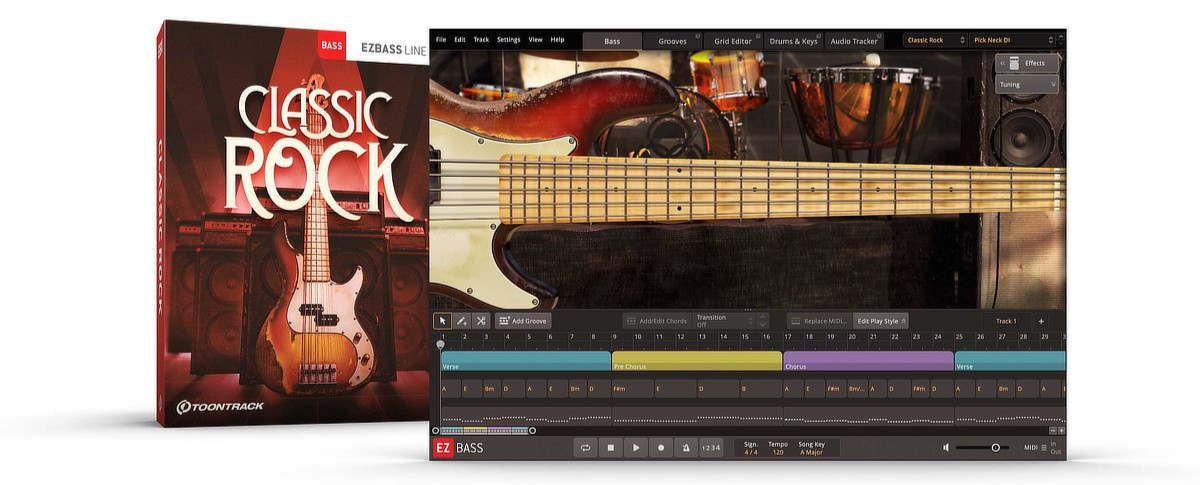 Aside from the actual instrument, the EBX also includes a broad selection of presets for all tools and striking options as well as a custom collection of MIDI, making this much more than just a bass sample library – it's a well of ideas and a true toolbox of sound.
Can you imagine an earth-shattering groove without the raw power of the bass? Without that deafening rumble that perfectly interlocks with the drums and melds everything into the thunderous wonder that spells classic rock? Of course not. Welcome to your new go-to bass.
This EBX-Library for EZbass with its sound and MIDI content fits perfectly to the EZX Classic Rock for EZdrummer/Superior Drummer which will be released on September 22nd.
Feature Spotlight
A meticulously captured classic 1960s bass, optimal for a classic rock tone

Sampled with both finger and pick options

Pick option sampled in two different striking positions: neck and bridge

Includes a wealth of presets for a broad range of rock tones – from dark and muddy to bright and heavily distorted

Comes with a 'Clean DI' (direct input) preset option for all tools and striking positions

Has a custom MIDI content inspired by classic rock from the '60s and '70s
PLEASE NOTE: This EBX extension requires an installed and running EZbass and integrates with sounds and MIDI automatically into the existing EZbass player.
To use this product, an installed and activated Version of EZbass is required.
Required Registration:
Toontrack products require you to register with the manufacturer at www.toontrack.com to activate your license.
This product requires an activation!
An internet connection is required to authorize / activate the product.