***Crossgrade for owners of Emotional Violin or Emotional Viola
You already own Emotional Violin or even Emotional Viola and are overwhelmed by the variety of articulations and the direct and unadulterated sound? Well then the Emotional Cello Crossgrade is the right choice, be it for film scoring, pop music productions, songwriting, classical music or modern, avant-garde cello compositions.

Emotional Cello - never before, a virtual instrument could be played with this level of expression.
The Emotional Cello from the Munich-based developers Harmonic Subtones is a virtual instrument that features a powerful and emotional sound and opens up unknown dimensions of expression.
Whether film scoring, pop music productions, songwriting, classical music or modern, avant-garde cello compositions, the Emotional Cello shines through a variety of contained articulations, a direct and unadulterated sound as well as unusual playing techniques and rebowing.
Contextual Sampling
"Contextual Sampling" is what the developers of Emotional Cello call the philosophy behind this project in which all samples are always recorded in a musical context to capture the natural bowing and expressiveness of real instrumentalists. In this approach, the recordings of a real vibrato play an important role, as they are always more inspiring and organic than adding an artificial vibrato.

Articulations, Patches & True Legato
Emotional Cello was created from well over 100 articulations and their variants. By means of an elaborate and intelligent script, countless articulations are linked together in a meaningful way so that they follow the playing style of the user.
The library contains three master patches, including the "Emotional Cello", the "Sulponticello" and the "Harmonic Cello". These contain most of the recorded articulations, which logically interlock and provide an elegantly aligned sound, thanks to "True Legato". Three different transition types have been captured in several sessions and simulate, among other things, realistic changes in bowing direction or passionate portamento while playing. The user simply controls the velocity - the tempo of the tone transitions automatically adapts to your DAW!
In addition to the Master Patch, the Emotional Cello also contains an Individuals Patch which is a set of key switch patches with different articulations of the same category such as sustains, shorts, trills and more. The Specials Patch offers some unusual articulations and effects and the Stackable Patch contains the main articulations with standardized key switching to match the stackable patches of Emotional Violin & Emotional Viola.
Selection of the included playing styles:
Spiccimo & frog, Stacc, Fast Spiccato, Frog Madness, Pizzicato, Delicate, Delicate fast, Proud Vibrato
Hero Vibrato, Martele half NV 8RR, Martele half Vib 4RR, Pickup, Fortepiano, Vivid, Paganini Run, Moderate 2, Sustain Non Vib XFDe, Expressive XFDe, Pastorale, Pastorale slow, Tremolo, Trill HAT,
Trill WT.
Ornament Key Switches
The Ornament Key Switches are another great feature. Unlike the articulation key switches, these are temporary and allow variations of the already selected articulation. By pressing one of the Ornament Key Switches, the current playing style can be faded into another articulation or variations can be generated. Last but not least, the Ornament MKS offer typical effects like glissando, flageolet and many more.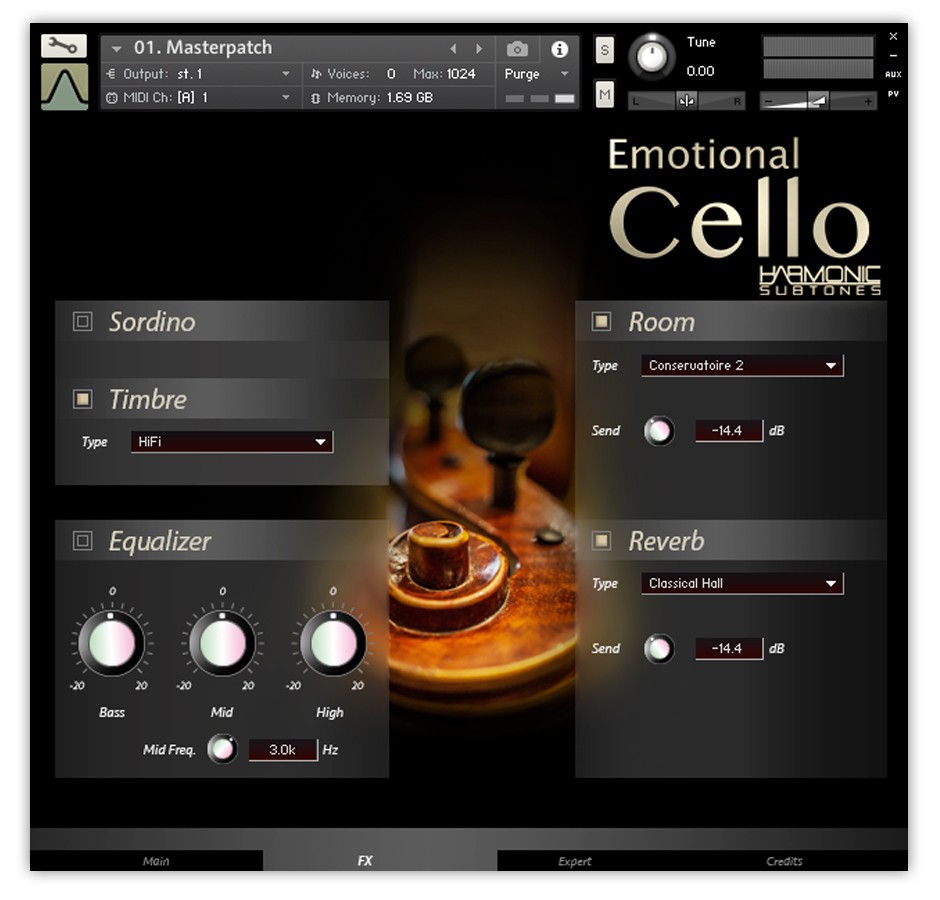 The Effects
In order to customize the sound of the Cello according to your wishes, you can use effects specially designed for the instrument. These include a 3-band EQ, a switchable sordino and a timbre function. The latter contains 15 convolution-based presets from renowned and experienced sound engineers for easy and characteristic modulation of the basic sound.
For the use of the Cello as 1st chair cello in an orchestral environment, there are also timbre EQs which place the viola in its correct position in the orchestra room. The final touch is provided by the "Room" and "Reverb" modules, which use professionally recorded convolution reverb presets to reproduce the sound of real rooms and can also be adjusted separately.
You are the artist!
The interface of the Emotional Cello has some advanced features to make it easier for you to play the library. For example, "PolyLegato" recognizes whether you are playing a bound melody line or a chord, and "Legato Trimming" allows you to manually adjust the speed of legato and portamento transitions.
The Attack function allows you to add an additional start sample independent of the currently selected articulation in order to let short notes flow in during legato playing or to simulate harsh starting notes. Correct tuning is also taken care of: Using the "Micro Tuning Option", the most popular tunings can be applied to the viola, and completely new tunings can be created.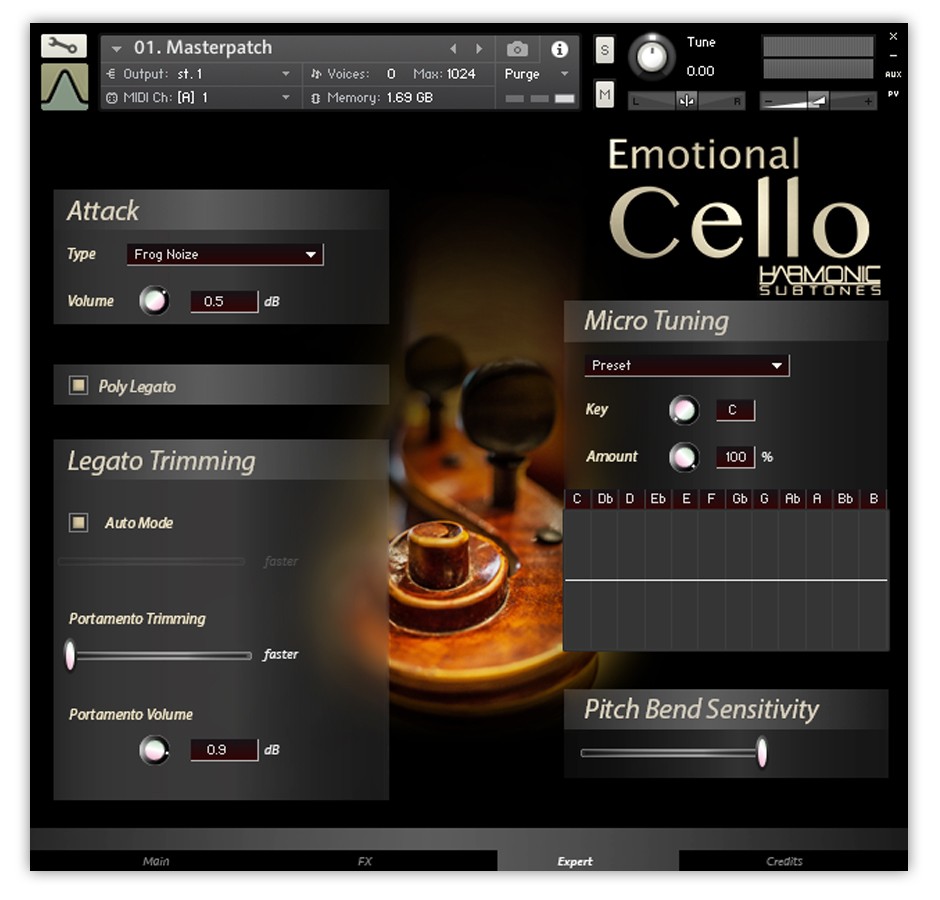 The Recording
Emotional Cello was recorded in the Mastermix Studio near Munich, in a wood-panelled room with high ceilings and the greatest possible distance from the wall. For the greatest possible flexibility of use, two Neumann microphones, type KM184 and U87, were used for close recording. In this way, the room was kept quite subtle, and you can then create your desired sound with your own effects. However, you can also use the integrated Convolution Reverb.
Kontakt Player 6.2.2 or newer required.


The Audio Spotlight,
Must Have!


digital-notes.de,
Bestwertung


releasetime.de
top product award


Bonedo
5 Sterne Bestwertung
---

Paul Haslinger
Film Composer: Resident Evil: The Final Chapter, Halt And Catch Fire, Fear The Walking Dead, Rainbow Six|Siege, Lost Signal ...

"High quality virtual instruments are critical to my workflow, especially when I write for orchestra. Best Service VIs have contributed to many of my compositions. I'm particularly fond of Harmonic Subtones Emotional Cello."

Jeff Beal
4 time prime time Emmy winning composer, "House Of Cards", "Blackfish", "Pollock", "Monk", "Rome"
EMOTIONAL CELLO has become a go to sample set in my film score and concert music mock ups. One of the trickiest part of my workflow, is conveying to film makers just how beautiful solo strings can be in a film score. This instrument, with it's many articulations and sheer sonic beauty and easy playbility is a godsend!



Reinhold Heil
Award winning composer, engineer, musician, Goden Globe nominated
Solo String instruments are among the most difficult instruments to sample. I have been struggling with them for many years and gone through many commercially available products, with very little satisfaction. But now there is relief: Emotional Cello is the most detailed, thorough, well-scripted and beautiful sounding virtual instrument by a long margin.The sheer number of articulations is staggering! This is fast becoming a staple in my library.



Robert Allen Elliott,
Award Winning Composer
"I buy a ton of libraries each year as a working film composer – this is the best since BST. Excellent. When will you release the solo 'emotional' violin library? Thanks again for your hard work on this."
---

Christoph Spendel
Führender deutscher Jazz Pianist, Keyboarder, Bandleader, Komponist, Arrangeur, Produzent, Musikprofessor und Musikjournalist
"Selten hat mich ein Instrument so überzeugt und inspiriert wie das Emotional Cello. Es war stets schwer, akustische obertonreiche Instrumente zu digitalisieren.In diesem Fall ist es perfekt gelungen.Eine Bereicherung für mich als Komponist und Produzent."

This product requires the free Native Instruments Kontakt Player, the latest version can be downloaded through Native Access, Native Instrument's download manager!
The minimum required Kontakt version for this product is stated in the product description or can be found on the manufacturers website.
System Requirements:
Mac:
macOS 10.14 or higher
64 bit
Intel Core i5 or Apple M1 (native)
RAM: 4GB (6GB recommended)
Windows:
Windows 10 or higher
64 bit
Intel Core i5 or similar CPU
RAM: 4GB (6GB recommended)
Supported Interfaces:
Mac (64-bit only): Stand-alone, VST, VST3, AU, AAX
Windows (64-bit): Stand-alone, VST, VST3, AAX
Legacy Versions:
If you require legacy installers of Kontakt Player please refer to this Knowledge Base Article.

Required Registration:
Best Service products require you to register with the manufacturer at www.bestservice.com to activate your license. To use Kontakt Player Libraries you also need to register with www.native-instruments.com.
This product requires an activation!
This product requires Native Access for installation, registration and activation. Start the Native Access-Software and log in using your Native Instruments credetials to start the setup.
To sucesfully activate your product Native Access requires a working internet connection.
An Offline Activation on a different computer is Not Available with this product.