EZbass: Meet your new bass player
The world's most innovative tool for modern bass production for all songwriters
Toontrack is very proud to introduce the first full-featured and comprehensive bass production software of its kind. A software solution that exceeds the capabilities and functionality of existing sample libraries and not only delivers unprecedented sound quality, but also offers new and innovative ways to easily and intuitively add bass to your song ideas and productions.
EZbass was developed with the same demand for easy and intuitive handling that has already made the other well-known products of the EZ Line the most successful and popular virtual instruments on the market. It offers possibilities for almost unlimited creativity in arranging, composing and producing realistic bass performances for your own song ideas. Thus EZbass becomes a personal bass player for your own Music Production.
In addition to the many completely new and innovative songwriting features, EZbass contains two fundamentally different sound libraries of real basses, lavishly sampled in the renowned highest sound quality and the impressive wealth of detail that has made Toontrack one of the leading producers of complete instruments over the past 20 years.
At a Glance
Automatically finds matching and musical bass lines for drum-keyboard MIDI patterns.

Songwriting: Arranging, composing, editing - all easily within EZbass.

Includes a huge MIDI library with bass patterns for all genres and styles.

Extensive editing possibilities in the comfortable internal grid editor.

Reliable audio-to-MIDI conversion based on Superior Drummer 3 technology

Two very detailed sampled basses - one vintage, one modern.
For your information: If you order a boxed/shipping version from Best Service, you will receive the installation files on a DVD, while the original Toontrack box only contains a download code inside!

Two very detailed sampled basses - The Modern and Vintage Libraries
Contains two very detailed sampled basses - one vintage (Fender Jazz Bass 5-String), one modern (Alembic 5-String). The pickups on bridge and neck were sampled individually and separately for both instruments, so they can be used separately or faded into each other. This way you get practically two very different basses in each library.
The numerous different EZbass presets created by professional bassists and producers offer a wide range of sound processing, created by impressively realistic amp/speaker simulations and complex effect modules that are already used in the background in many of the EZ Line products (EZdrummer, EZkeys, EZmix).
The Articulations
EZbass offers the most versatile and comprehensive range of articulations available in a sampled instrument - making it easy to play and/or program impressively realistic bass performances in genres ranging from nuanced jazz to extreme metal. The MODERN Bass features the main types of articulation 'Finger', 'Plectrum' and 'Slap' - the VINTAGE Bass features 'Finger' and 'Plectrum'. Available articulations are 'Alternating Fingers', 'Index Finger', 'Middle Finger', 'Tapping', 'Percussive Right Hand', 'Percussive Left Hand' 'Ghostnote', 'Flageolet', 'Slap/Pop' 'Ghost Slap', 'Slides'.
The Audio Tracker
Reliable audio-to-MIDI conversion of monophonic (guitar, bass, etc.) and percussive material (drums) based on Superior Drummer 3 technology EZbass automatically converts any audio-recorded performance of guitar, bass or drums into MIDI basslines for your song using the internal 'Audio Tracker'. The audio material is either imported or recorded directly into EZbass.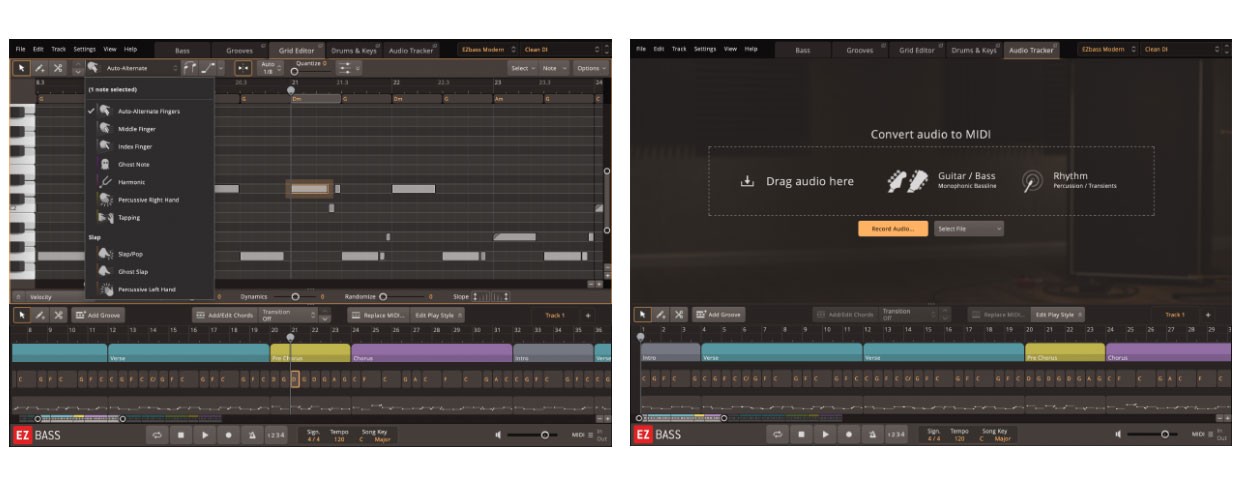 More Features
Use Tap-2-Find - Simply play the desired rhythm of your bassline to EZbass via 'Tap2Find'. EZbass will automatically show you all the matching variations from the included internal MIDI library.

Record Your Own Bass - Of course, you can always use EZbass's extremely realistic playing style and the many available articulations to record your bassline yourself using a MIDI controller.

Add Groove - Add a basic bass groove in continuous 8th notes, which you can then edit and change.

Add/Edit Chords - Extensively add and/or edit the selected chord using the innovative chord wheel.

Transitions - Easily and intuitively add musical transitions and slides between two chords.

Replace MIDI - The chords in the selected MIDI block remain the same, only the way they are played changes depending on the MIDI pattern selected in the Groove Browser.

Edit Play Style - Intuitively change the octave, velocity, damping, note length and general complexity of the performance using the 'Amount' control.

Sub Bass - The Sub Bass slider adds frequency components of two synthetically generated sine waves to the original natural sound of EZbass to give the signal more fullness and punch.

DI Mode - Simply use the DI (Direct In) preset and send the impressive detail and sonic quality of raw EZbass sounds into your DAW for further processing.

MIDI Learn - All controls can be quickly and easily connected to any controller through MIDI Learn, MIDI Learn Reversed and Bind to CC, allowing for efficient and creative automation in the mix.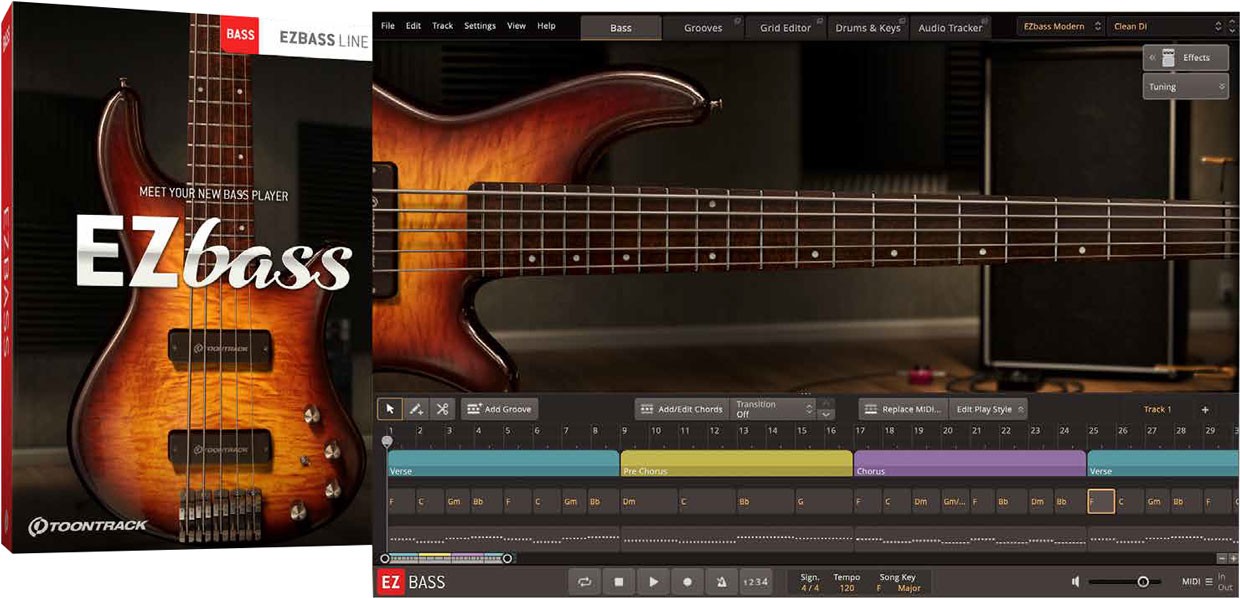 Feature Overview
2 bass libraries (Alembic 5-String and Fender Jazz Bass 5-String)

Each bass sampled at the bridge and neck pickup, free crossfading possible

Playing Stles - "Finger", "Plectrum" and "Slap

Large selection of articulations 'Alternating fingers', 'Index finger', 'Middle finger', 'Tapping', 'Percussive right hand', 'Percussive left hand' 'Ghostnote', 'Flageolet', 'Slap/Pop' 'Ghost Slap', 'Slides

Integrated tracker conversion of real audio tracks to bass MIDI (guitar, bass, drums etc.)

Core MIDI library with natural bass patterns for all genres and styles

Automatic creation of matching bass lines for imported MIDI drum and keyboard tracks

Integrated song track for arranging MIDI patterns or recording your own MIDI recordings

Intuitive creation of suitable transitions and/or slides between 2 chords

Freely scalable interface with detachable tab windows

EDIT-PLAY-STYLE, TAP2FIND, intuitive workflow with Search-Browser functionality for MIDI Patterns

Integrated MIDI grid editor with extensive editing options

Comprehensive MIDI-Learn for DAW-automation

Wide range of different mixer presets for bass sounds for different genres and mixing situations (uses complex EZmix effect modules in the background)

Innovative DI mode

Sub-Bass mode for more fullness and punch with 2 added synthetic sine wave generators

Expandable with Expansion EZbass sound libraries and additional EZbass MIDI packs
Mac:
macOS 10.9 or higher
64 bit
RAM: 4GB (8GB recommended)
Windows:
Windows 7 or higher
64 bit
RAM: 4GB (8GB recommended)
Required Registration:
Toontrack products require you to register with the manufacturer at www.toontrack.com to activate your license.
This product requires an activation!
An internet connection is required to authorize / activate the product.