SMALL PIANO. BIG SOUND.
The Small Upright sound library features a six-octave model 1001 piano by August Hoffman, a renowned Swedish brand with lineage tracing back to the late 1800s. This specific instrument is often referred to as the "Bambino" and was built in the 1970s. Due to its small size, it produces a distinct, focused tone perfectly suited to cut through in any mix. Still to this day, and despite the fact that it's since long out of production, the inimitable timbre of the August Hoffman "Bambino" can be heard in songs by many top indie pop, rock and alternative bands. Start writing!
EZkeys Small Upright contains the same software, functionality and extensive MIDI library as the other EZkeys titles.
If you have registered at least one EZkeys Instrument already, you are eligible for the reduced "EZkeys Sound Expansion" to get the Small Upright Piano and save big!
EZKEYS FEATURE SPOTLIGHT
Each EZkeys contains the same software including all functionality as well as the extensive standard MIDI library.
Each EZkeys comes loaded with an individual sound library.
Customers that already own one EZkeys can go straight for any other and get a discounted price. All your EZkeys sound libraries will be accessible through the same instance of EZkeys.
Sound Library Overview
A carefully sampled six-octave model 1001 piano by August Hoffman
Recorded at OAL Studio, Sweden, using only the best of the best in modern and vintage equipment
All sounds are designed to be mix-ready. Just pick a preset and the sound will sit right in your mix!
Uncompromising dynamic response for great playability
Includes Sympathetic Resonance based on real samples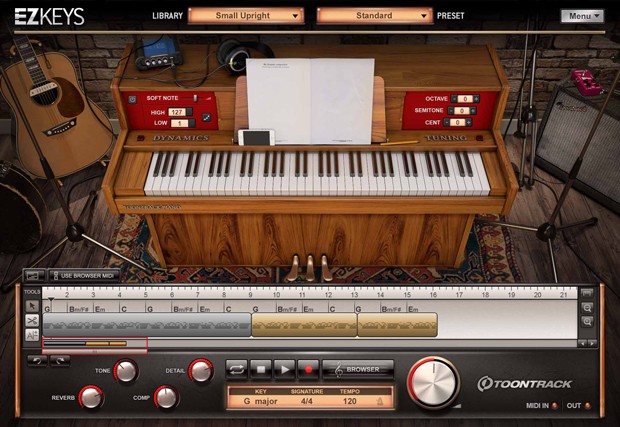 EFFECT CHAIN PRESETS – OVERVIEW
The included signal chain presets are based on high quality effects from Overloud. You can control each preset by using a set of controls that will affect the individual parameters.
Basic - The default sound. The basic piano sound slightly tweaked with controls for EQ, reverb, key and pedal noise.
Raw Tweaks - A true bypass preset that represents what the piano sounded like from the raw recording. Also, in this preset, you can adjust the level of hammer, sustain pedal and releases as well as detune the piano.
Basic Acoustic - Another natural sounding setting with adjustable EQ, room reverb and hammer noise.
Kingston Spring - Slight amounts of tape compression and saturation give character to this preset. Combined with the vintage spring reverb, you can give your sound a true Jamaican flavor.
The Flower - Polished '70s ballad piano. Tweak to your liking with EQ, compression and reverb.
Social Club - A lot less polished, more throaty sound. Lots of room ambience available. Adjustable EQ, ambience, tape drive and hammer noise take you to another musical dimension.
POP - A brighter setting with EQ, reverb and chorus controls at your disposal.
Dried Out - This one can go from bone dry to ambient with the onboard dryer control and the reverb, EQ and chorus. Set the dryer control to max and add some chorus for a taste of the '80s.
Chorus and Delay - This preset features an adjustable tempo synchronized delay along with a classic chorus. The EQ lets you go from mellow to bright.
Delay and Compression - Another synchronized delay. This time along with EQ and compression controls.
Taste of '90s - A bright, heavily processed, mid-scooped piano with compressed attack. Control the chorus EQ and delay. Made to cut through in the busiest of mixes.
Modulation - An FX preset featuring a fluttery modulation effect, a tone knob and a reverse reverb.
Digitalized - A sharp, punchy sound in the spirit of early synthetic pianos. Adjustable EQ, compression, chorus and sharpness.
Modulated Filter - Another FX preset. This time we have a modulation filter, reverb and delay onboard. Play around with the modulation and discover anything from classic lo-fi tones to harpsichord with auto-wah sounds.
Mac:
macOS 10.9 or higher
64 bit
Intel- or Apple Silicon processor
RAM: 2GB
Windows:
Windows 7 or higher
Intel or Athlon processor
RAM: 2GB
Product activation:
An internet connection is required to authorize / activate the product.