The Award-winning features and technology that have made Ivory II the choice of industry professionals and reviewers all over the world comes to Ivory II Upright Pianos. This classic collection of 4 Vertical Pianos now enjoys the full benefits of the powerful new Ivory II piano DSP engine, with Harmonic Resonance Modeling for true Sympathetic String Vibration. With each of the 4 Upright Pianos boasting more velocity layers, pedal noise enhancements, half-pedaling, and more, Ivory II Uprights offers a more intimate and authentic playing and listening experience than ever before.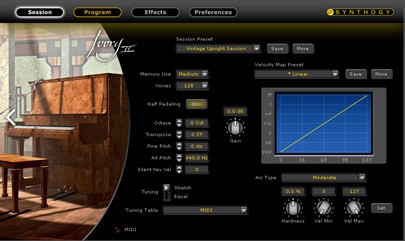 In addition to the new Ivory II features, the heart of this collection is the 4 superb Upright Pianos. Each piano was carefully chosen, and the classic instruments selected after an exhaustive search among hundreds of vintage uprights. Each of these authentic pianos is brimming with character and recorded with Synthogy´s renowned and meticulous attention to detail to capture the unique personalities of these instruments.
Ivory II Upright Pianos includes the following instruments:
Modern Upright
A brand new Yamaha ® U5 upright
Yamaha uprights are widely regarded as the best uprights built today. The model U5 is the top of their upright line. Expertly tuned and regulated, it is a great piano for a modern pop, rock or jazz recording. Many musicians and producers love the way this upright sits in a mix and adds personality to the music.
Vintage Upright
1914 A.M. Hume upright
A big, American-made upright from the "golden age" of piano building, Hume pianos are highly regarded by knowledgeable piano technicians for their excellent build quality and resonant sound. This particular instrument was chosen for its tremendous tone and its all- original parts, which were carefully maintained over the years. This classic vintage American upright is perfect for blues, rock, vintage jazz or roots music, and yet versatile enough for virtually any style of music. Outstanding as a solo instrument or in the mix.
Honky Tonk, Barroom Upright
1915 Packard upright
Another big, old American upright with all original parts, though this instrument has enjoyed a more "colorful" life than the Hume. This particular piano comes by its barroom sound authentically, having been the house piano at the famous Cheers bar in Boston for many years. Custom detuned in the genuine "honky tonk" style, this beauty has loads of smoky, scotch-and-soda character.
Tack Piano
A genuine, early 1900´s, upright with real tacks in the hammers Like the Barroom Upright, this piano is the real deal, not a synthetic emulation. Custom prepared for our recording session with metal tacks inserted into the hammer felts, and "not perfectly" tuned, this instrument is a turn of the century classic. The Tack Piano is an authentic sound that continues to be used in everything from traditional period and roots music, to classic pop and modern experimental rock.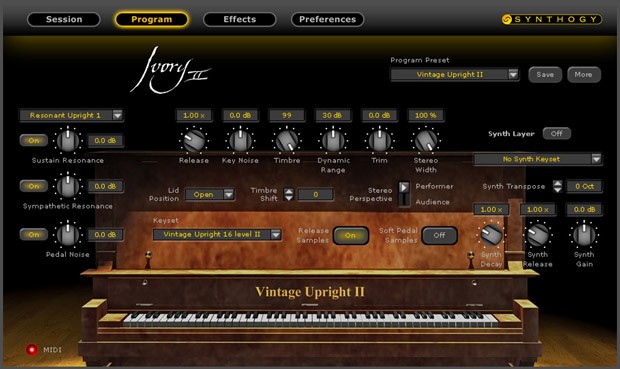 Ivory II Upright Pianos comes complete with the award-winning Ivory II piano engine, with all of the same great features included. There are also additional features such as custom upright soundboard DSP, and a selectable "creaks and clunks" layer, to provide an even more authentic upright playing experience.
Ivory II Upright Pianos is a full fledged, free standing Virtual Instrument, which can run as a plug-in or standalone. Or, if you are an existing Ivory II user, Ivory II Upright Pianos will install directly into your existing Ivory II library, giving you access to all of Ivory II´s pianos and features from one great interface.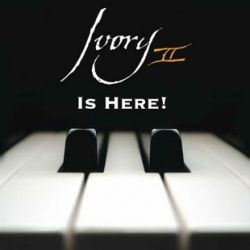 Highlights of Ivory II Upright Pianos:
4 hand selected Upright Pianos including:
Yamaha U5 Modern Upright
1914 A.M. Hume Vintage Upright
Honky Tonk, Barroom Upright
Real Tack Piano
Includes the Award-winning Ivory II piano engine
More than 84 GB Core Library
Up to 16 Velocity Layers
Harmonic Resonance Modeling for True Sympathetic String Resonance
Custom Upright Soundboard Emulation DSP
Separate, selectable "creaks and clunks" layer, for added character
Half-pedaling
Pedal Noise Enhancements
Synthogy's exclusive, powerful 32 bit Sample Playback and DSP engine, designed specifically for recreating the acoustic piano.
Release samples triggered by velocity and duration
Timbre-shifting, Parametric EQ and new Synth Layer controls for powerful sound sculpting capabilities
All 88 keys individually sampled in up to 16 dynamic levels
Incorporates exclusive Sample Interpolation Technology used for ultra-smooth velocity and note transitions
World class digital FX including Real Ambience, Chorus and EQ
Customizable User Controls for Timbre, Stereo Width and Perspective, Velocity Response, Mechanical Key Noise, Lid Position and more
Tuning Tables
Optional synth pad layer for modern/pop combinations
Dozens of new programs and effects presets
Ivory II´s "unified interface" feature enables you to use just a single instance, and one interface, to play and control all of Ivory II´s pianos, no matter how many pianos you install. So whether you own one, any two, or all three products, Ivory II´s intelligent browsing feature allows you to load any piano from one convenient interface.
Audio Fanzine 19.09.2011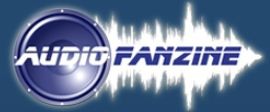 Bilan

Un petit rappel avant de conclure : chacune des 88 notes bénéficie de ses propres échantillons (donc jusqu'à 16 couches de vélocités), ces derniers n'étant pas bouclés, ce qui offre de belles résonances suivant les modèles de piano (on "entend" le bois).

Difficile de trouver des reproches autres que les quelques déjà mentionnés. L'éditeur réussit encore une fois son pari, en proposant la banque la plus complète sur le sujet à l'heure actuelle. Son prix, autour de 250 euros, en fait un instrument relativement abordable compte tenu de la richesse et du détail de l'échantillonnage. Il faut en avoir l'usage, sachant que d'autres solutions existent, et qu'elles sont régulièrement passées en revue sur AF.

Mais pour le professionnel à la recherche de pianos d'exception, qui ne demanderont qu'un temps minimal de réglages (c'est quasiment du prêt à jouer, avec juste le réglage de sensibilité à ajuster selon les claviers de commande), qui sonnent parfaitement sur toute l'étendue du clavier, et se placent dans un mix en deux temps trois mouvements, le temps de la réflexion devrait être très court.


Keyboards Magazin, Key Buy Award



Worhsip, Editors Pick


SoundOnSound, 5 stars


MusicTech Magazine, Choice
---


Michael Garson
Keyboardist and Musical Director for David Bowie, Composer/Arranger
"My whole life I awaited in disbeliefe that there would ever be a great piani sample library. Finally, Ivory came about, and I have used the Steinway sample on at least 100 recordings, and no one has ever questioned that it wasn´t my real piano"
---

Chick Corea
Jazz Legend
"I use Ivory as my basic acoustic piano sound for my work with Sibelius and Logic. It gives me a real piano feel"
---


David Newman
Film composer
"Ivory is simply the most ralistic sampled piano on the market today. Its tone and playability are second to none!"
---


Pete Townshend
singer/songwriter, founding member of "The Who"
"I´m a huge fan of Ivory. It amazes me every time I use it!"
---


Roger Hodgson
keyboardist/guitarist, founding member of "Supertramp"
"Ive not come close to the big full natural sound I get from my Ivory"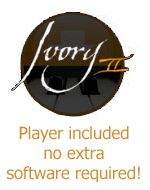 With the Synthogy Ivory 2.5 or later Piano Engine you can use the PACE computer based activation or the traditional PACE iLok™ Key activation. Previous Piano Engine versions always need and iLok™ key.
Mac:
macOS 10.8 or higher
64 bit
Quad Core CPU
2.0 GHz (2.4 GHz recommended)
RAM: 2 GB
Hard drive Speed of at least 7200 RPM
Windows:
Windows 8-10
32 bit & 64 bit
Quad Core CPU
2.0 GHz (2.4 GHz recommended)
RAM: 2 GB
Hard drive Speed of at least 7200 RPM
Required Registration:
Synthogy products require you to register with the manufacturer at www.synthogy.com and with www.ilok.com to activate your license.
This product requires an activation!
You can either "soft" activate on your computer without addditional hardware or transfer the license to an iLok USB dongle which has to be purchased separately. The iLok dongle can be used to run the protected software on different computers. Your licenses can be easily manged using the iLok Licence Manager. To protect your investment against theft or loss we recommend the iLok Zero Downtime protection with TLC.
An internet connection on any computer and a free user-accout at www.ilok.com is required to authorize the product.
Please check with the software manufacturer which iLok version is required at least if you want to use a hardware iLok!