Four kits recorded in a massive mid-1800s theater auditorium.
The Big Stage EZX is an expansion for EZdrummer 3 captured in arguably the most unique and iconic setting in Toontrack EZX history: an empty stage facing a massive mid-1800s theater auditorium. Masterfully recorded by engineer/producer/mixer Jakob Herrmann and designed to provide the
broadest possible sonic palette, it features four contrasting kits as well as ambience microphones positioned on the far ends of the stage, the balconies and other key positions in the breathtaking room of the theater.
Regardless of whether you're looking to write a massive rock track, an ambient pop song or if you're simply after a massive collection of genre-neutral drums with an audio-visual scope beyond the convention, this EZX is your new go-to.
Ready to write some songs? The stage is yours.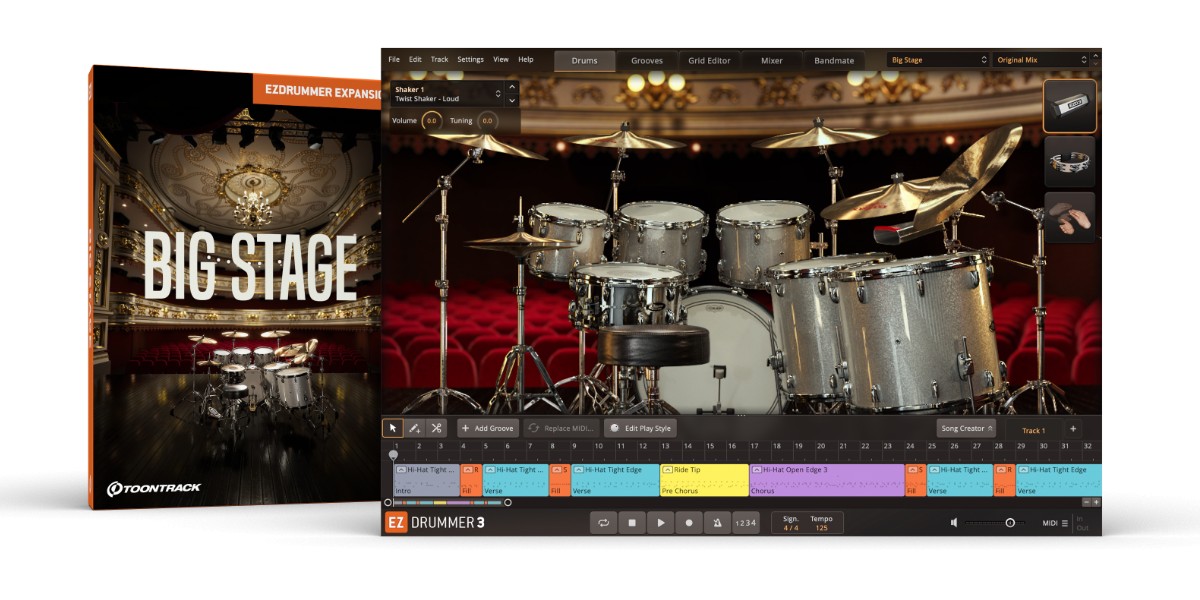 Feature Spotlight
Features a set of concert toms as well as several extra kicks, snares and cymbals

Sounds ideal for anything from thunderous rock and metal to modern ambient pop, soul and more

Features several ambience microphones (far sides of the stage, ceiling, balcony and more)

Comes with mix-ready presets for a wide range of microphone setup variations and styles

Includes a collection of unique MIDI grooves and fills tailored for the kits
To use this product, an installed and activated Version of EZdrummer 3 or Superior Drummer 3 is required.
Required Registration:
Toontrack products require you to register with the manufacturer at www.toontrack.com to activate your license.
This product requires an activation!
An internet connection is required to authorize / activate the product.