Massive, dark, earthy and mercilessly full drum sounds perfectly suited for the ultimate post-metal sound.
Ocean Sound Studio is literally perched on a barren rock on the small Norwegian island of Giske - right on the edge of the fantastic panorama of the seemingly endless rugged North Sea, nestled by snow-capped mountains that tower like silent and timeless giants in the night sky shimmering with swirling northern lights. In this mystical setting, Ocean Sound Studio is a supremely inspiring place to record raw post-metal drum sounds.
This EZX expansion for EZdrummer 3 offers a fantastic selection of massive, dark, earthy and mercilessly full drum sounds perfectly suited for the typical slow and atmospheric post-metal sound. Four different drum kits, two further configurations captured with snare wires off, several extra kit pieces and sets of big and dark cymbals – all sampled by Cult of Luna drummer Thomas Hedlund, a band that is a pioneer of today's post-metal scene.
These drum kits combine raw metal power with great dynamics, recorded on the edge of this world, in a place where the forces of nature manifest themselves in all their power. And of course, in addition to the pure drum sounds, the MIDI grooves and useful mixer presets are available for your own songwriting and the production of truly epic post-metal songs.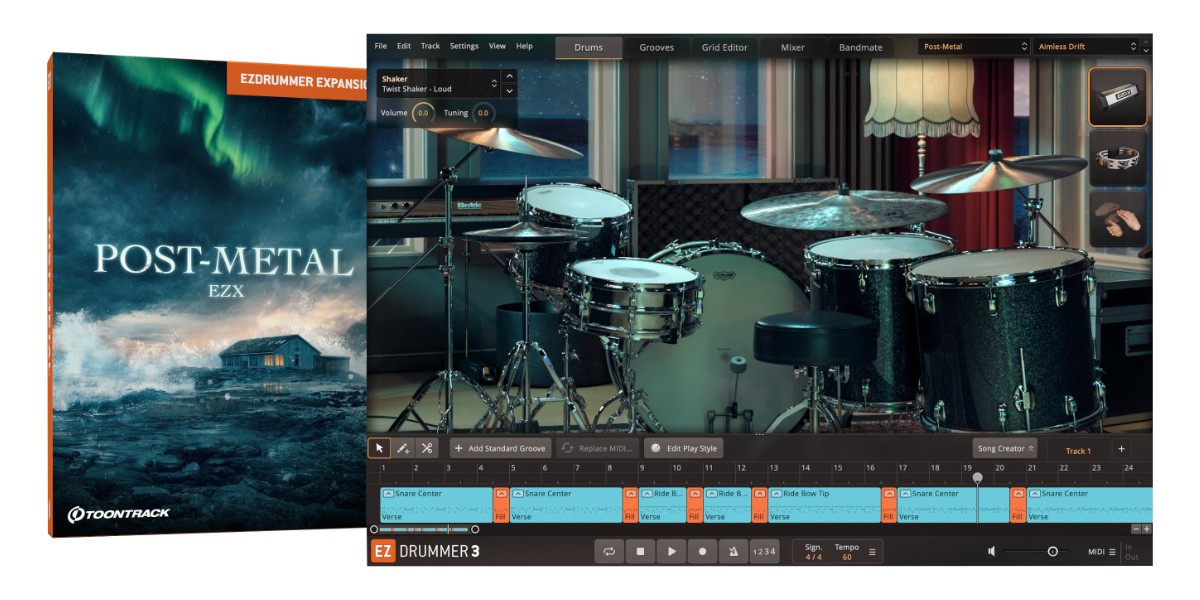 Feature Spotlight
Recorded at Ocean Sound Studio in Norway
Massive, dark, earthy and mercilessly full drum sounds inspired by the post-metal genre
4 complete drum kits and two additional kit configurations recorded with snare wires off
2 complete drum sets sampled with loosened snare carpet, plus many additional bass drums, snares and cymbals
Sampled by Thomas Hedlund (Cult of Luna)
Custom mixer presets for various sound processing in the mixer
Includes a custom MIDI library with genre-typical grooves/fills for all drum sets
To use this product, an installed and activated Version of EZdrummer 2 or Superior Drummer 3 is required.
Required Registration:
Toontrack products require you to register with the manufacturer at www.toontrack.com to activate your license.
This product requires an activation!
An internet connection is required to authorize / activate the product.