The Blues EZX comes with two complete kits; a 1970s Gretsch and a calfskinned Swedish Levin set from the 1940s.
On top of that, it features contemporary Paiste and Sabian crashes, vintage Zildjan A and K series cymbals as well as extras such as a suitcase and a set of calfskinned tambourines. All instruments were handpicked and in many cases road-worn by the sampling drummer himself, a blues musician with more than half a decade worth of experience behind the kit playing the blues. It was recorded in an empty Swedish theater and later mixed in a high-end studio through vintage and modern outboard gear. The end result is a cross-pollination between new and old; warm and characteristic sounds that cover the whole range, from old school to modern, from dry to ambient. This is the sound of then, now and time to come.
Two complete kits (1970s Gretsch & 1940s Levin)
Sabian/Paiste/Zildjian A & K cymbals
Calfskin drumheads on Levin kit
Suitcase & two vintage calfskinned Grover tambourines
Included custom MIDI library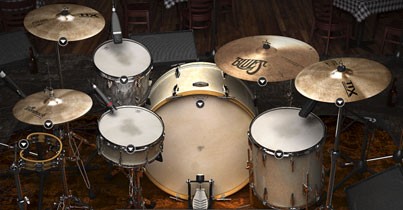 Product details
Kick
Kick 1 - 14x20" Gretsch 1970s
Kick 2 - 14x28" Levin 1940s with calfskin drumheads
Snare
Snare 1 - 5.5x14" Slingerland Radio King 1964 with Remo vintage drumhead
Snare 2 - 5.5x14" Premier 1960s wood snare with calfskin drumhead
Snare 3 - 6.5x14" Premier 1937 brass snare
Toms
Tom 1, kit 1 - 8x12" Gretsch 1970s
Tom 2, kit 1 - 14x14" Gretsch 1970s
Tom 1, kit 2 - 9x12" Levin 1940s with calfskin drumheads high tuned
Tom 2, kit 2 - 9x12" Levin 1940s with calfskin drumheads low tuned
HiHat
Hat 1 - 14" Zildjian New Beat (top) / Rock Beat (bottom)
Cymbals
Ride 1 - 19" Zildjian A 1960s with rivets
Ride 2 - 20" Zildjian A 1960s
Position 1, Crash 1 - 16" Paiste
Position 1, Crash 2 - 16" Sabian hand hammered Dark Crash
Position 1, Crash 3 - 12" Zildjian A 1960s
Position 1, Crash 4 - 10" Zildjian K 1960s
Position 3, Crash 1 - 18" Zildjian K 1960s
Position 3, Crash 2 - 18" Sabian hand hammered Thin Crash
Extra/Percussion
Suitcase (Kick 3)
Tambourine 1 - Grover Tambourine, German silver bells
Tambourine 2 - Grover Tambourine, copper bells
CREDITS
Recorded at: Ögonblicksteatern and Second Home, Umeå, Sweden
Engineered by: Henrik Oja, Ulf Edlund, Stefan Bränberg
Drums sampled by: Hans Lindbäck
MIDI played by: Hans Lindbäck
To use this product, an installed and activated Version of EZdrummer 2 or Superior Drummer is required.
Product activation:
An internet connection is required to authorize / activate the product.