Drumsets from the Golden Swing and Bigband Era
This EZX library for EZdrummer 2 and Superior Drummer 3 is a tribute to jazz, and in particular to the legendary era of big band jazz of the 1930s and 1940s. During these years, not only did some of the most influential musicians and artists of our time enter the stage, but also the foundation for the development of drums as a modern instrument was laid and the drummer was established as an independent artist - an important step out of the shadow of the rhythm section, which merely provided the beat, into the focus of solo performances.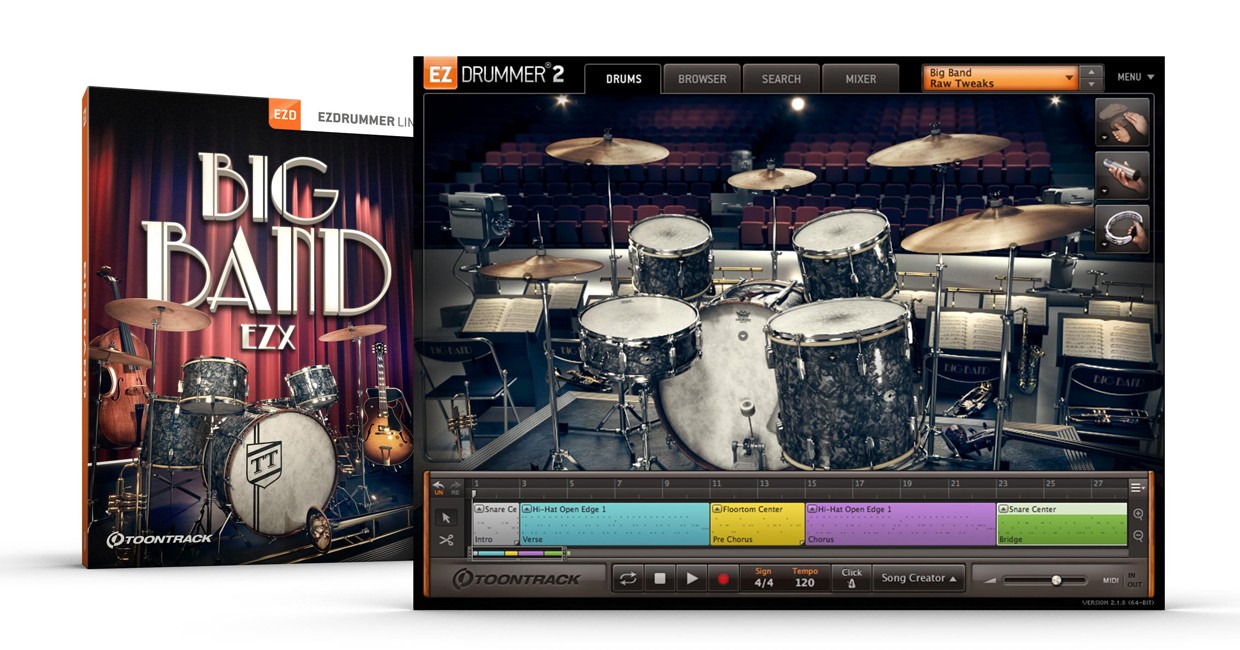 The Big Band EZX offers two different drumsets of the legendary Swing era of the 1930-1940s in a total of four extensive configurations (sticks, brushes, snares on/off). The drums have been carefully selected and edited and represent the typical and unmistakable big band sound in an extremely authentic way. These are two very different sounding kits that cover the entire spectrum of the important big band sounds - from round, warm and rather intimate sound character to the explosive and energetic sounds and the tremendous fullness and power of a big band.
Feature Spotlight
Soundlibrary extension for EZdrummer 2 and Superior Drummer 3
Mix-ready drum sounds for big band, jazz and all genres with retro/vintage drums
2 complete drum sets from the 1930s to 1940s in 4 different configurations (Slingerland & Leedy/Ludwig&Ludwig)
Recorded by producer/engineer legend Al Schmitt at Capitol Studios, Hollywood/Los Angeles, USA
5 snare drums, 4 kicks , 6 toms, crashes/splashes, 2 hi-hats and 3 cymbals in total
Includes complete drum sets sampled with brushes, sticks and snares on/off
15 mix-ready mixer presets for very different sounds
Mix-Presets personally created by Al Schmitt
Contains a huge selection of genre-typical MIDI drum grooves/fills for Jazz & Bigband
Download: approx. 2.5GB (compressed with Toontrack's own TCP algorithm)
Note: EZdrummer 1 and Superior Drummer 2.0 are not supported!
To use this product, an installed and activated Version of EZdrummer 2 or Superior Drummer is required.
Required Registration:
Toontrack products require you to register with the manufacturer at www.toontrack.com to activate your license.
This product requires an activation!
An internet connection is required to authorize / activate the product.