FreqAnalyst Multi - Unique multi-track spectral analysis tool
You can use this analyser as a frequency overlap detector and actually see which part of the spectrum every single instrument uses. It is now also possible to easily compare the spectrum of several instances thanks to the new 'Diff' view which displays the difference between several curves.
Just like with Blue Cat's FreqAnalyst Pro plug-in, the frequency analysis can be fine tuned in details, and three modes are offered for each channel: instant, peak or average response of several audio tracks can be displayed on the same graph (the plugin supports up to 16 curves).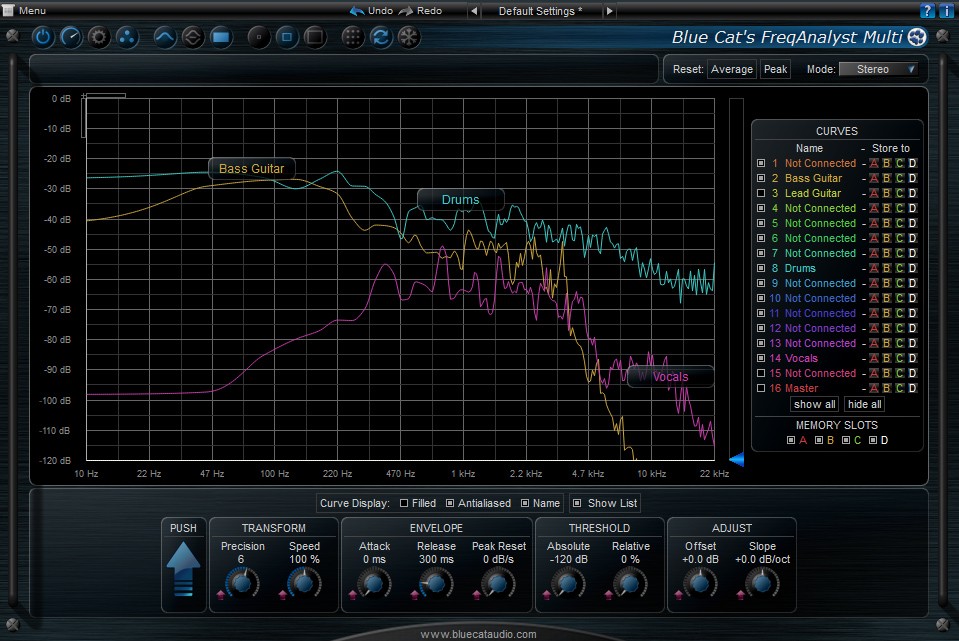 Zooming capabilities and coordinates display let you exactly measure the characteristics of the spectrum for each audio track. Thanks to the advanced routing capabilities you can define different settings for each track and thus adapt the analysis for each audio signal you want to analyze. Blue Cat's multiple tracks tutorial shows you how simple multiple tracks spectrum analysis can be.
Main Features
Visualize and compare the spectrum of several audio tracks on the same screen

Compute and display the difference between spectra for easy EQ matching and measurement

Smart interpolation algorithm for extreme display smoothness

Precise measurement capabilities as well as note info display

Multiple display sizes

Instant, peak and average curves display for each track

Choose a name for each curve for easier sharing

Save the curves for easy A/B comparison

Opacity control for the user interface
Mac:
macOS 10.7 or higher
Intel processor
standalone: Core Audio-compatible audio interface
Windows:
An SSE2-enabled processor (Pentium 4 or higher).
Windows 8 - 10
standalone: ASIO-, MME- or WASAPI-compatible audio-interface (ASIO recommended)
Product activation:
An internet connection is required to authorize / activate the product.