FreqAnalyst Pro - Powerful spectral analysis with 3D viewer
This frequency analyser can be fine tuned in details: manage its precision and rate, apply an offset or slope to the measured spectrum. Two threshold systems are available, and the time response can be changed thanks to the attack and release parameters.
Three modes are offered for each channel: instant, peak or average response can be displayed on the same graph. Zooming capabilities let you exactly measure the characteristics of the spectrum.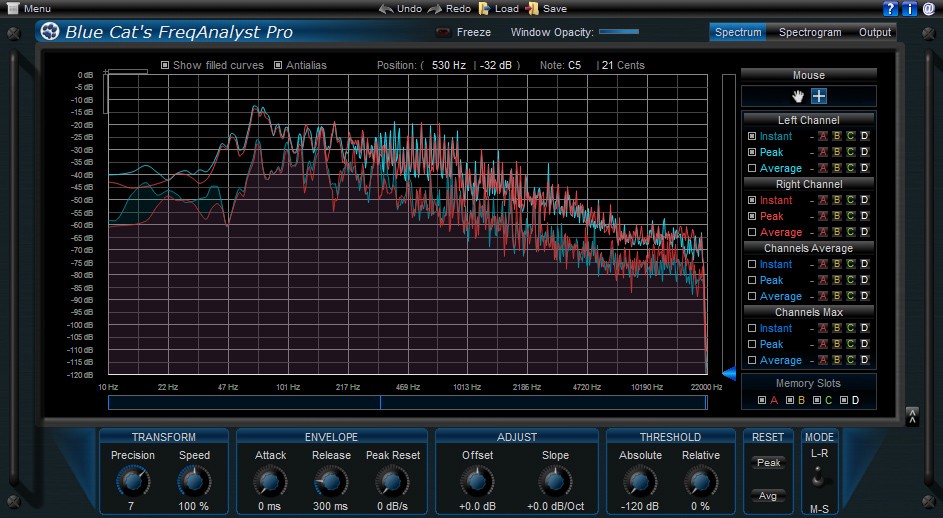 The four memory slots let you store any curve in memory: it helps you make comparisons between several tracks or effects setup very easily.
A spectrogram view has been added so that you can monitor the evolution of the spectrum over time either in 2D or 3D (3D waterfall mode). All channels are of course available in this view, with exact coordinates display and zooming capabilities.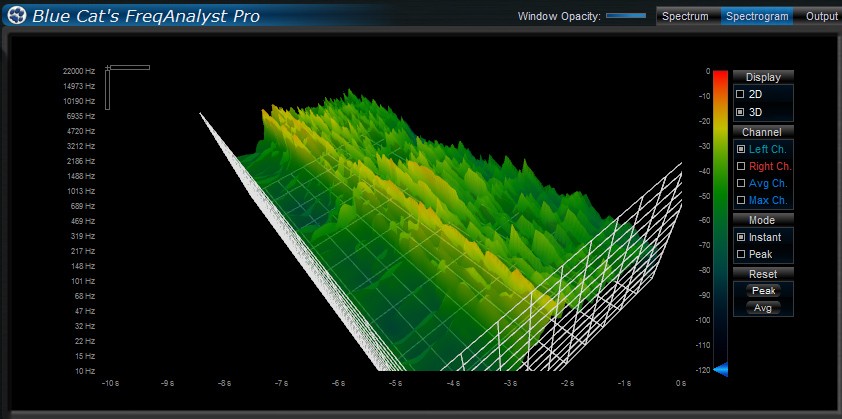 Main Features
Mono, stereo or mid/side real time spectrum analyzer.

Total control over the analysis parameters, with slope and offset correction.

Smart interpolation algorithm for extreme display smoothness.

Spectrum and spectrogram views.

Animated zoom for all displays.

3D waterfall view with full 3D control.

Solid or wireframe 3D surface display.

Instant, peak and average curves display for each channel.

Save the curves for easy A/B comparison.

Opacity control for the user interface.
Mac:
macOS 10.7 or higher
Intel processor
standalone: Core Audio-compatible audio interface
Windows:
An SSE2-enabled processor (Pentium 4 or higher).
Windows 8 - 10
standalone: ASIO-, MME- or WASAPI-compatible audio-interface (ASIO recommended)
Product activation:
An internet connection is required to authorize / activate the product.