Bolster Your Imagination
Imagine if you could take any sound, separate it by frequency bands, change the filter type, and then individually process those bands with delays. The H3000 Band Delays plug-in is dereived from the H3000 Harmonizer® studio processor. This unique plug-in is capable of everything from standard delays and filtering, to stereo-widening and killer rhythmic effects.
Just feed it any instrument or vocal and instantly manipulate up to 8 voices by frequency, resonance, filter type, delay time, volume and panning. Then easily build complex movement using the H3000 Function Generator.
Want more?
With the H3000 Band Delays you can play an effect like an instrument. Every parameter can be automated or manipulated in real time via MIDI. Play filter with a keyboard controller to get not only rhythmic, but also musical results.
No other plug-in on the market can make your drums, guitars, or vocals sound quite like this.
The H3000 Band Delays is also part of the Anthology XII native.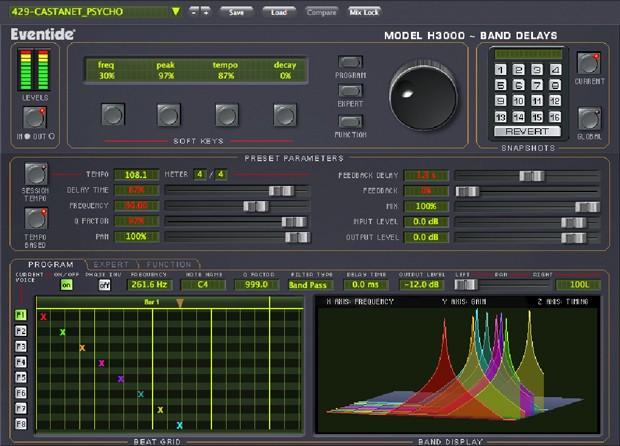 Features
8 voices, each of which can be altered by frequency, resonance, filter type, delay time, volume and panning.
Filters assignable as band pass, low pass, high pass, all pass, or notch filter
Assign the H3000 Function Generator to several parameters to create movement and bring life to drums and stringed instruments.
Beat grid gives visual representation for creating unique rhythms from your sound.
Route a MIDI keyboard to the plugin to play the filters as musical notes.
Includes presets from original H3000 hardware in addition to many new inspiring choices.
MixLock keeps the wet/dry mix of the effect static as you scroll through presets or user-defined snapshots
Countless Applications
Producers
Add new rhythmic textures to guitars and other instruments
Create momentum and bring new life to drums and stringed instruments
Excellent for unique vocal delay effects that don't fill up the mix
Play the filters as chords in the key of the song to elevate the melody with complex harmonics
Sound Designers
Use the function generator to create timed rhythmic delays that sync to tempo
Build complex textures to evoke everything from ethereal to haunting moods
Create wholly unheard of sonic landscapes using multiple filters and delays at once
Remixers
Morph existing melodies with new vibrant motion
Add flavor to drums with previously unheard rhythms
Play the effect in real time
Mac:
macOS 10.9 or higher
Apple Silicon compatible
64 bit
Windows:
Windows 8.1 or higher
64 bit
Required Registration:
Eventide products require you to register with the manufacturer at www.eventideaudio.com and with www.ilok.com to activate your license.
This product requires an activation!
You can either "soft" activate on your computer without addditional hardware or transfer the license to an iLok USB dongle which has to be purchased separately. The iLok dongle can be used to run the protected software on different computers. Your licenses can be easily manged using the iLok Licence Manager. To protect your investment against theft or loss we recommend the iLok Zero Downtime protection with TLC.
An internet connection on any computer and a free user-accout at www.ilok.com is required to authorize the product.
Please check with the software manufacturer which iLok version is required at least if you want to use a hardware iLok!