Anyone can Master!
The mastering plugin from Initial Audio makes the process as simple as 1-2-3. With the help of the three band equalization and stereo picture settings, just change the volume and finish your track. Songs and instrumentals must meet an industry loudness requirement in order to have a cutting-edge sound when they are sent to customers, record companies, online retailers, and streaming services. The LUFS display turns green to signify a permissible level of volume and alerts you when you begin to exceed it. With the help of soften and mix, an intelligent system can control how much limiting and compression is applied. The HD interface is sleek, feels wonderful, and automatically adjusts to the size of your screen.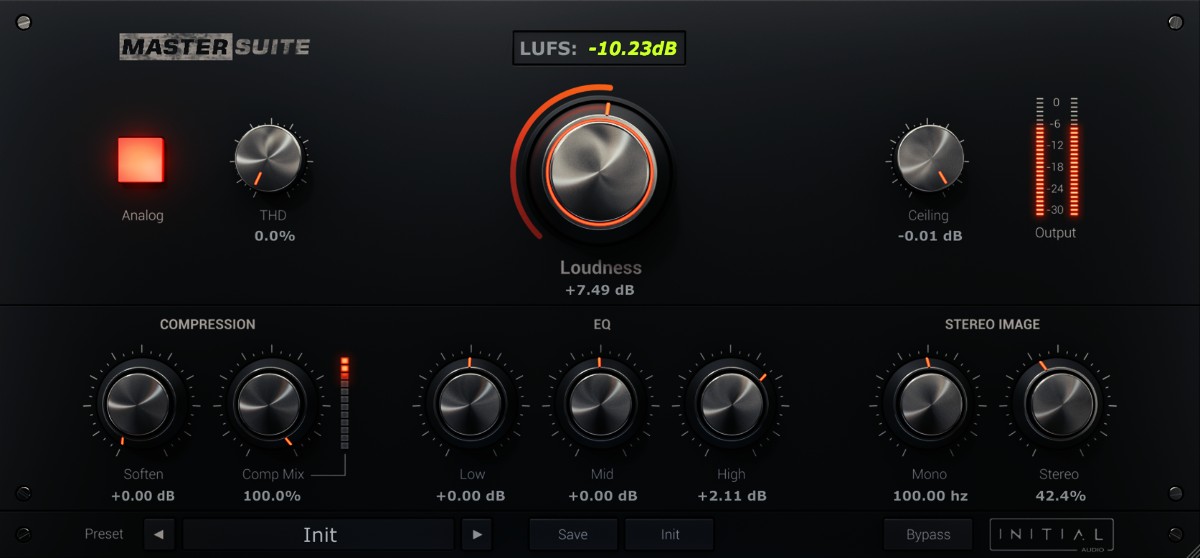 Features
THD: Total Harmonic Distortion, this can 'fatten' up the master and help increase the perceived loudness.

Loudness: Increase or decrease the loudness of your master in decibels. Uses an intelligent compression and limiting algorithm to ensure maximum loudness with minimal distortion.

LUFS Meter: The LUFS meter ( Loudness Units relative to Full Scale) is an industry standard representation of perceived loudness. The meter goes green when in the 'sweet' zone of a loud master without over compressing the dynamics of your mix.

Soften: This softens the compression curve, also known as a 'soft knee'.

Mix: Mix the compressed audio with the original. If you are pushing the loudness hard and the master is sounding over compressed with a loss of dynamics, this control can help restore some dynamics while still keeping the master loud.

Analog: Changes the frequency response of master suite to sound more Analog.

3 Band Equalizer: Cut or boost the low, mid and high frequencies by up to 6dB.

Stereo Image: The Mono control works by making the audio completely mono below the set frequency. This can help to tighten up the low end and ensure it is coming only from the center of the stereo field. The Stereo control enhances the stereo field for the frequencies only above the mid range, leaving the lower frequencies untouched. This can be used to add extra 'space' in the master by pushing instruments even wider in the stereo field.

Ceiling: Sets the maximum loudness for peaks. Your master will not go louder than this.
Mac:
macOS 10.14 or higher
Apple Silicon M1 compatible
64 bit
4 Core CPU
8GB RAM
Windows:
Windows 10
64 bit
4 Core CPU
8GB RAM
Required Registration:
Initial Audio products require you to register with the manufacturer at www.initialaudio.com to activate your license.
This product requires an activation!
An internet connection is required to authorize / activate the product.