PSP MasterComp - high fidelity dynamics processor
Its double-precision (64-bit floating point) and double-sampled (FAT - Frequency Authentication Technique) processing offers transparency even at extreme compression settings and high sample rates.
PSP MasterComp installer includes two version of the plug-in:
PSP MasterComp - which is mainly designed for mastering compression and expansion and

PSP MicroComp - disgined for using on buses and track processing during mixing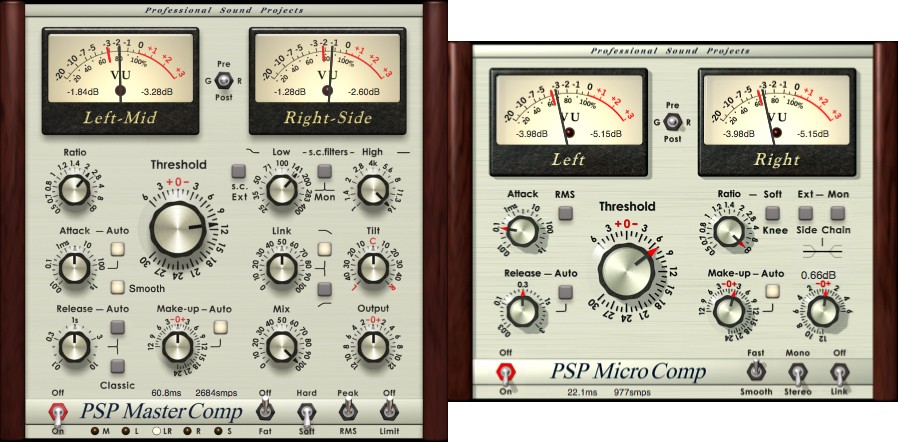 PSP MasterComp
Total high frequency transparency

Low distortion due to Smooth Level Detector

Optional automatic attack and release times

Wide range of controls for mastering

Over threshold compression and expansion

Advanced side chain filtering, channel linking and compression tilting controls

Mix control for blending between signals

Optional high quality brick wall output limiter with automatic release time

Advanced PPM/VU meters with contextual readings and adjustable parameters

Selectable channel processing:
Mid, Side, Left, Right or Stereo
PSP MicroComp
Simple and effective control layout.

CPU efficient algorithm optimized for mixing purposes.

Low distortion thanks to optional Smooth Level Detector algorithm

Optional automatic release time

Wide range of controls dedicated for mixing purposes

Over threshold compression and expansion

Basic side chain filtering and channel linking controls

Advanced PPM/VU meters with contextual readings and adjustable operation parameters
Mac:
macOS 10.8 or higher
Intel processor
Windows:
Required Registration:
PSP Audioware products require you to register with the manufacturer at www.pspaudioware.com and with www.ilok.com to activate your license.
This product requires an activation!
You can either "soft" activate on your computer without addditional hardware or transfer the license to an iLok USB dongle which has to be purchased separately. The iLok dongle can be used to run the protected software on different computers. Your licenses can be easily manged using the iLok Licence Manager. To protect your investment against theft or loss we recommend the iLok Zero Downtime protection with TLC.
An internet connection on any computer and a free user-accout at www.ilok.com is required to authorize the product.
Please check with the software manufacturer which iLok version is required at least if you want to use a hardware iLok!