MEIKO V3 – A Dynamic Female Voice with Powerful Expressions!
MEIKO V3 is futuristic singing voice synthesizer software. It is the brand-new version of Crypton's first released VOCALOID. The new MEIKO V3 features a beautiful female voice that fits a wide range of music genres from rock to electronic music. With its high sound quality and resemblance of a real voice the software lets you incorporate MEIKO's voice immediately into your music production.
MEIKO V3 features 4 carefully produced Japanese voice banks with various voice tones and moods, and an additional English voice bank for your production with English lyrics.
This all-in-one package includes vocal editor Piapro Studio VSTi, PreSonus Studio One Artist Piapro Edition, and over 200 virtual instruments for your immediate music production.
Database
DB 1 Power | Powerful, lively, clear and refreshing voice | Suitable for Rock, Metal, Alternative, Dance | 65 - 180BPM | B2 - F4

DB 2 Straight | Clear and forceful female voice | Suitable for Rock, Pop, Folk, Folklore | 70 - 160BPM | A2 - E4

DB 3 Dark | Heartbroken and enchanted, deep voice | Suitable for Jazz, Ballad, Folklore | 60 - 165BPM | G2 - C4

DB 4 Whisper | Whispery and sighing female voice | Suitable for Ballad, Post-Rock, Electronic | 65 - 150BPM | A2 - C4

DB 5 English | English voice bank features a natural and solid voice tone | Suitable for Rock, Pop, Jazz | 100 - 130BPM | B2 - B3
Easily edit Vocals in your music production environment
A vocal editor that allows you to easily operate and modify Meiko´s voice, Piapro Studio works as a VSTi and AU plugin, and therefore performs at a high compatibility with main music production applications (PreSonus Studio One, Ableton Live, Steinberg Cubase, Apple LogicX, Garage Band etc.).
Database (Voice Bank)
This database is based on a human voice, carefully recorded in a high-standard studio environment. Every sound was edited and optimized for the VOCALOID engine in order to create this database. With parameters such as gender factor or brightness, you are able to modify the voice and customize it to exactly fit your sound.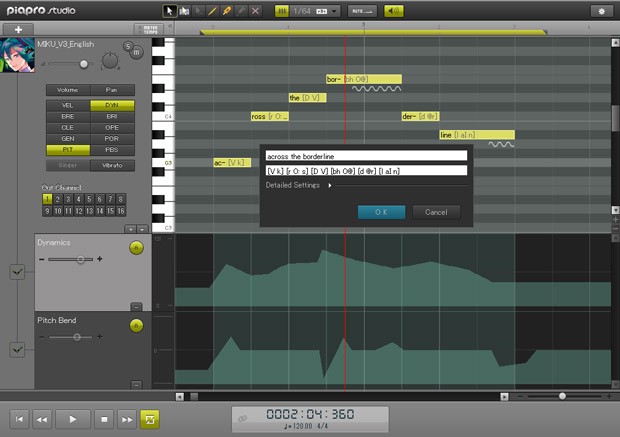 Features
Supported VSTi / AU plugin by all main music software applications
Piano Roll Editor: Easy to use note & lyric editing. Enter the notes you want Meiko to sing via the easy-to-use sequencer window, then type in the lyrics corresponding to each note
Control Effects via Automation: Dynamics, breath, velocity, gender and other vocal characteristics can be manipulated simply with a pencil tool
Vocal parts editable while playback
Chorus: You can add up to 15 voice tracks simultaneously
Leads VSQ, VSQX, MIDI
Import MIDI Files as Input: You can import a standard MIDI file and use the notes as the basis for Vocaloid tracks
Save/Export Vocal Parts as .wav files
Interface Language: Japanese, English, Chinese
Display of multiple Automation Tracks
Automatic Update (requires Internet Connection)
Bundled Software
MEIKO V3 comes in an all-in-one package for your own music production of songs! The product contains MEIKO's English and Japanese singing voice database, vocal editor Piapro Studio and the music production application Studio One Artist Piapro Edition coming with over 200 virtual instruments (guitar, piano, drums, and various other synthesizers). All applications can be synched with each other which enables you to easily produce whole musical compositions.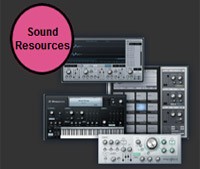 Studio One
With Studio One Artist, you can not only create rhythms and melodies, but also add all kinds of effects on Meiko's voice! The software's intuitive operation interface allows easy editing, mixing and mastering of your musical creations.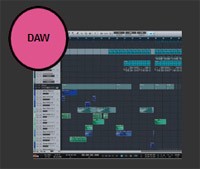 PreSonus Virtual Instruments & Sounds
Studio One Artist Piapro Edition comes with over 200 instruments, enabling your creativity to explore and compose for a wide range of music genres. [Instruments] Guitar / Bass / Keyboard / Drum / Strings / Woodwind / Percussion and more!

Additional Software included:
Tiny VOCALOID™3 Editor (for Windows only)
MUTANT VSTi Version (for Windows only)
SONICWIRE Bonus Samples
If you prefer a shipping "boxed" version incl. all installation files, please order a 16GB MediaPack additionally.

Mac:
macOS 10.11-10.15
32 bit & 64 bit
Intel Core 2 Duo
2GHz or higher
RAM : 2GB (4GB or higher recommended)
1280x768 or higher display resolution
Windows:
Windows 8-10
32 bit & 64 bit
Intel Core 2 Duo
2GHz or higher
RAM : 2GB (4GB or higher recommended)
1280x768 or higher display resolution
Product activation:
An internet connection is required to authorize / activate the product.