Re-invention of Moog Music's classic MF-104 analog effects pedal
The MF-104 Analog Delay, introduced in 2000, added a lush, all-analog delay to the classic line of Moogerfooger effects. It incorporated a dual-range Bucket Brigade Device (BBD) providing a range of delay times from 40 milliseconds to 800 milliseconds. Later versions of the MF-104 offered tempo synchronization, and extensive time modulation options via a multi-waveform LFO.
Designed by Bob Moog and his engineering team, the MF-104 was a direct descendant of the original Moog modular synthesizers, adapted to process, modulate, and play with inputs ranging from guitar, voice, and synthesizer to any imaginable audio source.
The MF-104 Analog Delay has been meticulously recreated as the MF-104S, capturing all of the warm, organic texture and character of the original analog delay circuitry, while adding 21st-century flexibility and ease of use. With CV interconnectivity, stereo functionality, an extended feature set, the ability to run multiple instances, and presets, the MF-104S plugin further tailors the classic Moogerfooger functionality to the modern digital creator.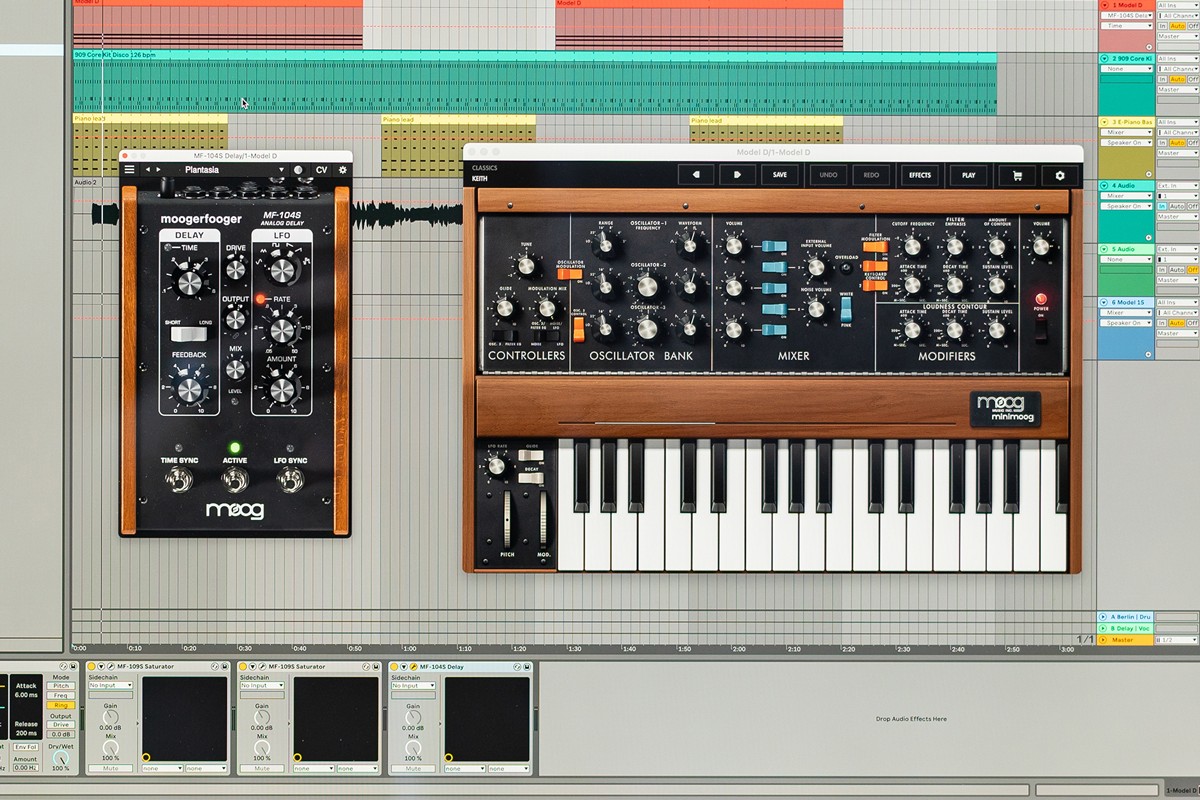 MF-104S expands on the classic Moogerfooger pedal
The MF-104S also offers unique features not found on the hardware instrument, including:
TYPE switches between normal stereo ECHO with equal delay time in each channel or a PING-PONG bouncing stereo image delay.

TONE affects the EQ, filtering and roughness of the delayed audio signal with Legacy, Analog and Modern settings.

TIMING can preserve tight digital timing or add loose timing instabilities.

FEEDBACK MODE reroutes delay feedback through either the entire effect or just the delay line to preserve the sonic characteristics of the input.

The MF-104S provides CV inputs for Delay Time, Feedback, LFO Rate, LFO Amount, and Mix, as well as the ability to attenuate or tone down these modulations.
The Moogerfooger effect plugins range from clean filtering to wildly experimental modulation designed to manipulate, enhance and completely transform any sound. These effects each have their own identity and are designed to work perfectly side by side in your audio chain.
Mac:
macOS 10.12 or higher
Apple Silicon compatible
64 bit
RAM: 4GB or higher
Windows:
Windows 10
64 bit
RAM: 4GB or higher
Required Registration:
Moog Music products require you to register with the manufacturer at https://software.moogmusic.com and with www.ilok.com to activate your license.
This product requires an activation!
You can either "soft" activate on your computer without addditional hardware or transfer the license to an iLok USB dongle which has to be purchased separately. The iLok dongle can be used to run the protected software on different computers. Your licenses can be easily manged using the iLok Licence Manager. To protect your investment against theft or loss we recommend the iLok Zero Downtime protection with TLC.
An internet connection on any computer and a free user-accout at www.ilok.com is required to authorize the product.
Please check with the software manufacturer which iLok version is required at least if you want to use a hardware iLok!