The complete collection of all eight Moogerfooger Effects plugins!
Designed by Bob Moog and his engineering team in the late 90s and 2000s, the Moogerfooger effects pedals were direct descendants of the original Moog modular synthesizers, designed to process, motion and play with inputs from guitar, voice and synth to any audio source imaginable. From the lush, warm analog delay circuitry of the MF-104 to the swirling phaser effects of the MF-103the legendary resonant ladder low-pass filter in the MF-101, Moogerfoogers have become known for their sound and modularity, adopted by studios and artists around the world.
Each of the effects has been meticulously recreated with reverence for the lush, distinctive tones of the original analog circuitry - now ready to be integrated into your digital audio workstationWith stereo functionality and an expanded feature set, these plug-ins further adapt classic Moogerfooger functionality to the modern digital creator. With all the automatable parameters sthe ability to save and manage presets, Moogerfooger effect plug-ins mutate and shape around your audio tracks.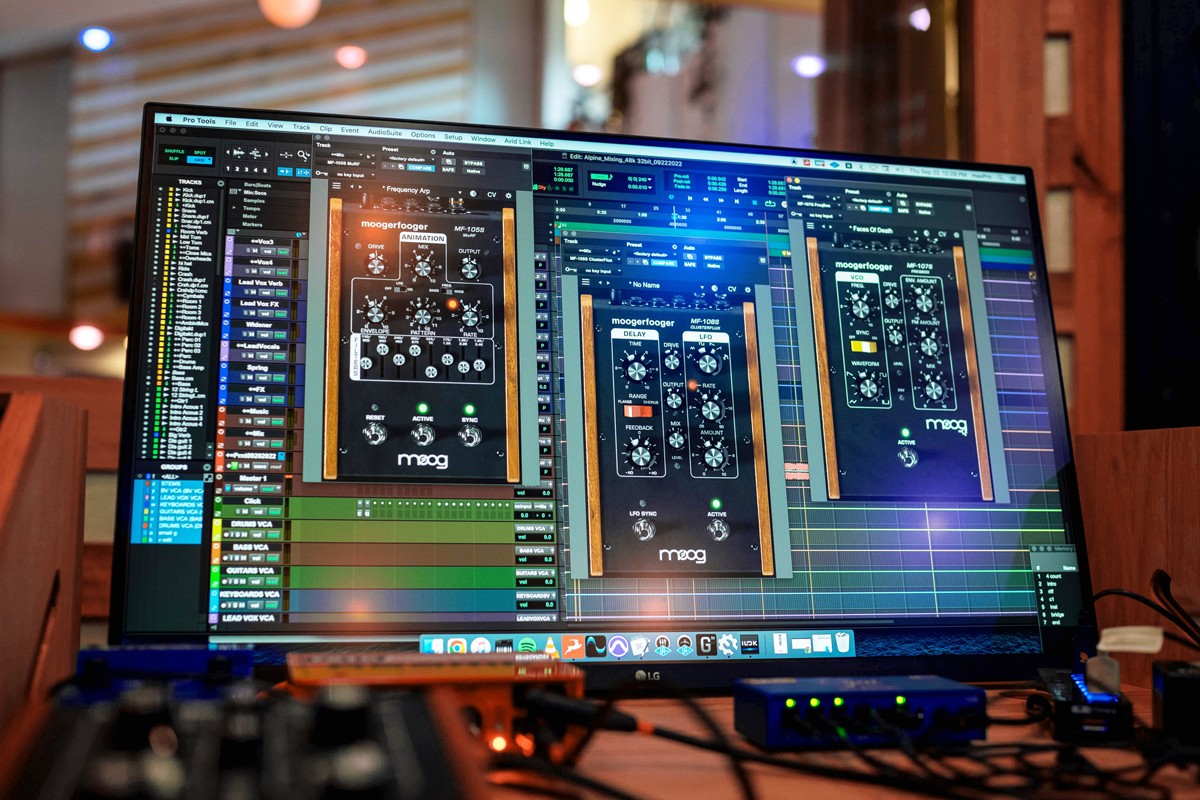 The Moogerfooger Effects Plug-ins Bundle Includes
MF-101S Lowpass Filter: The classic Moog ladder filter with an envelope follower for dynamic control

MF-102S Ring Modulator: A wide-range carrier oscillator paired with an LFO for effects from soft tremolo through far-out clangorous ring modulation tones

MF-103S 12-Stage Phaser: A descendant of the vibrant 1970s rack-mounted Moog phaser with an on-board LFO

MF-104S Analog Delay: A rich, full-bodied delay and modulation circuit that has remained highly sought after to this day

MF-105S MuRF: A groundbreaking effect combining a resonant filter bank with a pattern generator and skewing envelope for vibrant animation of an incoming sound

MF-107S Freqbox: A box of gnarly synced VCO sounds with envelope and FM modulation

MF-108S Cluster Flux: A flexible processor that can modulate between chorus, flanging, and vibrato

MF-109S Saturator: A powerful saturation tool based on the classic Moogerfooger input drive stage that adds warmth, distortion, and compression to any sound
Mac:
macOS 10.12 or higher
Apple Silicon compatible
64 bit
RAM: 4GB or higher
Windows:
Windows 10
64 bit
RAM: 4GB or higher
Required Registration:
Moog Music products require you to register with the manufacturer at https://software.moogmusic.com and with www.ilok.com to activate your license.
This product requires an activation!
You can either "soft" activate on your computer without addditional hardware or transfer the license to an iLok USB dongle which has to be purchased separately. The iLok dongle can be used to run the protected software on different computers. Your licenses can be easily manged using the iLok Licence Manager. To protect your investment against theft or loss we recommend the iLok Zero Downtime protection with TLC.
An internet connection on any computer and a free user-accout at www.ilok.com is required to authorize the product.
Please check with the software manufacturer which iLok version is required at least if you want to use a hardware iLok!