Immersed in Space
MicroPitch Immersive was created by Eventide specifically for immersive, surround, and Dolby Atmos workflows. With modulation, EQ, crossfeed, and up to 12 channels of spatialized, detuned delays, MicroPitch Immersive is a master at crafting an immersive environment with boundaries that move, reflect, diffuse, and disintegrate. MicroPitch Immersive can enable you design both genuine and unreal immersive experiences, whether it's a hint of space or delayed, pitch-dive mayhem.
Features
Powerful and flexible detuning - widen sources in 3D space, or add Feedback and turn up Crossfeed for verb-like sheen

Enhanced delay and modulation capability - create slapbacks, add movement with pitch modulation, or create exciting motion with patterned Loop Delay

Supports LCR, Quadraphonic, 5.0 - 5.1.4, and 7.0 - 7.1.4 channel layouts

Easy-to-use UI optimized for immersive workflows - same controls for all channel layouts, with no menu diving required

Transparent signal processing - effect always sounds the same across all immersive formats, and always maintains incoming spatial image integrity

Quickly set individual speaker levels using the integrated Levels section

Kill Dry, Kill Wet, and Freeze controls are great for creating drastic effects

Mix Lock allows for scrolling through presets or settings while keeping the wet/dry mix constant

Resizable GUI with Undo/Redo and A/B comparison

Comprehensive Presets Library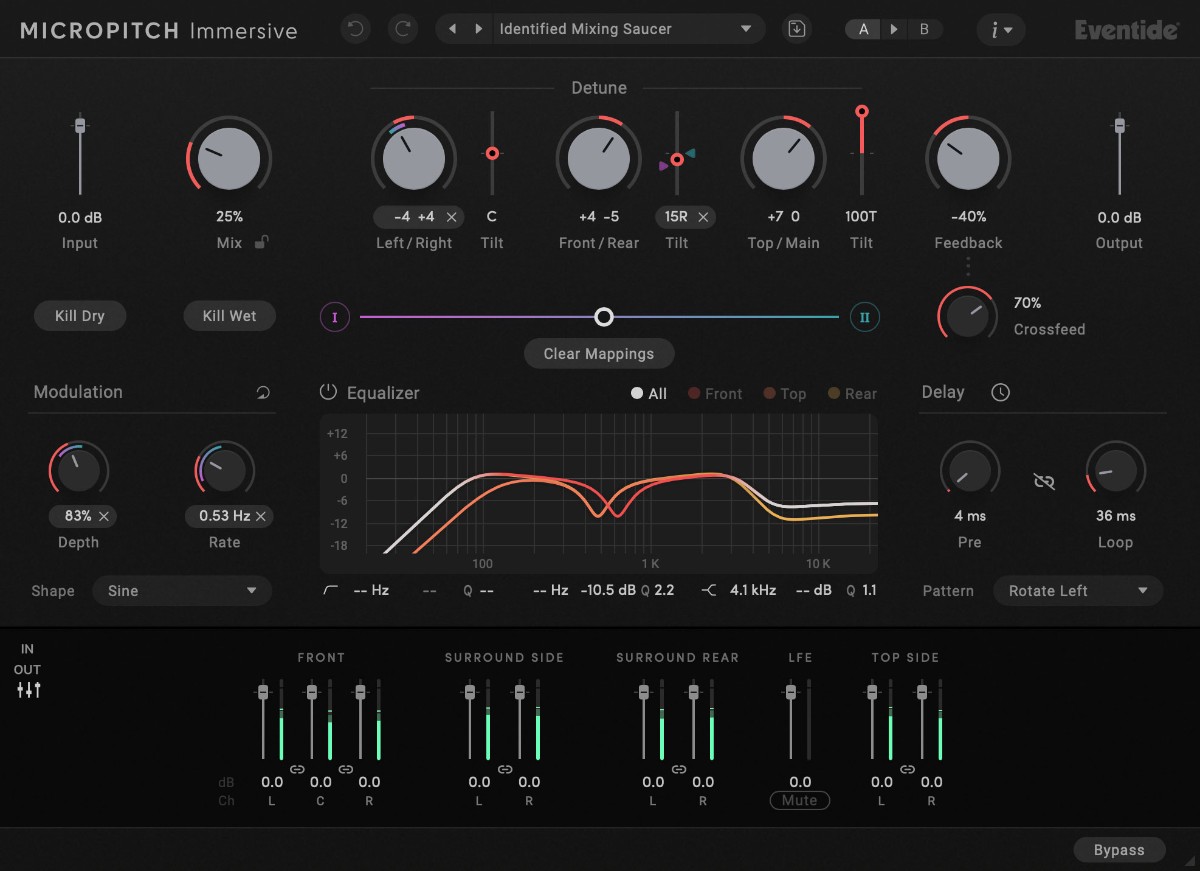 Immersed in History
For many years, Eventide's MicroPitch effect has been essential to condensing a massive, intricate stereo production into a just two speakers. Panned pitch and delay effects are crucial for producing wide, exquisite stereo productions that are frequently superior than the original.
The MicroPitch effect was first introduced in the Eventide H910 in the middle of the 1970s, and it has since developed and progressed greatly, making major appearances in the legendary H3000 and the flagship H9000 as well as the well-known MicroPitch plugin. Eventide engineers have increased the the ability to create three dimensions with carefully decorrelated sound, elevating your immersive mixes to a location never before achievable.
MicroPitch, MetaParameters, MegaControl
Whether you're mixing music, doing post-production for movies, or creating sound effects for video games, the simple and easy-to-use interface fits in with your work with ease. You can dynamically morph, tilt, and spread MicroPitch throughout the width, depth, and height of your immersive mix thanks to this improved approach.
Workflow Examples
Tilt the Left/Right, Front/Back, and Top/Main Detune parameters for quick and easy asymmetrical detuning and space fine tuning

EQ the Front, Top, and Rear speakers separately to sculpt the effect around the listener

Morph between two distinct settings smoothly and seamlessly - great for sound design
The Universe is Expanding
An immersive ecosystem awaits you, your creations, and your clients, and MicroPitch Immersive gets you in. The list of platforms supporting immersive is substantial, and growing:
Music: Amazon Music Unlimited, Apple Music, and Tidal.

Film and Television: Amazon Prime, AppleTV+, Disney+, Kaleidescape, Max, Netflix, and Vudu.

Games: Xbox X|S. PS5
Mac:
macOS 10.9 or higher
Apple Silicon compatible
64 bit
Windows:
Windows 8.1 or higher
64 bit
Required Registration:
Eventide products require you to register with the manufacturer at www.eventideaudio.com and with www.ilok.com to activate your license.
This product requires an activation!
You can either "soft" activate on your computer without addditional hardware or transfer the license to an iLok USB dongle which has to be purchased separately. The iLok dongle can be used to run the protected software on different computers. Your licenses can be easily manged using the iLok Licence Manager. To protect your investment against theft or loss we recommend the iLok Zero Downtime protection with TLC.
An internet connection on any computer and a free user-accout at www.ilok.com is required to authorize the product.
Please check with the software manufacturer which iLok version is required at least if you want to use a hardware iLok!