18.07.2018
Reviews for Chris Hein Ensemble Strings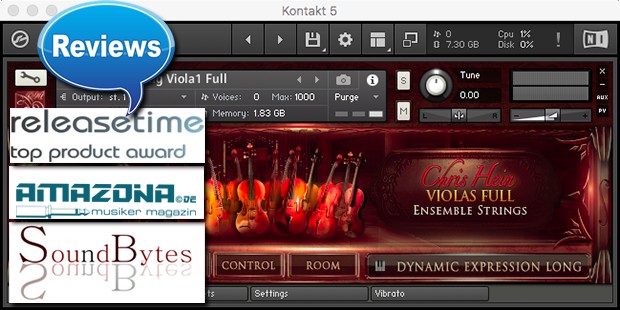 Final
Maybe this will not be your only string library, but you still need to cover many aspects of a string arrangement, so you will definitely need it to sit alongside another bigger, but less flexible one.
There are orchestral tasks that I will probably still do with my Studio Cinematic Strings or even Albion One, especially whenever I want that epic lush orchestra sound. But whenever I need a tool for a somewhat more intimate or complex orchestral arrangement, then this is where CH Ensemble Strings really shines. While all other strings libraries sound a bit lost in space, this one sounds like you are directly in front of the orchestra. Every instrument in this library brings a really well defined sound.
This is a string ensemble library where you can go far beyond just mimicking some general orchestral material. It allows you to go much deeper with your arrangements, creating much more complex, vivid tunes with a lot of different elements without sounding artificial.
For €399 EUR you will get much more than you might expect. Congrats Chris, you did a great job, again!
Full CH Ensemble Strings review at soundbytes.com
---
Fazit:(Auszug)
Chris Heins Streicher Ensembles ergänzen das vorhandene Repertoire an klassischen Instrumenten des Herstellers ideal. Da für die Solisten und das Ensemble die gleiche Aufnahmetechnik, Architektur und zueinander passende Spielweisen vorliegen, harmonieren die Libraries perfekt miteinander und eignen sich für einen großen Entwurf eines klassischen Ensembles. Klangqualität und Samplemanagement setzen Maßstäbe. Der Preis ist angesichts der luxuriösen Ausstattung und des perfekten Klanges ausgesprochen kundenfreundlich. Nebenbei: Die Solo-Strings von Chris Hein habe ich für eine andere Plattform getestet und kann diese ebenfalls nur empfehlen.
Plus:
erstklassiger Klang
fließende dynamische Übergänge einschließlich Artikulationswechseln
luxuriöses Legato und Vibrato
trockene Samples (nach Ausschalten des Halls)
drei Reverbs: Body, Room und DSP-Reverb
intuitiv spielbare Presets (komplexe Artikulationen)
NKS Support
Minus: --
---
Kompletter ausführlicher Testbereicht für CH Ensemble Strings bei Releasetime.de

Fazit
Die Chris Hein Ensemble Strings erfinden das Rad zwar nicht neu – fast alle Features sind bereits aus den Solo Strings bekannt und wurden hier und da nur den besonderen Gegebenheiten eines Ensembles angepasst. Aber: Das ist keinesfalls abwertend gemeint, gehören doch die Solo Streicher von Chris Hein – die zum Beispiel ja auch das innovative Note-Head-Feature ins Spiel gebracht haben – fraglos in die Topliga der String-Librarys.
So bieten dann auch die Ensemble Strings einen Umfang an Artikulationen, an Zugriffsmöglichkeiten und an Spieltiefe, der auch Profis zufriedenstellen dürfte. Was mir gut gefällt: Auch ohne große Basteleien kommt man schon zu vorzeigbaren, guten Ergebnissen. Wer mehr will, muss dann schon ein wenig in die Tiefen der Feineinstellungen eintauchen, die Artikulationen und Keyswitches einrichten und sich mit den Besonderheiten und Möglichkeiten der Chris Hein Ensemble Strings vertraut machen, um so aus dieser Library das Letzte herauszukitzeln. Eine Mühe, die sich durchaus lohnt. Wer sein Chris Hein-Orchester weiter vervollständigen will, macht mit den Ensemble Strings nichts verkehrt.
Plus:
viele Artikulationen
Note-Head-Funktion
Keyswitches lassen sich wahlweise auch als Hotkeys nutzen
guter Klang
aufwändig aufgezeichnete Ensembles
weitreichende Einstellmöglichkeiten
Kompletter Testbericht für Ensemble Strings bei Amazona.de
---
Browser not supported
Please use a browser which supports .mp3 files.