Realistic Orchestra Sound for Sibelius, Finale & Dorico - version 4
NotePerformer 4 makes your Sibelius, Finale & Dorico notation program sound like a real orchestra. All you do is write – and press play.

Create realistic mock-ups of your orchestral scores without having to learn sequencing, mixing or how to use sample libraries.

NotePerformer is a new kind of sound library. One that also does human expression and realistic phrasing for all your instruments, at once. All done automatically for you.

During playback, NotePerformer reads ahead and analyzes your score from the eyes of a musician. The music is then played back like real musicians would play it, on first sight.

The result is a musically pleasing performance of your music, where notes and phrases are musically united in a way you´ve never heard before – except from live musicians.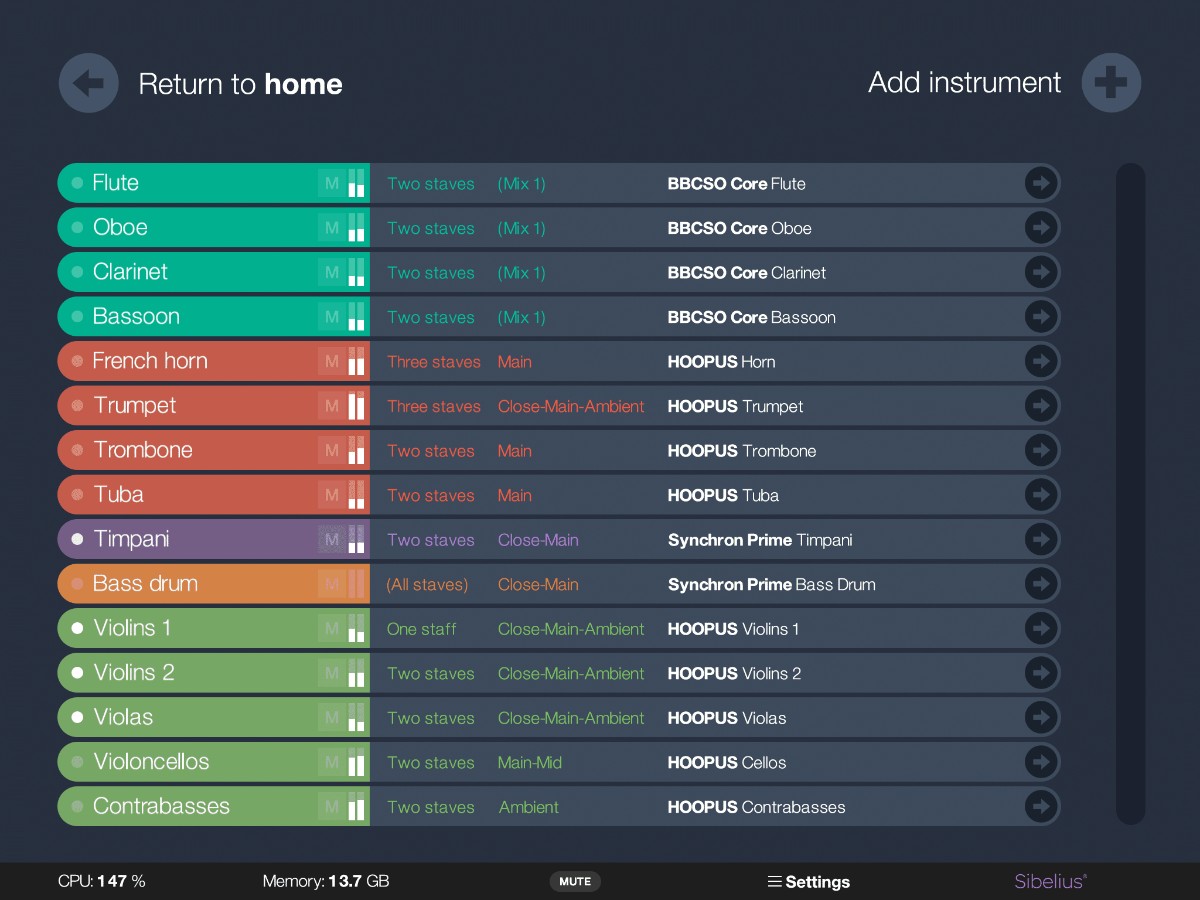 Super easy to use
Using NotePerformer is no more difficult than using the built-in sounds in Sibelius. You need no technical skills or previous experience in using sample libraries or producing music. In fact there isn´t even a separate interface, but you do all your work as usual in Sibelius. Instruments are assigned automatically, and can be controlled from the Sibelius mixer.
Built-in mixer for Finale and Dorico
When running NotePerformer in Finale or Dorico, NotePerformer now includes its own high-resolution mixer interface. The built-in mixer fills the same purpose as the built- in mixer in Sibelius, and is not accessible from Sibelius.
Your musical assistant
NotePerformer is the ideal tool for orchestrating and arranging music, as it responds to and articulates your music just like a real orchestra. So the day you hand over your score to live musicians, you can feel confident that what you´ve written produces the sound you intended. And the players will thank you for providing an intuitively playable score. One which is written for musicians and not for computer playback.
Produce your own music
NotePerformer playback is so realistic, it´s easily mistaken for a live orchestra if that´s what you´re after.
Music created with NotePerformer can be published directly, or used for demonstration or audition purposes. Or as orchestral soundtracks for movies, games, apps, TV series, documentaries, theatre plays, advertisements etc.
NotePerformer performs your music with realistic human phrasing for all instruments
With NotePerformer´s extensive collection of virtual instruments, you can create anything from solo and chamber pieces to monumental orchestral works
NotePerformer is very easy to install, and there is no new technology to learn
NotePerformer helps you to orchestrate more accurately, and to follow existing tradition
Your scores can now sound good without compromising your layout
Fast loading – no waiting while working! At the startup of Sibelius, Finale & Dorico, we can load the entire NotePerformer sound library to memory
NotePerformer has its own concert hall reverb and ambient noise simulation built-in. You easily control the reverb level for each instrument from the Sibelius mixer
A detailed list of all instruments and articulations can be found at "More Information".
---


Theodore Shapiro
Eight-time BMI Film Music Award winner
I have had directors fall in love with mock-up brass solos I have done with WIVI because of their emontionla quality. Nor bad for a plug-in, especially one with a ridiculously low CPU footprint. Adding to that the outstanding customer support, this is a product I enjoy using in every respect
---


James Venable
Primetime Emmy Award nominee, BMI Film Music Award winner
I must say, I think this software is the future and I was very excited to discover it! The expression of your instruments is truely amazing. I believe these instruments mark the beginning of a new paradigm in virtual orchestration for professional composers
---


Mark Mancina
Three-time Grammy Award winner and nine.time BMI Film Music Award Winner
Wallander Instruments have become such a staple in my everyday template, due to the sound, ease and most importantly, the ever updated and improved technology! Talk about support and integrity in their product.
Mac:
macOS 10.6 or higher
Intel Core 2 Duo
2 GHz
RAM: 4GB or higher
Sibelius 6, Finale 27 or Dorico 2.2.10
Windows:
Windows 7 or higher
Intel Core 2 Duo
2 GHz
RAM: 4GB or higher
Sibelius 6, Finale 27 or Dorico 2.2.10
Required Registration:
Wallander Instruments products require you to register with the manufacturer at www.wallanderinstruments.com to activate your license.
This product requires an activation!
An internet connection is required to authorize / activate the product.