Pigments 4 - Polychrome Software Synthesizer
Pigments gives you the finest elements ever found in a software instrument, letting you create pioneering, exciting, and deeply personal sounds. Laying everything out before you, Pigments lets you fully express your creativity in a way that's never been seen before in a software instrument.
A software synthesizer unlike any other, Pigments gives you all the tools you need to fully realize your creativity. Striking the perfect balance between depth and simplicity, all the power of Pigments can be found within 3.5 easy-to-follow pages. This neat layout keeps your workflow natural and fast, while encouraging your creativity.
Pigments Version 4 Overview
The success story of the polychromatic software synthesizer Pigments continues with an extensive update. Pigments 4 offers numerous new possibilities for sound design and a new user interface with a Light Theme as well as a simplified Play Mode, which makes it easier for beginners and new users in particular to enter the world of sound design.
User interface with Light Theme and Play mode
Drag-and-drop modulation editing
MS-20 filter
Shimmer Reverb effect
Super Unison effect
Revised Bitcrusher, Jup-8 V Filter, Multi Filter and Distortion
New factory presets, wavetables, samples and noise sources
New LFO waveforms and sync options for modulators
ODDSound MTS-ESP microtuning compatibility
Ring mod and additional pulse width parameter for the wavetable engine
Phase modulation and random control for the Harmonic engine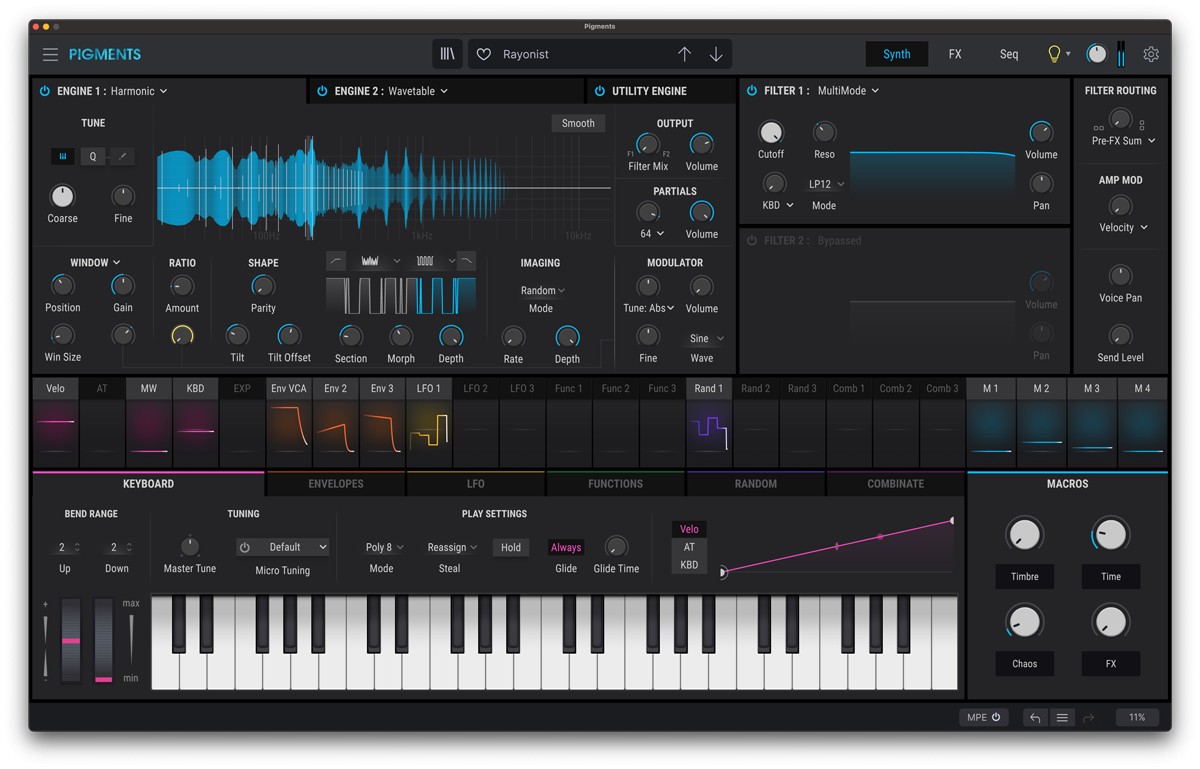 Infinite sonic potential - Pigments was designed to be intuitive and easy to use, but can go deep when needed. Four different sound engines, which can be combined with a flexible utility oscillator and numerous modulation sources and destinations with just one click, allow you to create a custom sound that's completely up to your ideas - completely detached from any style.

Color your sound - Want to shape your wavetable patches with the Jup-8 V's pulsating low-pass filter, for example? Or additive partials with an infinitely shimmering reverb? Pigments' filters, effects, and flexible audio routing give you unprecedented vibrancy and variety in sound design.

Simple, lightning-fast workflow - Unleash your creativity with an intuitive, easy-to-use, and engaging interface. Explore new sounds without restriction with instantly accessible controls and parameters, a customizable interface, simplified play mode, and real-time visual feedback.

Designed for modern music production - With Pigments' extensive preset library, you'll find the hottest sounds for hip-hop, trap, bass, EDM, lo-fi, film scores, and more. From interstellar soundscapes to futuristic glitch percussion, all sounds were created by world-class sound designers.

Highlights
Two main engine slots with:
Analog engine with 3 virtual analog oscillators
Wavetable engine
Sample/Granular engine
Harmonic engine with additive synthesis
Utility engine with additional oscillator and noise generators
Dual filters with seamless switching between serial and parallel routing:
Classic filter types from the ARTURIA V Collection instruments.
Modern filter types
Fast color-coded modulation:
Modulation assignment via drag-and-drop
Envelopes, LFOs, function and random generators
Powerful effects:
2 insert buses, 1 send bus with up to 3 effects each
Modulable effect parameters
18 effect algorithms, from classic to cutting-edge
Polyrythmic sequencer and arpeggiator:
Create complex and continuously changing sequences and arpeggios
Extensive library with 14,000 presets:
Play mode, light/dark theme, bypass of FX and Seq modules
MTS-ESP microtuning compatibility
MPE compatibility
NKS compatibility
Mac:
macOS 10.13 or higher
64 bit
2.5 GHz CPU
Apple M1 compatible
RAM: 4GB
3GB free hard disk space
Windows:
Windows 10 or higher
64 bit
2.5 GHz CPU
RAM: 4GB
3GB free hard disk space
Product activation:
An internet connection is required to authorize / activate the product.