Saturate - Powerful spectral clipper
Saturate is the Spectral Clipper algorithm made popular in the Elevate Mastering Limiter. Saturate's two controls belie a sophisticated signal processing engine which allows it to overdrive a signal without effecting the tonal balance no matter how hard you push it. Add up to 24 dB of overdrive without creating a "tubby" or muffled sound.
Additionally, the SHAPE control allows you to smoothly morph between hard clipping and the mathematically smoothest curve possible. Use Saturate to overdrive individual tracks or your entire mix.
Features
Saturation plug-in ideal for single tracks or the entire mix

Smoothly adjust from the softest to the hardest possible clipping shape

Spectral Clipper maintains tonal balance for an always pleasant saturation sound

Independent INPUT and OUTPUT levels, with AUTO output level scaling for easy and precise gain scaling

Saturation Curve Display and Meter shows you how your signal is hitting the selected clipping shape

Mastering Quality Input and Output metering show you both peak and rms levels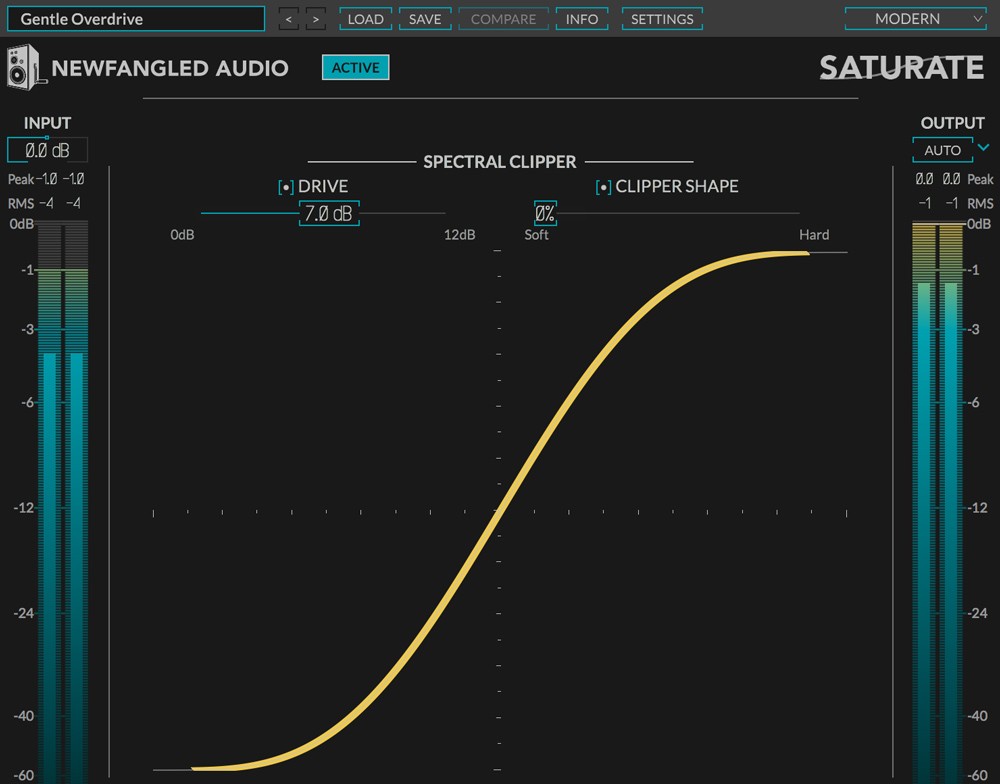 Science Behind Saturate
Any audio signal can be broken down into a number of sine waves at different frequencies. When you overdrive that signal the higher amplitude low frequencies can often swamp the midrange and higher frequencies that your ear is more sensitive to. Because of this, signals under heavy overdrive can lose some of their finer detail and sound "tubby" or "muddy". This is because the lower amplitude sine waves of the midrange and high frequencies are being removed by the saturator when the low frequencies are at the top and bottom of their swing. This causes shifts in the tonal balance which are dependent on the frequency content of the signal.
Saturate uses a special Spectral Clipper technology that adds this finer detail back into the saturated signal. The signal is still saturated based on the curve, but the sine waves at different frequencies are treated independently, meaning that the large low frequencies don't crowd out the finer detail frequencies, and that the tonal balance at the output is the same as the input - with only harmonics added.
About Newfangled Audio
Newfangled Audio was started by former Eventide Engineer Dan Gillespie in order to research and develop signal processing techniques that are new to the field of professional audio.
Mac:
macOS 10.9 or higher
Apple Silicon compatible
64 bit
Windows:
Windows 8.1 or higher
64 bit
Required Registration:
Eventide products require you to register with the manufacturer at www.eventideaudio.com and with www.ilok.com to activate your license.
This product requires an activation!
You can either "soft" activate on your computer without addditional hardware or transfer the license to an iLok USB dongle which has to be purchased separately. The iLok dongle can be used to run the protected software on different computers. Your licenses can be easily manged using the iLok Licence Manager. To protect your investment against theft or loss we recommend the iLok Zero Downtime protection with TLC.
An internet connection on any computer and a free user-accout at www.ilok.com is required to authorize the product.
Please check with the software manufacturer which iLok version is required at least if you want to use a hardware iLok!