Unique drum sounds, recorded by one of the most influential and legendary producers/engineers in rock history: Eddie Kramer
Not many can claim to have been there when history was written. Eddie Kramer wasn't just there, he was right in the middle of the action, shaping and creating with his own hands over five decades to this day the music that we now regard as indispensable milestones in rock history. The sound of rock music, this unique power and force that electrifies and drives us for decades - to record it, produce it and mix it properly is a high level of artistry that few people have mastered as masterfully as Eddie Kramer. The true audio visionary and undoubtedly the uncrowned king of rock created the unmistakable sound of many legends who became immortal icons of the genre and were eventually ennobled by it. This is his personal selection of drums and a reverent homage to the sound of classic rock.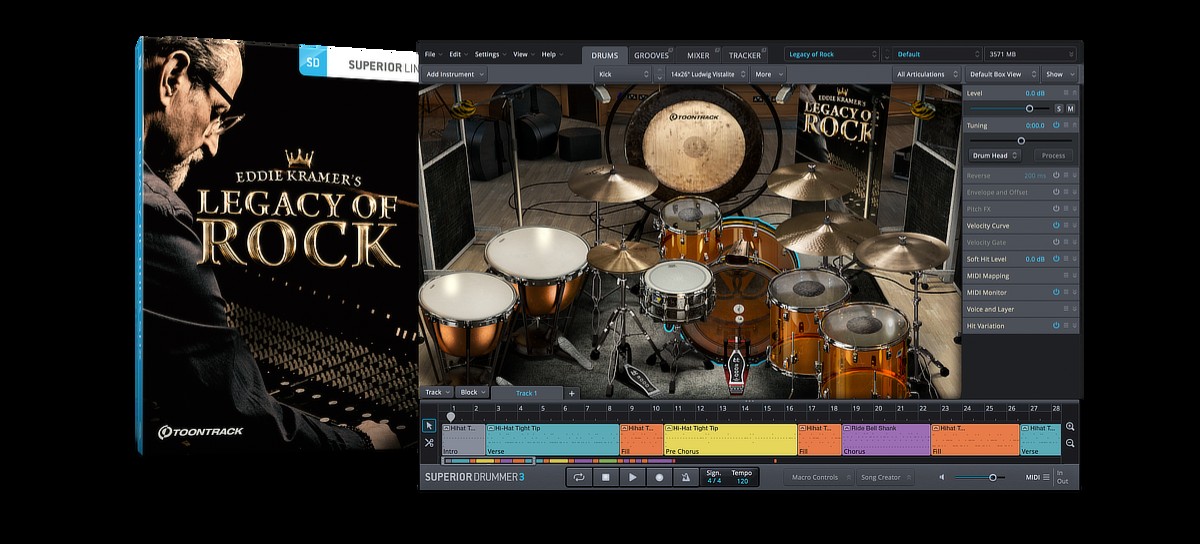 The Legacy of Rock SDX focuses on Eddie's work during the early stages of his career in the turbulent 1960s London scene, as well as the other major milestones of the 1970s. There are 5 drum sets to choose from, all carefully selected and edited to recreate the most important sounds from Kramer's impressive career. Recordings were made in the studio of his choice, Studio 1 at AIR Studios in London, using very rare vintage microphones and signal chains, as well as unique equipment specially assembled for this session.
The drumsets were sampled by Superior Drummer 3 sampling drummer Norman Garschke using sticks (snares on/off), hands and fingers, brushes and mallets. Additionally two timpanis and two gongs (36" and 60") were recorded. The SDX also contains a very extensive MIDI library with genre-typical drum grooves/fills for all included drum sets in the style of legendary album productions by Eddie Kramer, also performed by Norman Garschke.
These drums are pure rock. Recorded by the man who already worked with legends like The Rolling Stones and The Beatles in the first two decades of his impressive career, to create the unique oeuvre of Jimi Hendrix, to record the five most influential albums of Led Zeppelin, and furthermore to be responsible for the recording and mixing of the unforgettable Woodstock Festival.

Feature Spotlight
Soundlibrary extension for Superior Drummer 3

5 complete drum sets and a wide range of additional snares, bass drums and cymbals and configurations

Recorded and produced by producer/engineer legend Eddie Kramer (Led Zeppelin, Jimi Hendrix, The Rolling Stones, The Beatles, Kiss, Woodstock, etc.), sampling drummer Norman Garschke

Recorded in Studios 1 of AIR Studios, London/UK

5 drumset configurations in elaborate multi-microphony

7 bass drums, 11 snare drums, 4 hi-hats, 10 cymbals, 6 rack toms, 10 floor toms

Contains 2 timpani (26"", 29"), 2 gongs (36", 60"), 2 cowbells

Contains drumsets sampled with sticks (snares on/off), hands/fingers, brooms, mallets

Includes countless mix-ready presets personally created by Eddie Kramer and Toontrack

Recorded with 5 additional room microphones for perfect playback in stereo or up to 5.1 surround systems

Contains a very large selection of individually recorded genre-typical MIDI drum grooves/fills (500+ files) in the style of legendary album productions by Eddie Kramer - recorded by studio drummer Norman Garschke

Download approx. 189GB (Compressed with Toontrack's own TCP-Algorithm)
About Eddie Kramer
Eddie Kramer's unique talent and ability to create "sound" and new timbres through his recordings and mixes has helped to make the history of rock an excitingly colorful variety. Not only is he responsible for the unmistakable sound of legendary bands such as Led Zeppelin, Jimi Hendrix, Kiss, The Rolling Stones and The Beatles, as well as countless other great artists of the 1960/70's - his individual and unique skill and experience have had a profound influence on the history of music to this day. Without a doubt, Eddie Kramer has left such an important and lasting mark on the history of rock music and the genre as no other engineer/producer before or after him.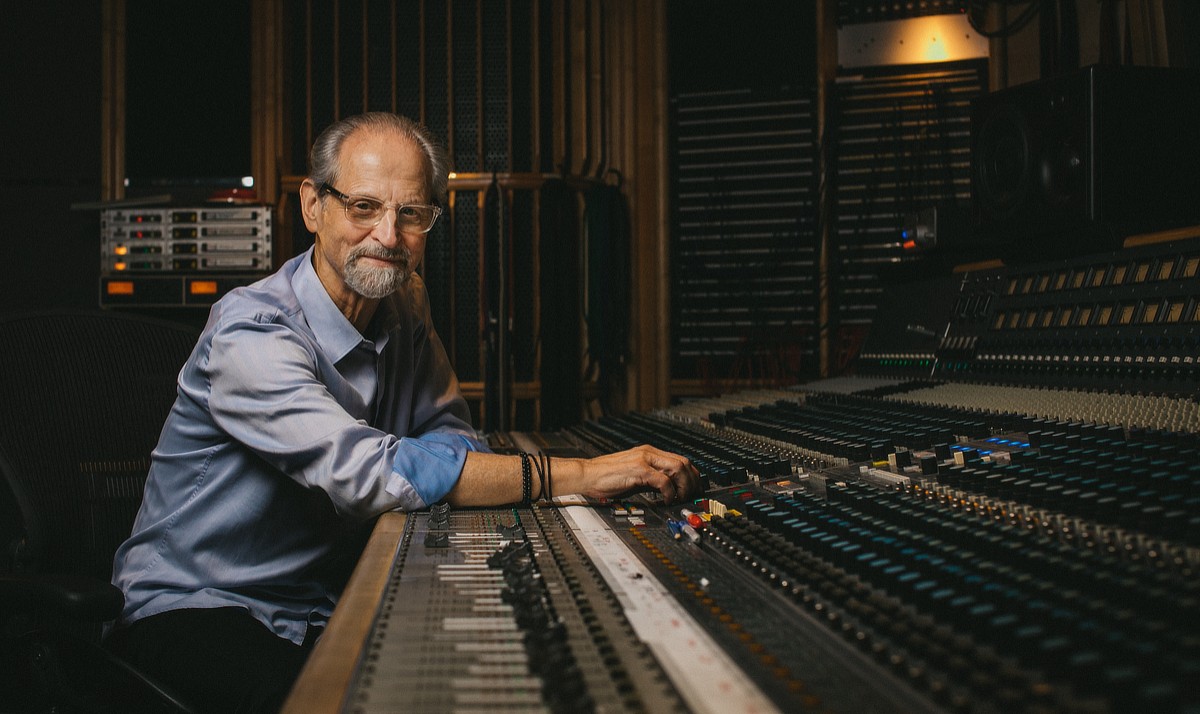 If one were to list all of his work and participation in productions, one would come up with well over 750 different albums in the most diverse musical genres, all aspects of rock music and a dizzying array of names, all of which one would without hesitation call legendary music icons of world fame. Eddie is also an outstanding author and photographer. His candid portraits of countless giants of rock, with whom he has worked over the decades, have been shown in some of the world's most important galleries, exhibitions and museums and are highly regarded by many international collectors.
Last but not least, it is Eddie's great concern to pass on his invaluable knowledge and decades of experience in studio work to the next generation of young sound engineers in many workshops and seminars.
PLEASE NOTE: The Legacy of Rock is an SDX library that can only be loaded into Superior Drummer 3. Superior Drummer 2.0 is not supported!
With our custom made boxed/shipping version the approx. 189GB large Library Installer is delivered on a 2.5" USB 3.0 portable hard drive - nevertheless the download license/serial number will be registered to your user account already before shipping!
To use this product, an installed and activated Version of Superior Drummer 3 (or higher) is required.
Required Registration:
Toontrack products require you to register with the manufacturer at www.toontrack.com to activate your license.
This product requires an activation!
An internet connection is required to authorize / activate the product.