StereoScope Pro - stereo image analysis with 3D
Precise measurement capabilities combined with zoomable displays and extensive controls make this stereo image analyser a truly professional device.
Choose your preferred view: real time stereo field display, evolution of the stereo image over time (2D or 3D) or output parameters that explicitly describe the average position and extent of the audio signal in the stereo field. The 3D waterfall view lets you see in details from your preferred viewpoint the evolution of the stereo image over time.
Four memory slots let you store any curve in memory: it helps you make comparisons between several tracks or effects setup very easily. You can compare your mix with other commercial hits!
Main Features
Real time stereo image analyser

Three modes: stereo image, "stereogram" (evolution of the image over time) and output meters

Animated zoom for all views

Precise measurement capabilities

3D waterfall view with full 3D control

Solid or wireframe 3D surface display

Integrated correlation meter

Instant, peak and average stereo image curves display

Easy phase cancelation and mono compatibility detection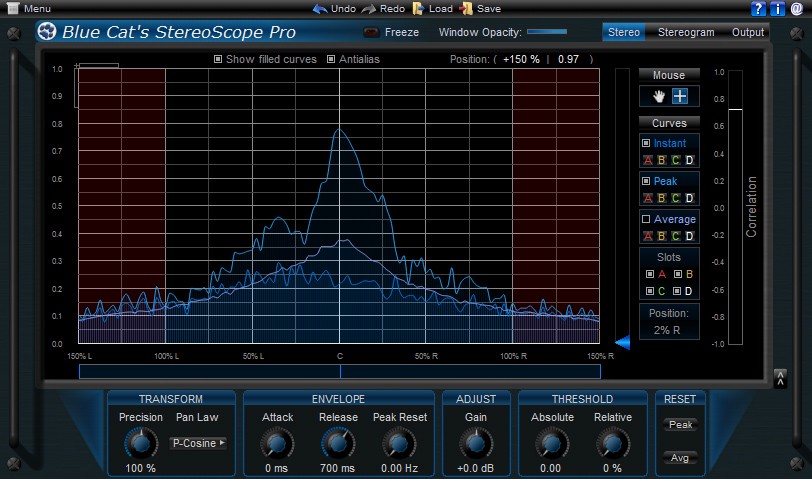 Mac:
macOS 10.7 or higher
Intel processor
standalone: Core Audio-compatible audio interface
Windows:
An SSE2-enabled processor (Pentium 4 or higher).
Windows 8 - 10
standalone: ASIO-, MME- or WASAPI-compatible audio-interface (ASIO recommended)
Product activation:
An internet connection is required to authorize / activate the product.