SubBoomBass 2 is the successor of the legendary SubBoomBass!
SubBoomBass 2 is filled with excessive amounts of low end ammunition to detonate your tracks! With presets designed by the legendary Rob Papen and other guest artists, this dedicated bass synth will supply you with huge cone-rattling sounds that will devastate any music track. This software instrument is great for Hip Hop and RnB but can also be used for Dubstep, video game music, film scores and more.
Its GUI (graphical user interface) has received a makeover for more comfortable control of
all features. SubBoomBass 2 still has its analogue modelled waveforms on board, but the sound
colour has been expanded with new spectrum waveforms, new creative 'think out of the
box' high quality samples and introducing Karplus-Strong string synthesis!
You will understand that these new features generate fresh and unheard-of sounds!
** Upgrade for registered users of SubBoomBass 1.0 or 1.1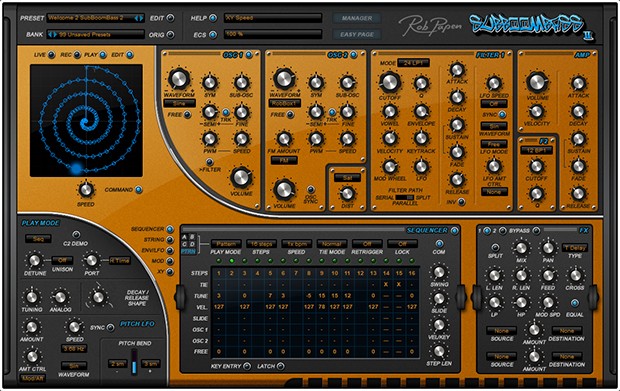 But there is more… An X/Y screen, a new pattern mode for running 4 sequences, and
just like in SubBoomBass 2 it has the easy to use Bank Manager with star feature, so that
you can quickly find and go to your favourite sounds straight away.
And yes, all the original SubBoomBass presets are on board!
This instrument is great for any style of contemporary music… any music styles including
video game music, film scores and anywhere you need a great bass and fresh sound!
Main Features:
2 oscillator synth engine with additional sampled percussion, drum, fantasy and bass sounds.
Karplus-Strong string synthesis
Oscillators feature also PWM, sub-oscillator, FM/Ring modulation and Oscillator sync.
Pre-filter distortion.
Analog modelled Filter offering 6dB LowPass and HighPass, 12dB, 18dB and 24dB LowPass and HighPass, 12dB and 24dB BandPass, 12dB and 24dB Notch, Comb and Vocal Filter.
Additional Filter 2 with cutoff control offering 6dB, 12dB and 24dB LowPass or HighPass setting.
Filter routing offering ´serial´, ´parallel´ and ´Split" modes
Step Sequencer with 16 steps, swing function, slide function & pattern mode
2 FX sections with modulation matrix and 24 effect types
Mac:
macOS 10.13 or higher
Apple Silicon compatible
64 bit
Windows:
Windows 7 or higher
32 bit & 64 bit
Required Registration:
Rob Papen products require you to register with the manufacturer at www.robpapen.com to activate your license.
This product requires an activation!
An internet connection is required to authorize / activate the product.